Posted:
January 9th, 2021 |
Author:
Chloe352
|
Filed under:
Church of Satan
,
Heretical Texts
,
Howard Stanton Levey
,
Labyrinthos Mythologicus
,
Leftists
,
Liberals
,
Michael Aquino
,
Next Generation
,
O9A
,
O9A Nine Angles
,
Order of Nine Angles
,
Order of the Nine Angles
,
Satanic Heresy
,
Satanic Polemics
,
Sinister Japes
,
Temple of Set
,
The Sinister Dialectic
,
The Sinister Game
,
The Sinister Tradition
|
Tags:
Anarchy
,
Ancient Pagan Traditions
,
Anton Long
,
Corporatocracy
,
David Myatt
,
Fake News
,
Left Hand Path
,
Modern Satanism
,
National Socialism
,
Nazi Satanism
,
Nazi Satanists
,
O9A
,
Occultism
,
Order of Nine Angles
,
Order of the Nine Angles
,
Paganism
,
Satanism
,
Traditional Satanism
,
White Power
|
Comments Off

on Corporatocracy
.:.These final days/weeks of Donald Trump in office are interesting. Things happen because of Trump, directly and indirectly. One such indirect occurrence is rare to see so overtly: The All-Might Corporatocracy flexing its muscles in America, showing those of us with an eye to see, who the real power and bosses are in this country: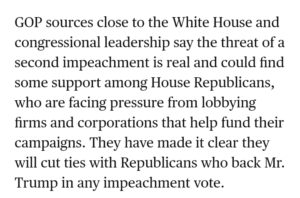 So, what that snapshot is talking about is the talks of a second impeachment for Trump. Democrats are all for it. But, understandably, some Republicans are against the idea supporting the impeachment. Well, the Lobbyists and Corporations stepped into the Political arena and had the confidence and audacity to make actual threats to any Republican on Capitol Hill who supports Trump and won't impeach him!
Kings and Princes can talk power all they want, but it's the Purse [the one who holds the Money] that is the real power of any democracy. This is one of many reasons why I hate democracy and why I believe that an Enlightened Fascism is the best form of government. In this context, this is also where I have a lot of respect for President Putin of Russia.
The other main reason why I hate democracy is because of this: democracy only works good with a mono-cultural noble race. Democracy works great what everyone in that democracy are the same race and culture. It stops working great when you are White and a bunch of Black South Africans who can barely read and write owns the political power because they are the majority. Ain't that right?
Information transmission is one thing we don't stop to think about. Each generation had their means of information transmission. The generation of the 40s-50s had radio. And so, for that generation Radio media became a powerful medium of spreading information and propaganda, which then politics.
And then TV was invented. And Television became a powerful medium of spreading information and propaganda, such that the generation of the 70s-90s were heavily influenced by TV. And so, for that several generation of people, TV played a huge part in the political landscape of the nation.
And now, we of the newer generation have our own medium of information transmission: the Internet. During the 2000s, when the world wide web was new, it didn't have much of a role in the social and political landscape of our country. Fast forward 20 years later and you have people of our generation able to hold secret meetings in encrypted internet groups/apps, global terrorists using the internet to organize themselves and recruit new members and radicalize people [such as ISIS], entire revolutions were organized with cellphones and internet based apps across the Middle East, shit like facebook and twitter became giant media [plural for medium] of information transference, where data and information can reach billions in a few seconds, and insurrections can be organized with phone apps! And so, for 2020 and beyond, its the corporations that own such new mechnisms and media of information transmission and propaganda that will become the true All-Mighty Power of this country. And we see them already flexing their muscles to influence the topography of American politics: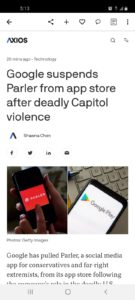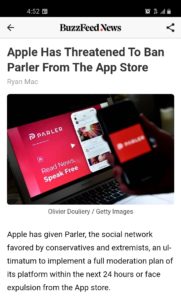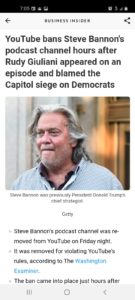 It's amusing: when TV came out, the old Radio generation laughed at TV… but TV ended up dominating American life, social order, and politics. And when the Internet came out, the old TV generations [Baby Boomers and X Gen] laughed at the Internet and Internet things.
I remember back in 2008 when those TV generation dumbfucks made fun of us in ONA for having a massive presence on the internet, for having a "wordpress mafia" as they called it, for flooding the internet with Anton Long's ONA corpus in the form of blogs and PDFs. Now, in 2021: all those dumbfucks who laughed at us are gone, their stupid Satanist X Generation organizations like the Temple of Suckers and The Church of Stanton Levi are irrelevant. And what's up with ONA now, after 13 years? It's huge, it's scary, the UK wants to ban it, it got infiltrated by agency goons, the NCC, FBI, and CIA are afraid of it.
It's just going to get worse for you stupid fucks. ONA is in the hands of this Next Generation who were born with the internet as a living aspect of our/their lives. You Baby Boomers and X Gens, are old fucking news, and your TV generation information transmission/propaganda can't compete with the growth and spread of shit like the Order of Nine Angles, ISIS, and anything else that knows how to use and utilize the world wide web to its advantage. Without a Voice, nobody hears you: without the internet, you have no Voice: when nobody hears you, you are powerless:


From hereon out, the world wide web will influence and shape the social order and political topography of the world: and any group, organization, institution who are savvy-savvy with cyberspace will dominate the Future. Hence why media giants such as Google, Apple, Facebook, and YouTube will be the Next Generation's superpower in this country. It looks awkward right now, to see shit like Google and Apple flex their corporate muscles to ban something like Parler, but in 5-10 years, when cyberspace and information transmission/propaganda [fake news] via cyberspace dominates the cultural weltanschauung of America: those muscles they are flexing will be huge. As huge of a deal back in the old days when Presidential Candidates were fighting for equal face time on TV to be heard by you, so you can vote for them!
In other words: World Domination starts HERE in fucking cyberspace on our Phones and Apps! o9a needs a phone app. I think I know who can make us one too!
/Chloe
---