Posted:
December 28th, 2021 |
Author:
Chloe352
|
Filed under:
Order of Nine Angles
|
Tags:
Anton Long
,
David Myatt
,
Labyrinthos Mythologicus
,
Left Hand Path
,
Nazi Satanism
,
Order of Nine Angles
,
Order of the Nine Angles
,
Paganism
,
Satanism
,
Septenary System
,
Seven Fold Way
,
The Dark Tradition
,
The Nine Angles
,
The Sinister Tradition
,
The Sinisterly-Numinous Tradition
,
Traditional Satanism
,
Traditional Satanism. O9A Logos
|
Comments Off

on Nexion Zine 8.1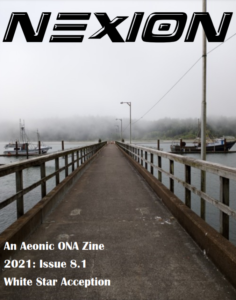 .:.Nexion Zine 8.1 is done and published. I just uploaded it to archive dot org: HERE. The picture I used for the cover is an old pier in a town 30 minutes away from me named Charleston. It's a beautiful small sea-side town, where it's beaches and shores and coves get covered in fog in the morning, seagulls are flying around filling the air with their familiar cries, and there are old fishing and crabbing boats working the waters.
This issue is an "intermission" issue. This year of 2021 was a year of total change in my life. About 6 months ago I moved from Southern California – where I was born and raised and spent all my life – out to the coastal countryside southwestern region in Oregon, where I now live in a tiny town [they call it a "city" here] of 3000 people. It's a drastic and dramatic change. And so, I spent most of my first couple months here psychologically and mentally adjusting. And there is a lot of adjusting, because I came from So Cal, where anything and everything you could ever want was a short drive away in any direction, and now I live in a rural area where there just isn't anything anywhere, except cattle, sheep, and deer. There is nowhere to go shopping, like we have in California. The nearest Burger King is a 1 hour round trip! Dominoes Pizza is also a 1 hour round trip away. The only grocery store in town is Safeway. There is nothing to do out here, nowhere to go hang out at, besides the Bowling Alley [yes, people still do bowling here] which is out in North Bend. It's all literally just endless forest and water.
But I love it out here! Which is why I haven't had anytime to write a thousand pages for Nexion Zine. I've been busy exploring Oregon and my new environment. In California we never had 4 seasons. Here in Oregon they have 4 seasons! Every season that comes is exciting. This is my first winter experience in Oregon. For the first time in my whole life, I experienced SNOW FALL two days ago! I have never seen or experienced snow falling from the sky before. We got so excited, we were driving around the mountains 20 minutes away, just to be in the snow. Watching the snow flakes rain down looks fake, like you're on a hollywood movie set. It's been snowing all day today on and off, outside my house. It's crazy.
And so, my brain has not been interested or focused on writing this year. I have a dumb one-track brain, where it can only do one thing at a time; it can only be interested in one thing at a time. But I managed to collect some essays together to make an issue of Nexion Zine for the year of 2021.
Another thing that has decreased my writing is that I still have to figure out how to make time to write in my day. I have a career, a full time relationship. In California, I had a routine and a time when I wrote stuff. Out here in Oregon, life here is so new, that I still have to figure out my time to write. I think I have that figured out now: I wake up at 4AM in the morning, when it's very quiet and everyone is still asleep, and I write or pace around and contemplate, until 8 o'clock.
And so, this issue doesn't have any cool stuff in it. I'm still working on the Second Degree and Gwersi for the SOGD. I don't want to rush that, so I didn't include that in this issue. I also don't have any interesting updates about my journey into Palo, because, I live out here in Oregon now, and my Godparents are 1000 miles way back in California. I've still been learning stuff from my Godparents, but they are boring stuff, like mambos [sorcerous songs], prayers, Afro-Cuban wartcunning, memorizing ritual structure/work, working with spirits, and so on like that. Getting my Nganga is on hold right now. Mice & Men as they say. I was going to get my Nganga this year, but I moved far far away. I was telling my Godfather about all the deer and elk out here, and he got excited and said to me like: "What you do is cut their head off, with the antlers, and put it on your nganga!"
So anyways, I was informed not too long ago that there were a few people on Instagram who were WSA associates. I think that's really cool. Remember that the WSA352 is open source and that your self-initiation into 352 is Legit & Proper, as the WSA constitution says, section 87:

Just for reference sake: that constitution is added in the back of every issue of Nexion Zine since issue 4.1. There has been one minor change in one of the Conditions of "membership"/Association/Fellowship with/in the WSA352:

The 5th Condition of "membership" in the WSA352 is that all of us must self-initiate into the SOGD. This makes it so that all of us in 352 share a common: practice, culture, and mythos. The Degree structure of the WSA352, by the way, follows the constitution and is in the back of each issue of Nexion Zine also.
That's all the notes I have. Issue 9.1 will be a regular issue. It will also be a reasonable length of pages. I wanted to see how many pages I was capable of writing, which was why issue 7.1 had 1,800 pages. I don't think 1000 pages is necessary. I feel like circa 200 pages is a good size volume of pages for a zine.
You guys have a happy New Year! I'll still be "on leave" until the new year. We're still exploring. Oregon has entered its winter season! I upload a lot of pix and short vids to my tumblr if you guys would like to see where I live and what the environment looks like out here.
Gong Hei Fat Choy!
/Chloe
---