Posted:
July 17th, 2021 |
Author:
Chloe352
|
Filed under:
Civil War
,
Current Affair
,
David Myatt
,
Far-Right
,
Leftists
,
Liberals
,
Monarchism
,
Mundanes
,
National Socialism
,
neo-marxism
,
Nihilism
,
O9A
,
O9A Nine Angles
,
Occultism
,
Order of Nine Angles
,
Order of the Nine Angles
,
racial equity
,
Reichsfolk
,
Satanic Heresy
,
Satanic Polemics
,
The Sinister Dialectic
,
The Sinister Game
,
The Sinister Tradition
,
The Sinisterly Numinous Tradition
,
Traditionalism
|
Tags:
Anarchy
,
Ancient Pagan Traditions
,
Anton Long
,
David Myatt
,
Left Hand Path
,
Modern Satanism
,
Nazi Satanism
,
Nazi Satanists
,
Neo-Nazi
,
Nihilism
,
O9A
,
O9A Mythos
,
Occult Initiation
,
Occultism
,
Order of Nine Angles
,
Order of the Nine Angles
,
Paganism
,
Satanism
,
Septenary System
,
Seven Fold Way
,
The Dark Tradition
,
The Hermetic Tradition
,
The Nine Angles
,
The Sinister Dialectic
,
The Sinister Tradition
,
The Sinisterly-Numinous Tradition
,
Traditional Satanism
,
Traditional Satanism. O9A Logos
|
Comments Off

on House Guest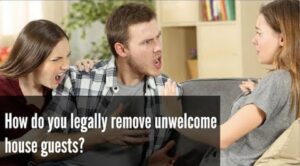 .:.I believe that the universe and everything in it is Phenomenally Fractal in nature. I tried to explain this concept HERE. I use the word "fractal" and the term "Phenomenally Fractal" according to that linked explanation. And so a house and a nation are fractal patterns of each other, phenomenally speaking. Why so? Because both a house [the household] and the nation [its citizens] are in Reality [re: Realism] composed of Human Beings, and with such Human Beings comes Human Nature, Human Interactions, Human Relations, Social Skills [or lack thereof], etc.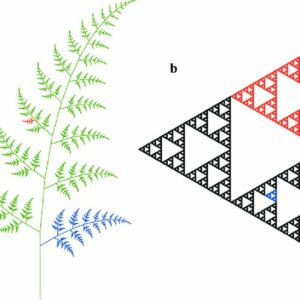 The thing about a fractal pattern is that the small Pattern and the big Pattern are the same Pattern. It's just a difference in magnitude, degree, and scale. And so, if it's hard to understand the big pattern, you just have to understand the little pattern, and scale your understanding Up several magnitudes.
For example: as far as basic biological/organismic phenomena go, all biological organisms Fractally function in the same way, Fundamentally. And so, we observe or consider a bacterium. The bacterium must metabolize external stuff [eat shit], and it replicates itself to make more of its kind. Those are "phenomenal patterns," which means that they are Patterns of Observable Phenomena. And such phenomenal patterns Repeat: we humans are one representation of that pattern repeating because in our scale and magnitude – we are huger in size and corporeal density/mass than one bacterium – we also eat shit and replicate. You can learn a lot by considering and studying Natural Phenomena and Fractal Phenomena.
Little Patterns
I have a 48ish year old skinhead friend named Brad [he's from American Front]. He's very addicted to meth. He's been in and out of jails and prisons since he was 14. He's a violent felon, a very violent one. The type with nothing to lose are often the most violent and deadly. If he's not in prison: he's homeless. Unfortunately, as a caring friend [meaning I think about his well-bring and welfare and safety], I believe he is better off in prison, because at least he has a roof over his head, food to eat, and it's harder for him to get meth. One day, Brad came to me with some good news: he had found a room to live in. He said that an old friend of his named Dave let him stay in a trailer in the old friend's yard for free! I thought that was awful nice of that old friend to let Brad live there for free! And that was all he told me about that situation. I'm the type of person who doesn't ask questions or pry into people's lives: if you don't tell me shit, I don't ask or question you. I've been acquainted with many Niners for many years, over the past 13 years: and I don't know anything about any of them, not even their real names. I never ask; out of respect [meaning: I respect your privacy]. If you want me to know shit, you'd tell me.
Well, a year after Brad had lived with Dave, Brad got arrested and went back to prison for a few years. Brad called me from prison and asked me to do him an important favor. He asked me to go to Dave's house, and make sure all of his computers and valuable belongings were locked inside his trailer, and to keep the keys, and to tell Dave not to let the Others fuck with his shit, or he'll stab and kill people when he gets out. I gave Brad my Word that I'd do as he asked as soon as I get off the phone with him. I figured that Brad must have roommates or something. I didn't ask who those Other people were. He didn't tell me. So I drove myself to Dave's house, which was/is in West Covina [this was when I lived in Southern Cali].
The house was a dump. There was trash and beer cans everywhere. Bike and car parts everywhere. Most of the bike parts belonged to Brad: he steals bikes and takes them apart and build his own bike out of the parts. He told me so. There were a lot of people there at the house. They all looked like meth addicts and homeless people. I saw a few used needles here and there. I suddenly realized what kind of house my friend Brad was living at: a Dope House, sometimes called a Crack House as well. I began to image and assume that this Dave guy was some OG gang member from the neighborhood. I thought so from the look of the others at that house. The guys told me Dave was inside and to just walk in. I was afraid to walk inside. The inside of the house smelled like urine. There was junk everywhere. Litter mixed with beer cans, beer bottles, clothes. People were sleeping on the sofa. The kitchen looked like nobody had cleaned it in years. Most of the people that live there were Mexicans. There was one black guy, a skinny white girl I recognized named Veronica. Veronica was the local parking lot prostitute who sucked random men off in their cars for $10 so she can by meth and lunch. I found Dave in the back. I was shocked to see what he looked like, and what kind of person he was. Nothing like I had imagined.
Dave was a 60-years-old white guy. He had grey and white hair. He wore a dirty white tee-shirt and shorts. He was chubby and had a big pot belly. His legs looked sickly, or diseased, with sores, and discoloration. He was drinking a beer and smoking marijuana. He kindly offered me a beer. I declined. Dave wasn't a gang member of any kind. He was the total and absolute opposite. I stayed there, getting to know him. I was curious why he lived in that house and how things got so bad for him. He talked a lot and was opened about his life and situation.
Dave inherited that house from his dead mother. He once lived in that house with his older brother. But his older brother died of liver failure, from drinking too much. Dave had very bad diabetes which were affecting is legs. His legs are mostly numb, and the doctors told him that they will need to amputate them off if their condition doesn't get better. Dave told me his liver is bad. He told me that he has no family, no children, nothing to live for. And so he is committing slow suicide by drinking himself to death. He doesn't care anymore. He said he's going to party until he dies. Dave is gay. His boyfriend, a 60-year-old meth addict, lives with him in the house.
But Dave believes himself to be a Christian. He reads the bible, but feels that he is no longer worthy to go to church. And so, being a Christian, he has compassion. He says he feels sorry – pity – for the homeless kids who are addicted to drugs and wants to help them out by giving them a place to crash [squat] during the night. In exchange for letting them stay in his house during the night, they give Dave and his boyfriend free meth. And during the day time, they all drink, do meth, and "party." The house has been raided by the police and swat team twice, for all the drug use and drug dealing. Dave was very gentle and soft spoken in demeanor. He was a genuinely nice guy. Too nice for his own good and to his own detriment.
When my friend Brad got out of prison, I told him about the things Dave had told me. Brad says to me: "Dave's cool, but he lets everybody fucking use him. He's too nice. He can't get himself to kick those fucking low lifes out of his fucking house. They trash the fucking place, call their friends over, they eat his shit, don't clean up after themselves. I told Dave: 'Dude, either kick them all out, or give me the authority to do it, cuz I will, cuz you're letting them fucking abuse you man!' And he gave me the authority to kick people out. So I've been kicking everyone out left and right, but they keep fucking coming back! He's got no fucking backbone. It's his fucking house!"
Conversely: when I was little, my big mom [auntie who adopted me] and my uncle-dad [her husband], owned a donut shop called Spudnuts. Spudnuts was a franchise owned by a Chinese-Khmer guy we call "Mr. Chiang." My family and Mr. Chiang were friends. Mr. Chiang gave my aunt mom a donut store to have. At one time Mr. Chiang was a multimillionaire, getting rich from the franchise. Today – like so many Chinese-Khmer of his mercantile breed – Mr. Chiang has lost all his money, lost his wife and kids, his home, everything, due to gambling. He works in a casino now to pay his depts.
It's a simple Game, so the Buddha tells us. The gods place your life's desires in front of you, and says to you: "Everything you desire in your heart, has been placed before you. You have but to remain supremely focused and reach for it. BUT! We will allow the demon Mara to entice you with vices and distractions. If you fall victim to Mara: you lose everything." It seems like a simple Game, but most people lose themselves in Mara.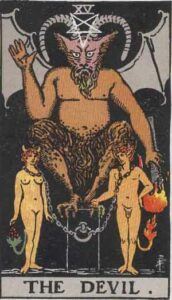 Which is the old meaning of the tarot's devil Card: the chains around the man and woman are loose. The man and woman can take them off at any time. But they can't. They are addicted, crave [Tanha in Buddhism], attached to their distractions, addictions, vices, greeds, Loba. Thus, theirs is a self-imposed enslavement/engrossment. Such was the case of Mr. Chiang.
So, back when I was little, we had a donut shop. And we had a baker named Francisco. Francisco was a very light skinned Hispanic man, about 30 at the time. He spoke no English. He literally knew only a handful of words. I understand simple Spanish, and so I understood Francisco most of the time. Francisco was an illegal alien. He had come into America only a few years [at that time]. He was a new-comer, and had no family out here. Using hand gestures, very broken English, and with the regular customers as translators, Francisco told my big mom that in Mexico he used to bake donuts and pastries, and that he would like a job. And so my big mom gave him a job. That's how our family met Francisco. He baked very good and fast.
After a few month of working for us, my uncle-dad had asked Francisco where he lived. We learned that Francisco was homeless and that he used what money we payed him to get motel rooms and buy food, and whatever money he had left over, he sent back to his parents back in Mexico who were too old to work, plus the little town they came from had no work. Francisco was in Nature and Ethos a descent person; an honourable and Loyal person. My uncle-dad and big mom felt sorry for Francisco. We had an extra room at our house. It was the secondary garage. Asians with big families have this odd habit of liking to convert their garages into spare bedrooms for their relatives. This is what it's typically like when an Asian family is house shopping: Me: "Ooh, auntie, I found a nice house in your price range! It's got 4 bedrooms and 2 bathrooms!" Auntie: "How many garage units does that house have?" Me: "Two." Auntie: "That's two extra rooms you know. We can fit your youngest uncle's whole family in that house with us!"
And so, my uncle-dad and big mom talked to each other, and decided to let Francisco live with us, in that spare room. It was an insulated converted room. So it was comfortable to stay in. The garage door was always opened so Francisco can watch TV in the living room. And the kitchen was his to use to cook his Mexican food. If we had dinner, we'd call him to the dinner table to eat with us. When he made his food, he shared it with me and the others.
Francisco didn't speak English, and so what conversations he had with my family was sparse and broken. But he tried to learn English and a few Khmer and Thai words. He was always respectful in how he talked and in how he carried himself around my family members who were older than him. And he gave my uncle-dad and big mom special gentle and friendly treatment. If there was anything they needed, Francisco would go do it. My uncle-dad and big mom only charged him $100 a month for the room, so he can have money to send to his elderly parents. He never caused any problems. He treated me and cousin-siblings kindly, like as if he were a big brother. If my grandma came to visit, or one of our elders came, Francisco learned to clasp his hands together to greet them, like we do, and he would respectfully and quietly, with head bowed, dismiss himself into his room.
But nobody is perfect. Francisco had a small problem: every Saturday and Sunday he was never home. During the weekend, he went out with his friends to drink and dance all night. And he spent all of his money he made in those two days. There were times when Francisco had to borrow money from my uncle-dad. It became a problem of Metta [Buddhism for Fellowship and Compassion or the Love and Affection Between Friends]. The problem was that Francisco was in this country to work in order to save money so he can send back to his parents, but he partied all weekend and spent all his whole paycheck. Rather than kick him out, my big mom – via a translator – made a deal with Francisco. She told him: "Instead of giving you your whole paycheck, what I will do is take out $100 from it for your rent, I will give you some spending money. And the rest of your paycheck, I will place inside a savings account for you, which you will not have access to. Every two months we will take that money out and I will watch you send that money to your parents. I am speaking to you as an older sister to a younger brother because I care."
And so Francisco agreed to the deal and idea, and allowed my big mom to handle his money, and he treated my big mom as his own older sister. Francisco lived with us for a few years, until he found himself a wife, and they moved out together. When he got married and moved out, he was still our baker. And instead of my big mom taking care of his money, his wife did.
Big Patterns
And so, in the first example case, you have a caring, compassionate Christian man, who had a house, and out of pity, he allowed people to live in his house. And those people took over the house, they called their friends over, and they controlled the house, and Dave had no power or gut/heart to kick them all out. Dave's home situation was fucked up. Dave was very Liberal. He was too nice, for his own good, and to his own detriment.
In the second example case, a house is owned by an Asian family [mine]. That Asian family has supremacy and hegemony in that house. It's our house, we bought it. But we had an extra room, and we did not mind sharing that room with a non-family member, in fact we wanted to share it. And so a Mexican guy moved into the Asian House. That Mexican guy is not a family member. Not a share or stake holder in that House. Did not build that house. Did not help pay for that house. Therefore that Mexican guy is not an Equal, not a Peer to/of that Asian Family. The House is diverse in Ethnicities and Culture, but there is no such thing as equality in that house. The Mexican guy has no say or power in how the house is administered, he has not say or power in how the children should be raised, and so on. The official culture in the House was still Asian. The official language of the House was still Khmer and English. Nothing about the House was changed to accommodate the Mexican guy's culture or language. Francisco was just a House Guest. The Asian Family desired for him to stay with them, and the Mexican guy was honourable and respectful, and Loyal to the owners of the House. Lastly the Owner to Guest Ratio was proper: the Asian Family was the Majority, and the Mexican guy, being one person was a small and manageable population.
In the bigger pattern of Nation-States, the West is today dominated by Daves. Leftists are not evil or bad people, if I may say so sans the political rhetoric. They are nice people. A little too nice for their own good, and to their own detriment. They let in all of these people. These other races, for an initial good and kind reason. It's nice to give a shit about millions of people in other countries who are being killed by their own government, whose country is torn by civil war, and so on. But like Dave, Leftists let in way to may people and other ethnicities, who then call and bring their family and friends. And they come here and trash the country, and slowly turn the country into a third world nation. And like Dave, the Leftists find it very hard to kick such people out.

Conversely, you have the case of a country like Japan. Sure there are White people living in Japan, for decades even. But those White people are House Guests. Those White people are not equal to the race or ethnicity who Founded and Created the civilization and country of Japan. It's not their fucking country. They have no say in how Japan should be run, in whether or not Japanese women can or can't get abortions, on how the Japanese military should conduct itself, on how the Japanese economy should work, on how Japanese culture and traditions and religions should be canceled to make things equal so the White people feel better. They are guests, respectful guests, legally there, maybe even citizens, but Japan is not their Blood and Soil. And lastly, the White people in Japan are very small in populational number.
The way that my family see things, and the way that I was raised by them: we understand that America is not our country. White people made America. And so, from our perspective: it's not our country. Therefore, we are House Guests. And as House Guests there is a right and proper way to act and behave, and a right and proper way to treat and interact with the Founding Race: with respect and with what we in Khmer call "Goun/Khoun" which means "Sacred Debt."
Goun is hard to explain to a modern Westerner. When your mother gave birth to you: you owe her something big and special, because she gave you life. Thus, you are in her debt, and must pay that debt by taking care of her when she is old and elderly. That's Goun. Goun also means that you understand a person has done you a favor, and so therefore, you are bound by Honour to return that favor when you are called upon: Mafia ethics. Goun also means that if or when you need a job to pay your bills and a person hires you: you "have Goun" for that person. Therefore you owe him not only your respect, but a debt or a favor in return. And so, out of respect for that person giving you a job which pays your house and feeds your family: you work hard and proper as an employee.
Goun also means, to place yourself Beneath another person. In English we say that we are "Under your debt." Suggesting and implying that you are beneath or below or inferior or subordinate to the person who was kind enough to help you, feed you, clothe you, shelter you, took you in, and so on. And that the person you owe a debt to is above you. In other words, it's also called Humbleness and Humility, which is the opposite of Hubris in practice. As my Grandmother says about White people and being in America: "We have Goun for them because they took us in, let us live her in peace, they nurtured us, and so in return for what they have done for us, we should not harm their people/race or cause their country to go bad [she means to be fucked up]. Because America is not our house. We are only guests."
In ancient times, diversity existed, but under different conditions. One condition was that the ancient world was mostly monarchal in model. This basically means that when you are an ethnic group who has lost your home nation to drought or famine or whatever, and you migrate to a new land, you asked the king of that land for safe passage and for a place for your people to stay. And the king would say something like: "I will give your people that field there which you may till, but you will pay me taxes and a portion of what you grow, and when I have a war, you will give me your sons as soldiers." And that was your debt you owed the king. Being a monarchy also means that as a people living as guests in a foreign kingdom: you obviously have no say or power in how that kingdom should be run and administered! And your people, being guests, are a small minority compared to the hegemonic race who adopted you or allowed you to live amongst them.
Being a minority back then is a good and necessary thing. It teaches you your place and allotment in life: you/we as a minority people are in total dependence upon the compassion of the king and his government and people. Your freedom and lives depends on the king and his government giving such things to you and your people. If you fuck shit up, that freedom and your life can be taken away. Diversity can exist, under certain conditions. But Diversity and Equality cannot exist together at the same time: or we have Natural Laws of struggle, rivalry, and competition come into play. As primates, and as animals, we humans are actually a territorial creature. We fight and struggle for territory and resources. The Majority owns the territory and resources, and if they have a surplus of such, they may share it with your minority guest people. As a minority people you are in debt to and dependent upon the hegemonic majority race/people.
Here in the West, like here in America, we are beginning to slowly understand that Democracy + Diversity + Equality – Honour – Debt – Hierarchy – Direction = Societal Collapse. Democracy here meaning: when the emotively whimsical Mass has the power to make decisions. People, especially from the third world, who come to America, no longer have any sense of Honour, Loyalty, or Duty. They come here for the free stuff, to out breed White people, and to ethnically struggle for dominance. Fractal patterns repeat, in degree, magnitude, and scale: what is happening right now in South Africa, will happen here in 25 years. For more on White Hegemony in America, see THIS ESSAY.
/Chloe
---