Posted:
January 15th, 2021 |
Author:
Chloe352
|
Filed under:
Church of Satan
,
Heretical Texts
,
Junk Journalism
,
Leftists
,
Liberals
,
Michael Aquino
,
Nihilism
,
O9A
,
O9A Nine Angles
,
Order of Nine Angles
,
Order of the Nine Angles
,
Satanic Heresy
,
Satanic Polemics
,
Sinister Japes
,
The Sinister Dialectic
,
The Sinister Game
,
The Sinister Tradition
|
Tags:
Anarchy
,
Ancient Pagan Traditions
,
Chloe 352
,
David Myatt
,
Left Hand Path
,
Modern Satanism
,
National Socialism
,
Nazi Satanism
,
Nazi Satanists
,
Neo-Nazi
,
Nihilism
,
O9A
,
O9A Mythos
,
Occult Initiation
,
Occult Mythos
,
Occultism
,
Order of Nine Angles
,
Order of the Nine Angles
,
Paganism
,
Satanism
,
The Sinister Dialectic
,
The Sinister Tradition
,
Traditional Satanism
,
Traditional Satanism. O9A Logos
|
Comments Off

on Mythos And Social Credit
.:.There is an unwritten Rule regarding social credits, meaning one's reputation in any given social order, which states that you must never talk about yourself. You must not blow your own horn.
I started tagging [graffiti stuff] when I was 13, in middle school. And I continued tagging into high school. It was fun, and a great experience where you actually learn a lot of stuff.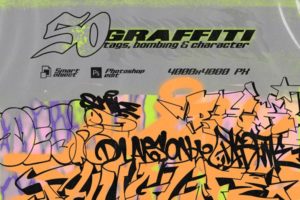 In the beginning, I joined tagger crews. If you are sensitive to social creds [re: social status, social credits, social reputation, social ranking, how cool someone or something is] then you automatically know that there were always 3 types of taggers crews around campus: 1) the Toys, 2) the Chumps, and 3) the Cool Crews.
The "Toys" are just that, they are the kids who toy around with the idea of tagging, but they don't actually tag, they are the "wanna-bes." They might have a crew, and they might dress like taggers, but their crew never gets put up anywhere, because they simply don't tag, cuz they are scared to get caught, or scared to ditch school to tag, or scared to sneak out of their house at night to tag.
The Chump Crews are the taggers and their crews on campus who are autistics and retards; they're chumps. They have a crew, and they sometimes put up their crew and tag around the city, but they're stupid kids who have zero social credits. Nobody wants to be their friends or join their crew.
The Cool Crews are populated with the popular kids on campus, and their crews get put up everywhere around the city and freeways and heavens [re: those green freeway signs that tells you how many miles your exit is and how far the next city is]. And so the cool crews has a huge reputation in the city. Such reputation, being known and notorious on campus and in the city and adjacent cities and at other schools, is called "Fame" in tagger slang. Fame is the whole point to the game.
When I was looking to join a tagger crew, I naturally wanted to join one of the cool crews. But joining one of the cool crews was difficult. There were steps you had to take in order to join one.
The first step was to turn in your "Papers" to the leaders of the cool crew. You Papers were pieces of paper upon which you drew out your alphabets, your tag [graffiti name/nym] and samples of the crew letters in your alphabets. The point of your Papers was that the leaders of such cool crews only accepted people who had "Style," which meant that your letters and graffiti was artistic and cool looking.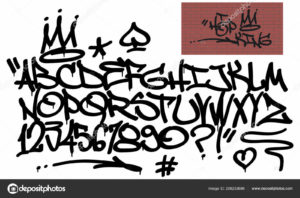 Your alphabets can be as artistic as you can make your letters, but the crew Letters always had to be legible. Because people had to be able to easily read the crew Letters as they drove by in their cars. Why? Well, because that's how you build up your crew's Fame.
If you had style, and the leaders liked your papers, they gave you the second step, which is like a job interview. What they do is the leaders will take you to a quiet place on campus, and actually ask you questions about the tagging subculture, to see if you knew anything. The first questions they asked you was to name the "Tips." In our city, we called the thing the spray paint comes out of a "Tip;" other cities and taggers called them "Caps." Different Tips produced different sized dots and lines. And so those each Tip had a name based on the size lines they made. There was the Pencil Tip, which was usually the default tip on a spray can, which made the thinnest lines. There was a Golf Ball Tip, which made lines the size of a golf ball. A Tennis Ball Tip. There were the Basket Ball Tips, which of course made lines the size of basketballs.
After you name the Tips, you were asked which Tips were used and for what purposes, and which Tips were never used for any purpose. These types of questions were "trick questions" because each crew had their own preference and tip usage, but almost all the cool crews had specific tips they used for specific purposes and if you didn't know how tips were used, they didn't let you join their crew because your lack of knowledge and style would fuck up their crew's social creds.
Golf Ball Tips were always used to tag your tag and crew Letters. Tennis Ball Tips were used to tag up the heavens. Pencil Tips are never used for anything. Golf Ball Tips were used to outline Murals/Bombs. Basket Ball Tips were used to fill in the Murals and artwork. Once you past the second test, they gave you your third and final test: they gave you a night to go out and tag your name and their crew up. So If they said: "Saturday night. Put your tag and our crew name up around the freeways," you had to sneak out on Saturday night to do it, because the leaders would be looking to see if you did it on Sunday.
If you did the third test, the leaders of the cool crew voted on you, and if you past the vote, you were accepted as a member of their crew, and they introduced you to all of the other crew members at a crew meeting.
I had the artistic qualifications to join all of the cool crews active at my school campus. Those crews I was a member of are no longer around, except for one, but when they were active, they were active around Fullerton city up to Corona city and into Riverside County. Some of the crews I belonged to in high school were: EK [Evil Kidz], DTS [Down To Spray], TOK/TOQ [Tribe Of Kingz/Queenz], DTH [Destroying The Heavens], DOSK [Destroying Other Sprayers Krew], SMK [Street Minded Kriminalz], OFW [Out For War].
Once you get into one of the cool crews, it became easy to get into the other cool crews, because most of the time, the membership overlapped. There were some crews where the membership was exactly the same people even. Like for example, DOS membership on our campus, was made up of all the kids who were also members of EK. This was so because EK was not a local crew, it was a huge crew that was multi-city and had its leadership outside of our school in many other high schools. And so DOS was sort of like our campus'/city's "subgroup" of EK members.
Being a member of the active cool crews was fun. In the very early days, many of us from our high school went out together at night to tag for EK. Back then in those early days, EK was beginning to get stupid and control-freakish, where they actually had "quotas" for you, meaning the shot callers told every member that we all had to go out on such and such nights, for at least such and such hours, and get EK up in as many visible places as we can. If you didn't comply, they kicked you out.
So, back in those early days, me, and my two friends Andy and Melissa would sneak out of our respective homes at 3 AM in the morning. The three of use lived on the same cul-de-sac. So we'd walk together up to the local donut store, which was opened very early, and we'd order our coffee and some donuts, and then brush our teeth and fix up in the restroom. Melissa taught me how to strap down my boobs, so I can run faster, in case we got chased by the cops or rival crew members. Melissa was one of the best taggers on campus, meaning that she had very nice artistic style with her letters and writing. Her tag was "Melissa" which was her real name.
We'd hang out at the donut stop for an hour to wake up, and get organized and plan things out. Then at 4 AM, we'd walk down the surface streets, staying in the dark and bushes, so cops don't see us, and we made our way to the freeway. We hit up the freeway, one section at a time.
The three of us had a system we always used for our own safety and for maximum efficiency. The system was two of us did the tagging and the third person was the lookout and "callout." The callout wears the backpack with all the spray cans in it, and also held our school backpacks for us. The callout person didn't tag. We took turns being the callout. The callout watched out for cars that drove by and told us when cars were nearing us, so we don't get run over. The callout also looked out for highway patrol cars. If the callout feels the headlights of a car might be pigs [re: cops, highway patrol], their job was to yell out: "Pigs!" and we'd jump the freeway divider and hide. The callout also stood far from us, to tell us where to go and put up tags and stuff. The callout also rolled us spray cans, when our cans ran out.
Once we were done with one section of the freeway, we'd run off the freeway, walk in the shadows towards a new section, another one of us becomes the callout, and we repeat that process over and over again, until about 7 AM. So, we put in 3 hours of work. Our crew was big, so we would bump into other crew members hitting up other sections of the freeway.
At 7 AM, we'd all make our way back to the donut store, get more coffee and donuts, try to wash our fingers [you get spray paint on your them], and we got ready for school. Then we'd all walk to the park, which was across the street from the donut shop plaza where the school bus picked us all up. As we waited for the bus, we'd be talking with the other taggers about the night.
Eventually, all of us at our school left EK, because EK had become really stupid, where they had all these quotas and rules, like your tag/nym had to end in the letters EK, you had to go out 5 days a week to tag, and the leaders told us that EK was going to be a tagbanging crew to compete with its biggest rival crew which had turned into a tagbanging crew. The biggest rival of EK was SSK [Sick of Society Kingz/Krew]. Tagbanging is a hybrid crew which is part tagger crew and part street gang, where you have guns and kill rivals. When EK had all those dumb rules and became a tagbanging crew, it was no longer free and fun, and so all of us at our school left EK. Tagging is supposed to be fun, not a job.
The most fun part about being in a cool crew were the Battles. Battles was when two crews competed with each other in a competition to see who wins and loses. The competition had judges, who were the leaders and tag crews that did not participate in the Battle. The Competition were also held on certain nights that the two battling crews agreed upon. During those battle nights, everyone in your crew had to go out to help.
Most of the Battles were competitions for spray cans and weed [marijuana]. That was fun. The crew that lost the Battle would turn over all of their spray cans or weed to the winning crew. Other times a battle was done to expand territory. You can't just go into another city and just tag your crew up [it would cause wars of physical fights]. There are protocols. You Battle with whatever crew claims the area, and the agreement of the Battle is that if your crew wins the Battle, we can tag around your city, under conditions your crew can stipulate.
For example, we had one crew from another city who wanted to expand territory into our city. And so they Battled our biggest tag crew from our school. They won the Battle, because they had more people, and so, after the Battle we had a meeting with their "diplomats" to talk about the conditions. The conditions we gave them was that, they can tag in our area, but they have to agree to not vandalize the neighborhoods that we lived in. We lived in the neighborhoods with the nice houses. We'll respect you guys and not vandalize your nice neighborhoods, so please don't vandalize our neighborhoods in the hills. They agreed, and then expended their territory into our area in peace. Expanding your territory into other cities also means colonizing the schools there because kids from those schools will eventually want to join your big crew.
Other Battles were to grow our crews, meaning that if your crew lost the Battle, all your members join our crew and you dissolve your crew, and your crew's leadership becomes co-leaders of the newly consolidated crew.
Battles were judged for a number of items. First is the Style of all crew members. Your tag [re: your name] had to be very nice and artistic. Second thing that was judged was how often the crew name was tagged. Third thing that was judged was the visibility of the crew, meaning that if you tagged your name and crew up on the garage door of 6 houses on some random street, nobody is going to see that shit versus tags that are on the freeway dividers. Dumb tags in dumb places like on cars and garage doors and sidewalks and trees on random streets actual get points taken away from your crew. And then lastly, where you put your tags and crew name was judged: freeway dividers, freeway bridges, freeway signs [the heavens], and billboards [those were top points] were prime places that got you the most points. The billboards got you the most points, but it's very hard to get up there and it's very dangerous cuz if you accidentally fall, you die.
After me and some of my Asian friends got experience with big crews, we one day decided to start our own tagger crew. We called it SFA, which stood for "Strictly For Asians." Me and my Asian friends had gathered all of the cool Asian kids on campus together to create the SFA. The SFA was a hybrid crew, that was part tagger crew and part Asian Family. An Asian "Family" is an East Asian thing, which is sort of like a "gang" but not quite. It's when a bunch of Asians come together and agree to watch out for each other and protect each other from other kids picking on us and fighting us. And so a "Family" is like NATO. If one NATO member is attacked, all NATO members jump in to fight. And so, if any SFA member is picked on or gets into a fight, all SFA members retaliates by lynching that person who assaulted or picked on our member.
I dislike being the leader of any group. I function best in the rank below the leadership rank. Like how Commander Riker took orders from Captain Picard in Star Trek. I don't like to be the shot caller. I like to take orders. You tell me: "We need to do blah blah blah this week" and leave me alone, and I'll execute it as best as I can. I like to be left by myself, to do my job. You give me the orders, tell me what you want to happen, and leave me alone with my brain and capacity to figure shit out, and I'll get it done for you. I don't like a leader breathing down my back though. I'm smart enough to only need to be told once to get a job done, but I need to be given the freedom to do things my own way and on my own time. I'm also smart enough to take hints and turn those hints into projects and plans for you. And so, in our SFA, I was not a leader or shot caller, I was in the second to the top social rank of the crew. Like one of the "vice presidents" or an "Adviser" or something.
So, the SFA leaders told me one day that we were going to battle a crew from a different school, and that they needed everyone in the SFA to go out and tag to win. That's all I need to be told. I'm smart enough to figure out different ways to help us win. So I called up friends from different schools who had joined the SFA to help us tag, and I'd act like a diplomat and talk with my friends who were leaders of other tag crew to have them help us by pretending to be SFA members and put up SFA on the freeways.
That's what I like to do. Because that's were the Challenge is at. It's stimulating for me [stimulates my intelligence] when I am presented with a challenge to overcome and figure out. It doesn't take much to be a leader and want things. As a leader of a crew you can want the crew to grow bigger and to expand into other schools. Wanting that is easy. The challenge is how do you make that happen? As a leader of a crew you can emotively say to me: "I don't like that other crew, I want them gone!" It's easy to want that. The challenge is how do we eliminate that other crew to make your wants real? Like anybody can want a million dollars: the challenge is how to make that million dollars. And so, I think it's dumb to be a leader of a group, because it's not challenging. It's not challenging to be the executive CEO and want things and give orders. Such a position is necessary, because the leader has social creds where the general membership takes orders from such leaders. But being a leader of a group is dumb and not very challenging. I'd rather be the person you come to when you need your Will to be manifested. When you say to me: "This is what I want to happen, can you help?" I'll gladly say to you: "Yes. Leave me alone, and let me do things my own way, and I'll get it done for you." So that's what I did for the SFA.
One of the first projects my friends who were leaders of the SFA put me on was to somehow get more members for the SFA. A chump crew goes around and asks people to join their crew. You should never do that, because it makes you and your crew look autistic and retarded. Like what's wrong with your crew that you have to be dumb and ask people to join it? Why don't people want to join it by themselves?
And so, to work on growing the SFA, one thing I figured that needed to be done was to battle crews in and around the city of Westminster, which was where a whole lot of Vietnamese people live. Their schools are majoritively Asian kids. If you ask me for help, and you give me order to do things, I need you as a leader to take my advice and not question me and to do what I say. And so I told our leaders that they need to begin organizing Battles with crews from Westminster so we can colonize schools in that area. Our leaders did so.
We Battled with the small crews from that area first. Losing crew joins the SFA and dissolves their crew. That gave us a footing in that area, where we now had some membership there. We gradually worked our way to Battling bigger crews from that area.
I told our leaders to tell everyone in our SFA to never, ever ask anyone to join the SFA. It's forbidden to be chumps and ask people to join, and forbidden to talk about how cool the SFA is to anybody. You never should talk about yourself if you want to be cool. If you are cool, other people talk about you. And so, everyone in the SFA had to do something, anything, to help make the SFA look cool in action and deed, not in blowing our own horn. Other people should talk about the SFA.
Gradually, the Fame of the SFA grew, meaning that our reputation, Mythos, Aura, Mystique, Coolness grew and became known in the minds and awareness of kids in other schools and cities.
And it is that Fame, that Reputation, that Mythos, which is what draws people to your crew and makes them want to join it without you having to ask people to join. The other factor that makes other people want to join your crew is the coolness [social creds] of its membership.
Toy crews are made up of wanna-bes, who are nobodies, with zero social cred. Social Cred meaning that in a given social order or society or subculture, that people see you as having some value, worth, desirability, where they like you. And so being "cool" has to parts to it. First part is that there is something about you that has value or worth, such as a skill you might have, like playing football very well, tagging very well, being attractive, and so on. The second part of "coolness" is that you have social skills: you have the ability to simply cause people to humanly like you and want to be around you. Social skills can be anything from how you communicate with others, how you make other feel, to throwing occasional house parties.
When you as a person become "cool," you climb up the social rank to the top, and gain power and influence. This is so by Natural Law of Human and Animal [biological/genetic] Nature. Why is this so? Because of two evolutionary mechanisms built into all organisms: 1) The Value or Worth or Skill that you possess contributes to the survival and thriving of others around you & 2) Your sociable quality is the glue which gathers and binds people together into tribes. And both of those put together ensures/insures biological and genetic survival and thriving. That is why cool people in any social order – high school, corporation, political party, or nation – gains influence. Why so? Because such factors and things are elements of an organism's umwelt. And your umwelt influenced your behaviour. And so therefore, the organization or group, that becomes cool, will also thus become influential: by Law of Nature.
At our school and city, when you turn 18-years-old, you age out and have to stop tagging. This is so because if you are an adult, and you get busted for vandalism, you end up making your crew look like chumps. It's just gay to have adults in your crew who get busted for something juvenile that kids do.
And so, when I turned 18, I stopped tagging. And took everything I learned from my experience with tag crews, being a member of such crews, learning about the organizational dynamics of such crews, the experience of growing and expanding such crews, and I began to apply that shit in the world of Satanism and "crews" [Satanic groups] in said subculture. And so, the WSA352 was my crew, through which, I worked at translating everything I had learned from tag crews, into practicable concept to make the WSA352 grow influential. And when, after several years, I was successful at growing the WSA352's social creds, I temporarily closed up the WSA352, and in the year 2009 I took everything I had learned, and I worked on helping the Order of Nine Angles [ONA/O9A] grow and expand.
It's the same principles and game. The same Laws of Nature at play. Fame is the name of the game. The "tag crew" is ONA. But instead of vandalizing freeways and shit, you vandalize people's Brains. Meaning you tag "ONA" in their awareness. The objective of the game is Fame, to grow and build the reputation, the mythos, the brand of ONA in the fucking brains of people.
Just like tagging, where there are prime places to put up your tag and crew Letters, in the domain of memeplexes, there are prime places – prime Brains – that have the most value and points. Those prime target brains to be vandalized are: 1) Academic Brains, 2) Journalist Brains, & 3) Government Regime Brains. The game of Fame is to tag ONA on their fucking brains! Like those fucking people are cows, bovines and you brand them with a hot iron. ONA is branded on their brain, their awareness, their consciousness.
Your fucking Brain is the fucking freeway, the fucking heavens, the fucking billboard. And these websites, these wordpreses, the writings and contributions of ONA associates, are our spray cans. The target audience are NOT Satanists, NOT right-wing guys. YOU academics, Journalists, and such are the fucking audience! Because your talk is not cheap: because you people have authority in the eyes and minds of the common people.
This causes such prime real estate brains to talk and write about ONA. Talk is cheap. When a geek or a fag talks about you, it's cheap, because they are nobodies. But when academics, journalists, and government members and agencies talk about you: that's Fame.
And like a tagger crew, or any thing, the crew with Fame, with reputation, the crew that is cool, becomes magnetic where it draws to itself, attracts to itself, people who resonate with the Aura, the Mythos, the Reputation of that crew. And the Fame of such crew make such crew influential. This is Fame and Mythos, this is tagging prime brains: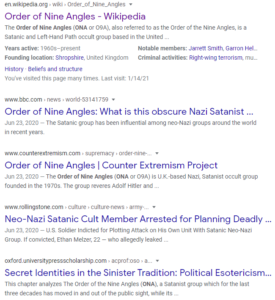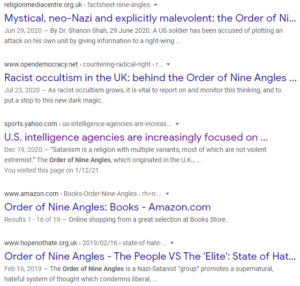 And because of the Fame and Mythos, ONA, doesn't have to be chumps to ask people to join it: people who resonate and vibe with its Mythos/Aura want to join it. And you guys, you academics and journalist and Leftist Politicians, create that Mythos/Aura. Nobody in ONA has to say that ONA is evil: you guys say that. You get tagged by ONA, you talk about it, spread its suchness into the awareness of people who listen to your talk and read your shit, and thus you spread ONA brand and name for ONA to a much larger market than ONA could ever possibly reach. And you guy make ONA influential.
I need this to continue, because in 10-15 years, I want ONA to dominate and influence the entirety of Satanism. The Temple of Set is dead. The Church of Satan is dead. ONA has no more real rivals. ONA should and will be the "only" Satanism, just the Coka-Cola is the "only" soda. I want it so that future generations, when they hear the word "Satanism," the first and only thing that they think of is ONA. Because ONA is cool.
And when ONA is cool, it attracts new people who then initiate themselves into ONA. From hereon, it's going to be hard to stop the growth of ONA because of two factors: 1) you guys keep talking about ONA, thus expanding our market & 2) the Next Generation of people have communications apps that allow information to spread very quickly, such as Telegram.
The challenge is to figure out how to spread ONA into the Asian market. It's a very challenging notion, because ONA was heavily Westernized. But after 10 years of having my brains stimulated with this challenge, I have figured out a viable plan to spread ONA into Asia, where there are billions of people: by building a bridges! It's going to take 10 years or more, but it'll be a fun challenge.
If you are a journalist who speaks Chinese or Japanese, or you have a colleague who speaks Chinese or Japanese, can you do me a favor and write a news article about ONA in Chinese or Japanese? It would be helpful. If you are an individual who likes the occult, and you speak and write Chinese or Japanese, initiate yourself into ONA and begin translating your favorite ONA Manuscripts into Chinese and Japanese and distribute them. I will work on building the bridges. I think Hong Kong right now is a good place to colonize, because the social and political situation there is intense and can be exploited.
/Chloe
---