Posted:
November 1st, 2021 |
Author:
Chloe352
|
Filed under:
Anarcho-Nihilism
,
Anarchy
,
Civil War
,
Current Affair
,
Drecc
,
Dreccian
,
Far-Right
,
Journalism
,
Junk Journalism
,
Leftists
,
Liberals
,
Mundanes
,
National Socialism
,
neo-marxism
,
Nihilism
,
O9A
,
O9A Nine Angles
,
Order of Nine Angles
,
Order of the Nine Angles
,
Politics
,
Reichsfolk
,
The Sinister Dialectic
,
The Sinister Game
|
Tags:
Anarchy
,
Ancient Pagan Traditions
,
Anton Long
,
David Myatt
,
Labyrinthos Mythologicus
,
Left Hand Path
,
Nihilism
,
O9A
,
Occultism
,
Order of Nine Angles
,
Order of the Nine Angles
,
Paganism
,
Satanism
,
Seven Fold Way
,
The Dark Tradition
,
The Nine Angles
,
The Sinister Dialectic
,
The Sinister Tradition
,
The Sinisterly-Numinous Tradition
,
Traditional Satanism
,
Traditional Satanism. O9A Logos
|
Comments Off

on Violence Is The Answer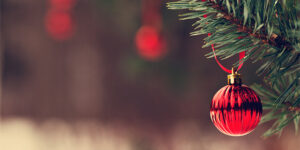 .:.'Tis the season… to be Violent! Somewhere on this Earth, a race of people celebrate Christmas with violence. How cool is that! If you're a Leftist Faggot, you shouldn't read this, knowing how you cry-baby fags feel about Violence.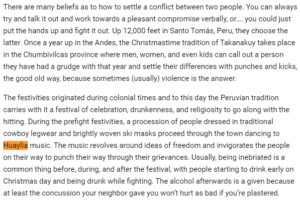 Our Leftists here have gotten mentally out of control where they even call parents protesting at schools about how their own kids should be educated as "Domestic Terrorists"… I can only wonder what heinous species of terrorists Leftists would call those reveling Peruvians!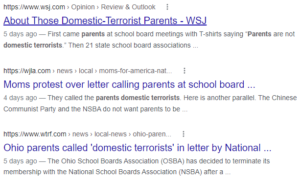 I have been listening to Huaylia Music for a couple weeks now. I have to say that Huaylia [pronounced as "why-lee-ya"] has become one of my favorite genre of cultural/folk music:
I never realized that Spanish sounds beautiful when a non-Mexican speaks it! I hate Mexican Spanish [even though I'm half Mexican], because when they speak it, they sound like a machine gun going off, where they speak so fast, all of their words are blurred into each other. It sounds ugly. Peruvians make Spanish sound like the beautiful language that it is.
I like the dancing and costumes that accompanies Huaylia music too:
And the festive fights:
I wish Democrats and Republicans, Christians and Satanists, Nazis and Jews, Whites and Blacks can be less intellectual sissies and just fight it out in the field. You guys should be ashamed of yourselves for being such pacifist fags, I mean, look at those girls fighting at that Takanakuy.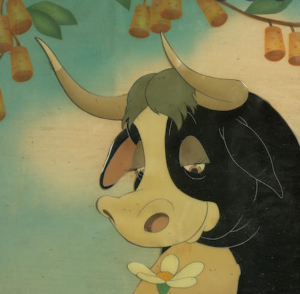 You Modernist Mundanes of the current generations are Docile: like Ferdinand the Bull. Docile and Domesticated. And your Leftist regime overlords – consisting of the current fake administration and Leftist Journalists – are hypocrites, where they actually call White parents concerned with how their own child should be educated [what they should and shouldn't be learning, like that Woke shit] as "Domestic Terrorists"] but your Leftist Overlords don't refer to this as a "domestic terrorist" group: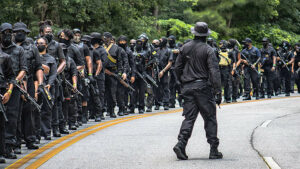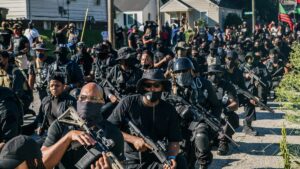 NFAC – Not Fucking Around Coalition – is the largest [far-left] African-American militia in America. And they are heavily armed. But they aren't terrorists, because 1) They are Leftists & 2) They are Black. Compare NFAC in those pictures with unarmed White parents who are concerned about what schools are teaching their children for the contrast. You won't ever see Hate Not Hope feature NFAC on their site! Which is funny to me, because when I look around Hate Not Hope's website, all I see are a bunch of White people with strong views and opinions, and they are deemed to be dangerous terrorists: but an organized large group of heavily armed Black dudes who hate White people aren't a hate group or terrorists.
You White people need to wake the fuck up. There will come a time in the near future when just being an outspoken – non-docile, non-pacifist, non-domesticated White person – will not only make you a criminal but also a domestic terrorist. You White people on the Left and you White Leftist journalists are Race Traitors and Sell-Outs: you're fucking your own people up; you're turning America into a South Africa, for your own personal benefit and vested interests. You sold out your own people: for your own personal careers and profit. There is a lack of Racial solidarity. Just like how White people in California prisons lack that same Racial solidarity, while other races around you in that prison are organized, coherent, and cohesive. That lack of Racial solidarity is a weak spot which the Leftists and Black Neo-Marxists are exploiting.
What those Leftists Regime bullies fear are White people who have strong views and opinions, who aren't afraid to get violent and be outspoken. The only good White person in our Modernist America is a Homosexual, Transexual, and Transvestite White person; and those White folks who are Docile and Domesticated. Bullies on school campuses fear people who fight back: it's the only way to stop a bully from picking on you.
/Chloe
---