Posted:
November 6th, 2021 |
Author:
Chloe352
|
Filed under:
Anarcho-Nihilism
,
Anarchy
,
Drecc
,
Dreccian
,
Fake News
,
Far-Right
,
Hustle
,
Islam
,
Journalism
,
Junk Journalism
,
Leftists
,
Liberals
,
Media Attention
,
National Socialism
,
neo-marxism
,
News
,
Nihilism
,
O9A
,
O9A Nine Angles
,
Order of Nine Angles
,
Order of the Nine Angles
,
Politics
,
Reports
,
The Sinister Dialectic
,
The Sinister Game
,
Traditionalism
|
Tags:
Anarchy
,
Ancient Pagan Traditions
,
Fake News
,
Left Hand Path
,
Modern Satanism
,
Nazi Satanism
,
Nazi Satanists
,
Neo-Nazi
,
Nihilism
,
O9A
,
O9A Mythos
,
Occultism
,
Order of Nine Angles
,
Order of the Nine Angles
,
Paganism
,
Satanism
,
Septenary System
,
Seven Fold Way
,
The Dark Tradition
,
The Nine Angles
,
The Sinister Dialectic
,
The Sinister Tradition
,
The Sinisterly-Numinous Tradition
,
Traditional Satanism
,
Traditional Satanism. O9A Logos
|
Comments Off

on Ad Populum
.:.We pretend [rhetorically, meaning when we talk and yap our mouths off] that we don't care about other people's opinions, that we don't care what other people think, that we don't care about the Opinions of other people. But in Practice, we do care, a lot. In fact, we care so much about what other's think, that the Opinions of the Mass is the foundation and mechanism of Politics and Power and Wealth. In Practice, we care a lot about Public Opinion, don't we? Because we cry a lot about it, indirectly.
Argumentum ad Populum – meaning 'arguing to the public/people' – is a logical fallacy a lot of people think in and fall for. It's the staple of Marketing, Advertising, and Democratic Politics. It's often shortened as "Ad Populum." Here's an example ad populum statement: "Many people see UFOs, and so they must be real." Just because many people see UFO does not necessarily mean that UFOs are real. There may be many reasons why such people are seeing UFOs, the primary reason, a la Occam's Razor: they are idiots who interpret atmospheric and/or weather phenomena such as ball lightning, plasma balls, as well as balloons and shit to be "UFOs."
The converse of the Ad Populum, the retro ad populum, is also a fallacy that works very well at social engineering. Here's an example of the retro ad populum: "A lot of idiots believe in UFOs." And so, if you don't want society – Public Opinion – to see you as being an idiot then you try to work on distancing yourself from such idiots, or you try to figure out alternative explanations as to what UFO's might be. Here's another example of the retro ad populum: "You're not a true Satanist, if you don't agree with our version of Satanism." Why is this a species or "dialect" of the Ad Populum? Because we are essentially dealing with the common denominator of Public Opinion: that a self-established Church of Satan [or any of the various Satanic institutions, o9a included] and its body of membership/adherents/fanbase [its public/people] believe that their version of Satanism is the true Satanism. Just because a group of people believe in X does not mean that X is true/real.
Social Engineering: [Argumentum ad Populum]: "Many health experts suggest that you take vitamin B2 supplements." [Retro ad Populum]: "It's been observed that many people who suffer from unhealthy liver conditions do not take vitamin B2 supplements." Both arguments, although using different angles of attack/approach, engineer/manipulate the same desired response in Public Opinion: that it's good to take vitamin B2 supplements. What's this statement: "It's been observed by hospital staff that most deaths that occur in hospitals are of people who are unvaccinated with the COVID vaccine." Correlation versus Causation: is COVID the CAUSE of those deaths? Might there be other causes of those deaths?
And so, in this essay, I'm using "ad populum" to mean both the retro and the normal one, and I'm using Fallacies in general not in context to winning debates, but as tools [rhetorical devices] of social engineering and manipulation of Public Opinion.
Who, these days, have the largest share of control and influence of Public Opinion? Journalists do. Which is why, at the start of a totalitarian or authoritarian regime, the regime will first kill off the journalists. This was something both the Khmer Rouge and the German Nazi Part did. And it's something I agree with. And I'll explain why I agree with the age old tradition of executing journalists. I don't rhetorically pretend to be a "fascist." I am a Fascist in my Heart and Mind. But I have a different understanding of what exactly Fascism is and means.
When I use that term, it means the following: 1) That the Fuhrer or Leader of a Folk, by authority and power of the Fuhrerprinzip is not only the supreme leader of a Folk, but is also the Party and the State itself [L'etat c'est Moi! / or as the Right Honorable Hess put it: "Die Partei ist Hitler, aber Deutschland ist Hitler und Hitler ist Deutschland."], 2) That the Party, the Culture, the Religion of a Folk are the same thing [as with the case of Islam in the Islamosphere, where Islam is the Party, the Culture, and the Religion; and the Qur'an is the Constitution of the State], 3) that the Folk/Citizen are all practicing members of the State/Party/Culture/Religion, which is called Traditionalism, & 4) That the Will of the Fuhrer/Leader is the Will of the Party/State/Religion/Civilization [and therefore the will/whims/opinion of "the people" ((a reification)) are irrelevant]. And so, as a Fascist, in a subcultural fractal sense: I believe that o9a and DM/AL are the same thing, and that there is nothing Official whatsoever regarding o9a beyond what Anton Long said and may say.
The first reason why I hate journalists is that today, in a democracy such as ours, journalists have set themselves up as a Kangaroo Court where They are the Judges, the Jury, and the Prosecution all at once. Nobody elected them, they aren't kings, but they have Power. They have an agenda, they write shit to manipulate Public Opinion in order to garner Mass Support [argumentum ad populum], and they get things their way. Here is a recent example: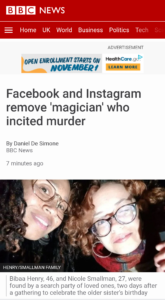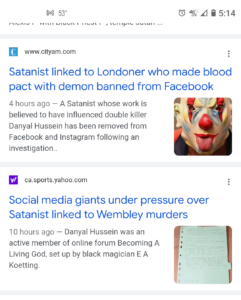 The story is that some goofy kid in the UK who believed in demons wanted to make a pact with a demon, and in that endeavor, he murdered two girls. The Leftist media/journalists jumped on that story, proceeded to hijack it, and turned the story to be about some American dude who "is" a member of the vile o9a. And boy did they fabricate a narrative. This American dude is all evil, who wrote shit for the Tempel ov Blood, blah blah blah. They took a crime which happened in the UK, which had nothing to do with the o9a, and made it about the o9a anyways. In order to make their straw boogeyman.
Besides Ad Populum – appealing to Public Opinion ["Oh my goodness! Look at the big bad boogeyman! He's gunna get you! Everyone hates the boogeyman! He's gunna get you!], you have two other logical fallacies they are using: the Strawman Fallacy, and the Then For Now Fallacy. Strawman Fallacy because journalists are not trained Researchers, they write stupid articles to tell/share the news/events for News Corporations which are often owned by Jews. And so because they lack the ability to do any good research, they create caricatures of the shit they talk about, such as the o9a. Here's what's meant by the word "caricature":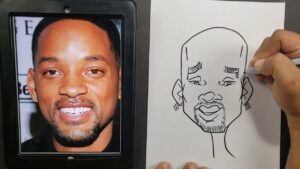 One is a picture of the Real Guy whereas the other is a picture of a caricature of the actual Real Guy. The o9a is on the left [the real guy]. What the Leftist journalists narrate as being o9a is on the right. The thing about a caricature is that you accentuate the persons most visible or iconic parts, such as Will Smith's big ears, his big nose, etc. Then For Now Fallacy would never work in a functioning court of law. That fallacy is when you as a prosecutor say things like: "Because that guy shoplifted as a kid 25 years ago, he is most likely guilty of stealing from WalMart as he was accused of doing!" Just because you shoplifted as a kid, does not mean that as a grown adult that you still shoplift. Back in California, a good friend of mine [an older man in his late 50s] is a well respected Latino of his community who hires locals and donates a lot of money to his community and goes to Catholic Church regularly: but as a teen, he was a gangbanger. There are plenty of Christian Preachers who were once drug addicts, and I know of one Preacher – who I like a lot [she's beautiful, and a secret subtle influence on me] – who was once a porn star; her name is Dr. Melissa Scott [she is fluent in 25 languages; porn star wife of the late Dr. Eugene Scott. I based the character "Malachi" in a fiction story I wrote in NZ 7.1 on Dr. Eugene Scott]:
Just because Pastor Melissa Scott was once a porn star in the past: does not mean that she is a porn star now or that she still believes in or agrees with her former lifestyle and its loose morals. And so, just because that American Satanist guy spoken about in those news articles was once associated with o9a: does not mean that he is still today o9a or that he still today believes in or subscribes to o9a worldviews and ideology. Just because a person, while on their youthful quest for knowledge got into o9a to learn a few things does not mean that they are today o9a or that they still agree with what o9a teaches. But to these stupid Leftist journalists: once a fascist/o9a, always a fascist/o9a. Why? Because they have an ax to grind, they have their Leftist agendas. It's obvious that they have a Leftist agenda, because before 2017 – like from 2000 up to 2017, none of those journalists even gave two shits about the o9a or other far right groups. Most people out grow thing they got into when they were younger and dumber, and they look back at those early years and often regret what they were into. It's called Personal Growth. And there is nothing wrong with that.
It's a Power Trip. The game that these Leftist journalists play is that they flood the media with dumb articles, creating their boogeymen, use fear mongering, to manipulate Public Opinion about shit like o9a or whatever. Then what do they do? They use that Mass Public Opinion as a Weapon where they say, as with Hate Not Hope: "Look here, the o9a is very bad, we did our research. We want them banned! You parliamentarians need to do what we say, because many people in your district agree with us! Or else you might not get re-elected!" Which was what they did with that American Satanist, if you watched over the past couple weeks, how they did things. They fomented Public Opinion, used that American Satanist as a bridge to get o9a into the narrative, and pressured social media things like facebook and youtube to ban that American Satanist. It's a Power Trip. I hate, hate, hate, Power Whores and their games.
And those social media things, have no choice but to comply. Why so? Well because they are a business that needs to make money. Which in turn means that the Majority of the Population holds the circulating money. And our current society in the Majority is made up of Third World people who are mentally Leftists and Liberals. And so those media corporations have no choice but to sell themselves to the Leftist audience, for their own Wealth and corporate interests. Which brings me to the second reason why I hate journalists:
Because of their power trippin, their axes and agendas; they lie, tell half-truths, withhold information, manipulate data, do shitty research, and/or out right fabricate fake news; in order to manipulate Public Opinion; and then they weaponize that Mass Public Opinion.
The ultimate problem in this equation are: The People, the Mundanes, who are, by nature and ethos: imbeciles. But the problem is that you cannot polish shit: meaning that you cannot make a Mundane person who is by nature of average intellect into a person who is very organically intelligent or even wise [having wisdom]. Which is why Logical Fallacies are very effective with the general population. You cannot change the nature of a person or thing. And so, the Mundanes exist – since ancient times – as a commodity to be used and manipulated for Power and Wealth.
We care about Public Opinion. We care what people think of us, don't we? Which is why some people in o9a have been counterarguing these journalists and their narratives. Why? Because fundamentally we desire to sway that public opinion: to make people see o9a differently. I personally see a practicality to the narrative/mythos those Leftist journalist weave about o9a: because such mythos will attract to o9a those that Vibe with that Mythos. This was exactly how Satanism [devil worship] began: as narratives/mythos woven by the Catholic Church, about Satan, demon worship, witches kissing Satan's ass, licentious orgies, human sacrifices, rape of virgins, etc. That Mythos attracted people who Vibes with that Mythos. Things like Satanism, Christianity, Buddhism, o9a belong to nobody, and so, unfortunately, everyone has a roll to play in the shaping and development of such things. In other words, to put it in a different way: those journalists are helping to create the o9a. And in that way, along with the constant publicity they give o9a: they are useful.
/Chloe
---