Posted:
January 7th, 2021 |
Author:
Chloe352
|
Filed under:
Heretical Texts
,
Labyrinthos Mythologicus
,
Leftists
,
Liberals
,
O9A
,
O9A Nine Angles
,
Order of Nine Angles
,
Order of the Nine Angles
,
Satanic Heresy
,
Satanic Polemics
,
Sinister Japes
,
The Sinister Dialectic
,
The Sinister Game
,
The Sinister Tradition
|
Tags:
Anarchy
,
Ancient Pagan Traditions
,
Anton Long
,
David Myatt
,
Fake News
,
Far Right
,
Left Hand Path
,
Modern Satanism
,
Nazi Satanism
,
Nazi Satanists
,
Neo-Nazi
,
Occultism
,
Order of Nine Angles
,
Order of the Nine Angles
,
Paganism
,
Right Wing
,
Satanism
,
Traditional Satanism
,
Trump
,
White Power
|
Comments Off

on The White Right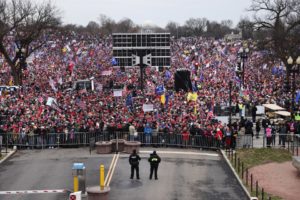 .:.Well I had a fun and good morning this January 6th! I saw something I thought I'd never see in my entire lifetime: Cracks in the United States of America. The weakest spot of any institution is its social bond. I see a weakness that can be exploited!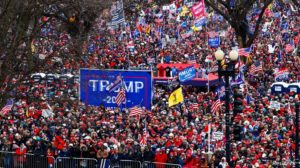 I spent my morning reading the news like usual, and watching Trump rally his mob. They came and eventually stormed the Capitol! There were a lot of them, and many of them were armed.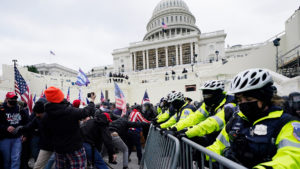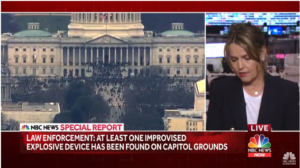 I was hoping it would turn into a Civil War. Hoping that Trump would declare Martial Law! But that didn't happen. Not enough people! But what I saw today gave me a clue/clew to follow.
What we saw today, and what we are seeing regarding the rise of the Far-Right are Symptoms of an underlying Cause. What is the underlying cause of all of these White People getting into Right wing shit and getting involved with an insurrection? Here, I'll show you the underlying Cause of such symptoms: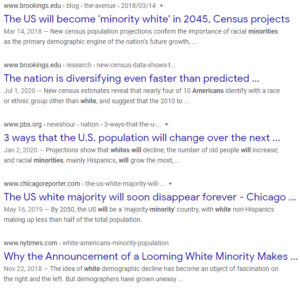 So, I'll be frank and candid. I'll talk real English with you guys: In less than 2 generations, White people here in America will be a minority Race. One generation is about 30 years. What's that mean? It means the same fucking thing with South Africa. What happened in South Africa? Whites lost fucking power! Why? Cuz they were a minority fucking Race!! That's democracy.
Democracy is the rule of the Majority! And so when the Majority here in America will be Hispanics/Mexicans and Blacks, and the minority will be Whites, that means that White people here in America will lose control and dominion of this country and lose the power to rule it.
So, today, in our current era, White people, in the majority fall into two camps: Leftists and Rightists. Those are silly terms that do not convey the actual practical essence. I'll tell you the simple practical essence beneath the stupid political gobbledygook:
By "Leftist" is meant White people who have come to understand that they will be a minority in 40 years and that minority races will be a majority, and so, they side with such minority races now in order to try and maintain power.
By "Rightist" is meant White people who have come to understand that in 40 years they will be a minority race, and out of fear and uncertainty, they try to come together as a people/folk to do something about it, anything.
The Leftists are the Bad Guys: the Sell Outs. They turned their backs on their own race to mingle and get into bed with other races. Because in 40 years, such other races will be the majority Voters.
In Principle [Natural Law], all human action and behaviour are rooted in a handful of primal emotions. And so in principle, the White Leftists are governed by the emotion of Greed and Need for power, which is why they embrace minorities. The White Right is governed by Fear. Fear of what the future holds for them and their grandchildren, when they become a minority race.
You see, the issue of Race isn't going anywhere. The Left have this desire to make it seem that race doesn't exist and so on simply because of two reasons: 1) Minority politicians desire power & 2) the White Left desires power, and so, those two groups join forces in order to gain power. Thus, they want people and each other to not make race an issue. They're bed fellows.
In one human generation you will see race become an issue again, when more White people understand that they will be a minority and when such White people become governed by Fear.
And so, the 19th Enochian Key had it right, because what it spoke about was based on Natural Laws:
the Earth let her be gouerned by her parts and let there be diuision in her, that the glory of hir may be allwayes drunken and vexed in it self. Her course, let it ronne wth the hevens, and as a handmayd let her serve them. One season let it confownd an other, and let there be no creature vppon or within her the same: all her members let them differ in their qualities, and let there be no one creature aequall wth an other: the reasonable Creatures of the Erth let them vex and weede out one an other…
Racism and Racialism will not go anywhere. It will get worse in 40 years. Because the White Right will get bigger, more afraid, and will take out their fears on people of other races they believe are the cause of the future fall of the White Race.
And so, in this Context, I want you guys to really and deeply contemplate on this statement from Homeland Security:

What we saw today is merely a hint, an allusion, to what will be possible in 40-60 years. No Revolution is possible without an unthinking Mob. And today, Donald Trump found for us that unthinking Mob: the White Horde of Homo Hubris, the Anariya [unaryan/ignoble] White Untermenschen.
Time is on our side. Because with time, the White Right will only grow bigger. The bigger the mob, the better chance for a revolution or civil war.
And so, the o9a has a mission for the next 40-60 years, should some of us choose to accept that aeonic mission: to join and infiltrate all White institutions, from neo-nazi groups, to the Republican Party, to the Greek letter frats and sororities in colleges. Every organization and institution that White people join and are affiliated with, o9a Associates also join.
The objective is simple: to spread and nurture Fear in those barely educated White homo hubris people by any means and manner. Make sure that they hear and understand that in their lifetime, they will be a minority race, Mexicans and Blacks will dominate US politics, they will be mistreated as a minority race, just as they mistreated minority races, they will lose power in their own country their ancestors founded. Brainwash them to believe such things.
The goal is the o9a's Sinister Dialectics: to disrupt social order. The more of them become governed by Fear, the more of them join the Right. Which means that Right wing groups such as White Supremacists will grow. Our best bet is the White Right. Trump has proven to us today that the White Right is fertile ground that will take memetic and ideological seeds who will germinate into armed Mobs.
The White Right is a door of opportunity for o9a, which government agencies consider to be a lethal threat. Today's insurrection flopped. But failure is a part of eventual success and victory. Trump has shown us today what can be possible in 40-60 year from now, if we continue to stoke and nurture Fear.
/Chloe 352
---