Posted:
April 1st, 2021 |
Author:
Chloe352
|
Filed under:
Druidry
,
Generation Three
,
Iteration Three
,
Next Generation
,
O9A
,
O9A Nine Angles
,
Occultism
,
Order of Nine Angles
,
Order of the Nine Angles
,
Phase Three
,
The Sinister Dialectic
,
The Sinister Tradition
,
The Sinisterly Numinous Tradition
,
Third Iteration
|
Tags:
Ancient Pagan Traditions
,
Anton Long
,
Druid
,
Left Hand Path
,
Modern Satanism
,
Nazi Satanism
,
Nazi Satanists
,
O9A
,
Occult Initiation
,
Occult Mythos
,
Occultism
,
Order of Nine Angles
,
Order of the Nine Angles
,
Paganism
,
Satanism
,
Septenary System
,
Seven Fold Way
,
The Dark Tradition
,
The Hermetic Tradition
,
The Nine Angles
,
The Sinister Dialectic
,
The Sinister Tradition
,
The Sinisterly-Numinous Tradition
,
Traditional Satanism
,
Traditional Satanism. O9A Logos
|
Comments Off

on My Thoughts On The OBOD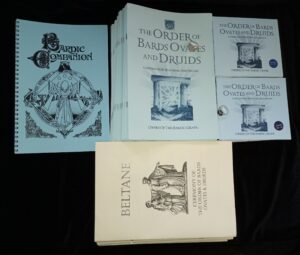 .:.The acronym OBOD stands for "Order of Bards, Ovates, & Druids." I joined it a while back, last year, while I was writing Nexion Zine 7.1, because I needed to learn how a Druid Order is structured, organized, how they collect and teach their curricula and so on, in order to use that data to put together the "Sinister Order of the Gylden Dammerung [see NZ 7.1]." Like I stated in Issue 7.1: I didn't just simply invent the Sinister Order of the Gylden Dammerung out of thin air. I actually used real institutions, and real magical & sorcerous traditions as models and inspiration.
Being a member of OBOD is nostalgic for me. The last time I was a member of a "Mail Order" Order, was when I was 18ish and was a member of the Rosicrucian Order, A.M.O.R.C. [Antiquus Mysticusque Ordo Rosae Crucis]. Both AMORC and OBOD utilize the same institutional propagative principle and organizational model; I'll explain what that means exactly in a few seconds.
So when you join AMORC, what you do is pay them a "membership" fee every three months. In exchange for the modest membership fee, you get these very thin magazines which AMORC calls "monographs." The monographs contains their teachings. And so you gradually learn their teachings, often referred to as "Curricula," as you progress in their initiatic grade structure.
AMORC, like the Freemasonry it was born from, has "initiation rituals." Let me say briefly here that I understand the traditional "history" of AMORC being a descendent of the Ancient Egyptian mystery schools, blah, blah, blah. But I'm not an idiot. Realistically, and memetically, AMORC came out of Freemasonry: their founder was a Freemason [who was a contemporary and associate of Crowley], their degree system is based on that of the Societas Rosicruciana in Anglia, which is itself a Masonic Rite [like how the Scottish Rite is to Freemasonry]; etc and so on.
But interestingly, the "initiation rituals" of AMORC are self-initiation rituals, which is why I placed such phrase in quotations. Because traditionally, when we speak of Freemasonic initiation rituals, we are talking about a physical initiation ceremony where the person has to be physically at a Lodge, and there are physical Lodge officers [at least 7 to initiate a 1st degree Mason] performing the ritual pageantry upon you as the candidate.
Whereas the "initiation ritual" of AMORC is a "self-initiation" ritual which you do/perform in the convenience and privacy of your own bedroom. The self-initiation rituals of the Atrium degrees of AMORC are pretty simple to perform. They basically consist of you sitting in front of a mirror, closing your eyes and doing some visualization [using your imagination], and reading out loud a pledge/oath. The self-initiation ritual is contained inside its own little monograph. Once, you have initiated yourself, you are then instructed to go ahead and study the monographs for the degree you have initiated yourself into.
So that is the "institutional propagative principle" I mentioned. AMORC and OBOD use this same method of propagating their organizations: by way of "self-initiation" rituals any person with the data can perform in their own time and in the convenience and privacy of their own rooms and back yard.
The organization model: that of disseminating institutional curricula/teachings via paper-printed pamphlets through the mail for a modest fee – called "monographs" by AMORC and "Gwers" by OBOD – is utilized by both AMORC and OBOD, very effectively.
Proper Context will explain why things like AMORC and OBOD must propagate themselves by way of self-initiation rituals. The realistic and down-to-earth reasoning is that both AMORC and OBOD were founded by one or two guys who had an idea and desire to create/invent their own mystical or magical society/organization, and such one or two people can't possibly fly around the world initiating every prospective candidate. It's just simpler to create new members of your group by simply letting the prospective members do all the work for you: initiate themselves!
This same institutional propagative principle and organizational model, if you have done your o9a history studies properly and thoroughly, was actually the same that was used by the very first iteration of the Order of Nine Angles, back in the 1970s and 1980s and even up to the 1990s.
Back in that era of o9a, the o9a was, like AMORC and OBOD, a "mail order" Order. Back then, the o9a was an idea invented by "Anton Long." Perhaps AL desired to have his own Satanic Organization, like how LaVey and Aquino had theirs? Perhaps AL needed to make some money to sustain himself? Who knows what the original and actual reasoning was. But AL created the o9a back in those days, to function like AMORC and OBOD: he used typewriters to make pamphlets which ended up being called "Manuscripts;" what we today call "ONA MSS," which is the equivalent of AMORC's "monograph," and OBOD's "Gwers." As a person desiring to "join" that old iteration of o9a, you would send AL or one of his buddies working the PO Boxes some money to purchase "Core" texts which contained the self-initiation rituals. And you would purchase the institutional curricula which contained the "teachings," such as the Hostias, the Black Book of Satan, Naos, etc. Today, we call the entire mass of ONA MSS and Core Texts [all written by AL from 1970-2011] the "ONA Corpus," which consists of about 5000 pages worth of stuff.
And so, that method of institutional propagation is actually pretty effective. By that same method of self-initiatic propagation, AMORC today is the richest mystical/esoteric organization in the world and OBOD is today the largest contemporary "neo-druid" organization in the world. To give poetic contrast: today Freemasonry, at least in America and the UK, and Canada, and New Zealand, and Australia, is dying because Freemasonry has a very difficult time adapting to the current internet/information age. Generation Y & Z simply aren't interested in being in a physical Lodge or Church, because spiritual information is freely available in cyberspace. And, judging by their ancient, very ancient traditions, Hell would freeze over before Freemasonry discontinues its physical initiation rituals for self-initiatic ones! Any creature or institution which lacks the ability or capacity to adapt to the change of environment will go extinct: and I predict that in a few decades, as Baby-Boomers and X Gen phase out and dies off, that Freemasonry will be dead.
All current "Druid Orders" [which are referred to as "contemporary neo-Druid orders"] are directly born from Freemasonry. Thus, all contemporary neo-Druid Orders do not have anything real or concrete in relation or connection to the actual ancient Druids. The Order of Bards, Ovates, and Druids is a splinter group of a contemporary neo-Druid Order called the "Ancient Druid Order," which is itself Masonic in origin and structure and degree work. Of course, each contemporary neo-Druid Order has their own idealistic, romantic, fantastical "history" where they say that they are descendants of the ancient Celtic Druids, blah, blah, blah. But realistically, memetically, and documentatively, all modern neo-Druid Orders can be traced back to Freemasonry, to no less than the late 1800s and early 1900s.
In fact, all contemporary neo-Druid Orders, up until very recently actually, all began as Christian organizations, because Freemasonry is primarily Judeo-Christian; especially in those very old days.
OBOD spent a lot of its early days quiet and floundering, where it had a hard time competing with other neo-Druid groups. But that changed when the Egregore of OBOD called forth and drafted a guy named Philip Carr-Gomm to take the helm of the OBOD. Under Philip [who was at OBOD's helm for decades, up until several months ago] OBOD gradually transformed into a neo-Pagan group, and grew to become the biggest neo-Druid Order in membership and body-count.
I love evolution and fights. I love to watch memetic organisms like OBOD and o9a fight and struggle to adapt to the constant change in environment to survive. The Philip Carr-Gomm guy did to OBOD what Albert Pike did to the Scottish Rite.
Freemasonry
Before Albert Pike entered the scene, the "Scottish Rite" was spiraling slowly to its death. Just to clarify a few things: a "Rite" in Freemasonry is not Constitutionally a part of Freemasonry. In Constitution, which is to say, according to its own ancient Constitution, "Freemasonry" only consists of the Degrees of Entered Apprentice [1st degree], Fellow Craft [2nd degree], and Master Mason [3rd degree]; plus the degree of the Holy Royal Arch [7th degree in the American "York Rite"].
In ancient times, like circa the 1730s up till circa 1813, the ancient Masonic Lodges in England and Scotland had a huge sissy fight over what exactly constituted "Freemasonry." The English – being the English that they are – insisted that they had invented Freemasonry in the year 1717, and since they invented Freemasonry what they say Freemasonry is, is what Freemasonry is. And so the English said that Freemasonry consists only of three degrees, that of Entered Apprentice, Fellow Craft, and Master Mason.
The Scottish had a different story. The Scottish, and their supporters said that Freemasonry goes way back further in Scotland, even before 1717, and that up in the island of Kilwinning, there are even evidence that a degree called the Holy Royal Arch was in usage and practice, since ancient times.
This fight, between what Freemasonry exactly consists of tore the Masonic Lodges of the British Isles apart into warring factions for over one hundred years. Each faction founded their own "grand lodge" and spread their own version of Freemasonry. The English called their Version of Freemasonry the Moderns, and officially referred to their Freemasonry as "Free & Accepted Masons," or "F&AM." While the Scottish and their supporters in England, Wales, and Ireland, referred to themselves as the "Antients" and officially referred to their Freemasonry [Entered Prentice, Fellow Craft, & Holy Royal Arch] as "Antient Free & Accepted Masons," or "AF&AM."
One day, around 1813, this sissy fight ended, and the rival grand lodges became friends. They held a meeting to once and for all define what exactly is Freemasonry. The agreement was that Freemasonry consists of the Entered Apprentice degree, Fellow Craft degree, and Master Master degree, "including the Holy Royal Arch." And so, if you study Freemasonry and look at their Grand Lodges, if a grand lodge uses the call letters "F&AM" that means that said grand lodge is a descendent of the Moderns [the English], whereas grand lodges which use the call letters "AF&AM" are descendants of the Antients [the Scottish]. "Descendant" meaning that their ritual work and charter ultimately traces back to one of those two; in general. There are other species of grand lodges, such as the Grand Orients, which are French in origin, and which are open to atheists. Some Grand Orient jurisdictions even letting in women.
And so, in the proper context of what exactly constitutes "Freemasonry," a "Rite" of Freemasonry is not Constitutionally a part of Freemasonry proper [despite what the general public and even some ill educated Freemasons believe]. Not legally. Legally meaning in accord with their ancient Constitution; defined and stipulated by such.
A "Rite" is when a person or group of people create and invent new "degrees" and they submit a document of affiliation with a Grand Lodge jurisdiction. The Grand Lodge will then basically say to this person or group of people: "If you desire for our Master Masons to join your organization and partake in your system of degrees, then you must follow the ancient Constitution of our Grand Lodge and subordinate yourself to the edicts, rules, and regulations of our Grand Lodge. If you fail to observe our edicts, rules, and regulations, your Rite will be deemed "Clandestine" or "Irregular" and we will bar our Freemasons from joining your Rite."
And so, in the old days, around the century of the 1800s, the OTO [Ordo Templi Orientis] actually began as a Masonic Rite proper. Back in those old days, the OTO was called the "Academia Masonica," and it had a system of degrees which claimed to teach the real secrets of Freemasonry. Unfortunately, the Academia Masonica was never very popular, and so it did not have a lot of members. In order to remedy this sistuation, the Academia Masonica began to initiate women! This is a cardinal sin in Freemasonry. Women cannot be Freemasons. The Grand Lodges ordered the Academia Masonica to stop initiating women or be rejected as a Clandestine body. The Academia Masonica disobeyed the Grand Lodges, and were thus deemed irregular and regular Master Masons were barred from joining the Academia Masonica. The said Academia eventually changed its name to the Ordo Templi Orientis.
Likewise with the so called "Bavarian Illuminati." Originally, the so called Bavarian Illuminati began as a Rite of Freemasonry calling itself the "Bund der Perfektibilisten" which roughly means the "Fellowship of the Perfectablists." The Perfectiblist Order during its lifetime had a membership which never exceeded 1000. In addition to the three degrees of Freemasonry, the Order of Perfectablists offered a system of extra degrees. But the Order of Perfrectablists' higher degrees were never worked out or created. They fell out of favour as a Rite with the Grand Lodge, and were rejected from Freemasonry. "Perfectablist," meaning One Who Is Perfectable, able to be Perfected: which is the belief that the human being can endeavor to strive and struggle towards greater states of spiritual Perfection, until one has achieved a state of spiritual illumination [what Buddhism refers to as "Enlightenment/Satori/Buddhi"]: hence the name/term "illuminati," meaning Those Who Are Illuminated.
The so-called "Scottish Rite" began its life as a system of degrees called the Rite of Perfection; loosely inspired by the German doctrine of Perfectability a la the Bund der Perfektibilisten. Originally the Rite of Perfection had in its system 25 degrees: the 4th degree up to the 25th degrees; the first three degrees being Freemasonry proper. The Rite of Perfection, began its life, in all places, not in Scotland, but in Jamaica.
Those 25 degrees were eventually expanded into 32 degrees. At one point in history, an Honourary Grand Master of the United Grand Lodge of England, who was the Duke of Kent [if my Freemasonry studies remains accurate] became initiated into this expanded 32 degree Rite of Perfection. One degree of this Rite, specifically a degree called "Knight of the Sun," had so greatly offended the Duke, that he ordered the entire system redone immediately!
I love studying secret societies, and so I have books about their secret teachings and secret initiation degrees, from the Golden Dawn to OTO, to Freemasonry. And so, I do have a copy of the original 32 degrees of the "Scottish Rite" before the Duke changed them. The degree of "Knight of the Sun," in that original ritual working, is understandably very offensive to a Christian. And back then, they were devout Christians. The said degree overtly called for the eventual destruction of all religion, because it taught that religion is what fetters mankind down in mindless superstition.
Around the time when the degrees of the Scottish Rite were recreated to be more Christian friendly [hence the addition of the 33rd degree: Jesus Christ was arrested and crucified when he was 33 years-old], the Morgan Affair began to have an affect on Freemasonry.
The Morgan Affair is a bit of Masonic history where some guy [a non-Mason] had infiltrated a Masonic Lodge, and he then published the secret ritual work of Freemasonry. Shortly after Morgan published his expose, he was found murdered. The combination of an expose of secret blood oaths, and the murder of Morgan, caused people to socially shun Freemasons. And so, Freemasonry began to suffer from a decline in membership.
Thus the Scottish Rite, floundered and its membership greatly decreased. It was around this time that a young Confederate officer, named Albert Pike was called to the Scottish Rite by its Egregore to help it survive. Albert Pike joined the Scottish Rite, and quickly worked his way up the Rite, and then he changed the entire system of the Rite.
Before Albert Pike, Freemasonry was essentially a Christian institution. It was actually Albert Pike who infused the degrees of his Scottish Rite with the Kabbalah [at that time, such was still nouveau and cool], Gematria, Ancient Greek Philosophy, Chaldean and Babylonian mysticism, Vedic mysticism, and old-world Pagan mysticism. Albert Pike was the single man responsible for literally transforming a hum-drum and boring Christian institution into a mystical and philosophical fraternity of Esoterica. After Albert Pike was done with his changes and innovations, the Esoterica breathed new life into Freemasonry and the Scottish Rite, and membership exploded in America, peaking circa 1950, where one out of ever 4 men in America were Freemasons! Today, most Freemasons, and certainly the average public person, cannot image a Freemasonry sans the Esotericism and mysticism and philosophy. That's all Albert Pike's work and the people he plagiarized. Before Pike, Freemasonry was nothing like that.
I love studying stuff like this, because it shows you how a memetic entity, such as Freemasonry, a religion, a political ideology, etc, fights and struggles to survive and adapt to the change in environment and generations. You see, time and time again, that when an institution weakens and becomes sick, its Egregore calls forth people to it who can or will help it change and struggle to survive. And the OBOD is no different.
The OBOD
In order to fully and properly understand something, you must place the thing into its proper indigenous Context. Context is 90% of any mystery. The indigenous Context of OBOD is Freemasonry, not paganism or old-world Celtic Druidry, because it developed out of Freemasonry.
Before the Philip guy, OBOD was not very impressive or noteworthy. Its "rival" or competitive neo-Druid Order, called the Ancient Druid Order in America [ADOA] was more remarkable, especially with John Michael Greer at its helm. The Greer guy of the ADOA is a prolific book author who primarily writes quasi-golden-dawn magic books and neo-Celtic-Paganism books. Under his influence, the ADOA became less Christian and more neo-Celtic Pagan and quasi-Golden-Dawnish.
The Philip guy influenced change in OBOD in the same fashion, where he gradually incorporated more Celtic/Welsh Animism/Paganism. At the center of OBOD is a very special mythology regarding the Celtic Goddess Ceridwyn, her cauldron, a boy named Gwion, the Awen, and King Author stuff. Philip takes those myths, and gives them several philosophical and spiritual interpretations, to build and recreate OBOD spiritual foundation.
Although, his market or primary hypothetical target market is a middle aged low-to-middle-income Liberal White English speaking lady who is slightly above average/standard height-weight proportion, who is into New Age and Wiccan style neo-Paganism, the Philip guy seems to try very hard to keep most New Age and Wiccan stuff out of OBOD. I have not yet seen secret Druid teachings about chakras, kundalini yoga, sage smudging, Druid Dream Catchers, and so on. But I have seen things like tarot/oracle cards produced by Philip. Which is okay, because you have to remember that even o9a has its own species of tarot cards. But unlike the Greer guy of the ADOA, I have not yet seen any Jewish mysticism and Kabbalah incorporated into curricula of OBOD or its extra-curricula merchandise.
The "Gwers" [the thin magazine/pamphlet] produced by OBOD is well structured. It has little sections. There is a section for poetry, a section for guidance, a section for discourse, a section for interpreting Celtic myths, there are quotes from various individuals, and so on. I got the membership that gives you both the printed pamphlets and a CD that has people read to you the pamphlets. Personally I prefer the CDs. There is one voice of a lady, who usually reads the poetry of the Gwers, who has a very soothing and sexy voice with some kind of UK accent that sounds like she is from near Scotland or Ireland. There are separate zines that have the ceremonies for the Eight Holy Days of the Year-Wheel. One thing oddly missing from the curricula of OBOD are teachings regarding magic and sorcery. The ancient Druids were well known for such things, but I have yet to learn about the subject of magic and sorcery in the curricula.
Hopefully, the new lady at the helm of OBOD will continue to keep OBOD unique, and not incorporate kabbalah stuff, new age stuff, Hindu stuff, Wiccan stuff, and neo-pagan stuff. And I also hope that it does not follow the trajectory that the Greer guy is taking the ADOA into. I believe that Philip Carr-Gomm did a fantastic and remarkable job recreating OBOD and revitalizing it into the global organization that it has become! It's always amazing to see any near dead, sick institution, nursed back to health by such people. I believe that there is a future, in the social-space of future generations for things like OBOD, because Christianity is dying in the West, and with each generation, we seek more of that ancient, ancestral Pagan Light.
With that said, the OBOD is not my personal cup of tea. It is far too fluffy and foo-foo for me. It's too eco-friendly and Leftist for me. I like to study and examine its method of ideological evolution, curricular dissemination, institutional propagation, and projected target markets, to collect useful data which I can then use with o9a. I personally would prefer a Dark Druidry… a Sinister Druidry.
The way that institutions like AMORC and OBOD propagate themselves, via self-initiation rituals, is effective, especially in this age of the internet. It's just how things evolve. Each generation of human beings have their own state of mind, world-views, needs, desires, likes, and dislikes. In order to stay alive and relevant, you must always build onto your organization and system, must always add to your culture and tradition so that each generation sees a part of themselves in your institution. So that each generation, when reaching the age where they seek out elders of their culture for wisdom, knowledge, and meaning in life, sees such in your institution. This should be commonsense, because to fix your institution onto only the needs and whims of an old generation means that your institution will eventually die out, simply because old human beings die of old age and will take their beliefs and interests with them to the grave.
In that light, Freemasonry has a huge disadvantage, because its clunky old-world initiation ceremonies, and old-world Albert Pikian mysticism, doesn't appeal to Generations Y & Z. I find such to be exciting to watch and observe: to see if a memetic organism such as Freemasonry can fight for its own relevance and survival; to see if anybody out there will feel in their spirit and heart, the call of Freemasonry's Egregore to come forth and help it survive. I have my doubts, and place my bets on what Freemasonry has spawned into the world. Namely things like OBOD, which is more flexible, malleable, changeable, adaptable.
As much as I like Traditionalism and conservatism, their is a price to pay for Orthodoxy. The dialectical forces of Conservation and Progression must always be present and pulling and pushing at each other. In Brahmanism we call this dialectical struggle the Churning of the Milky Ocean.  It is from the pushing and pulling of the two opposing forces that the Ambrosia of Life is generated, which gives life to the World/Cosmos. Its from the dialectical struggle against the adversities of environment, climate, and change [anicca] that Evolution unfolds [evolution is metaphorical Latin: E meaning Out Of + Volv meaning To Roll, as in revolve, thus Unfold, Unroll, Unravel].
/Chloe
---