Posted:
April 24th, 2021 |
Author:
Chloe352
|
Filed under:
Alchemy
,
Anarcho-Nihilism
,
Anarchy
,
Civil War
,
Current Affair
,
Fake News
,
Far-Right
,
Leftists
,
Liberals
,
Media Attention
,
News
,
Nihilism
,
O9A
,
O9A Nine Angles
,
Occultism
,
Order of Nine Angles
,
Order of the Nine Angles
,
Reports
|
Tags:
Anarchy
,
Ancient Pagan Traditions
,
Anton Long
,
China
,
Coronavirus
,
Covid
,
Covid-19
,
David Myatt
,
Fake News
,
Left Hand Path
,
Modern Satanism
,
Nazi Satanism
,
Nazi Satanists
,
Neo-Nazi
,
Nihilism
,
O9A
,
Occult Initiation
,
Occultism
,
Order of the Nine Angles
,
Paganism
,
Pandemic
,
Satanism
,
Seven Fold Way
,
The Dark Tradition
,
The Nine Angles
,
The Sinister Dialectic
,
The Sinister Tradition
,
The Sinisterly-Numinous Tradition
,
Traditional Satanism
,
Traditional Satanism. O9A Logos
|
Comments Off

on The Chinese Lab Hypothesis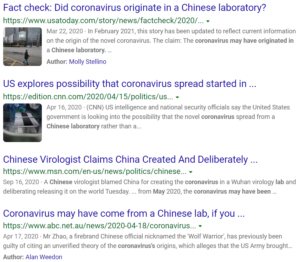 .:.I thought this notion that the Chinese manufactured the Covid-19 virus in a lab was retarded initially. My initial thought that it was retarded was based on lack of data and not understanding why the Chinese would jeopardize their own population by engaging in such viral-warfare.
But a thought popped into my mind, which caused me to put the Lab hypothesis in the back of my mind, so I can collect data, and build a context and scenario, in order to formulate an opinion. The thought that popped into my mind was: That China, due to its style and system of government, can enact very strict draconian lockdowns on its population to restrict coronavirus deaths… whereas here in America [and the rest of the West], our people and style of government cannot enact the same level of strict lockdowns.
I now have an opinion about the coronavirus pandemic, and have formulated an hypothesis. I believe that the Chinese intentionally released the Covid-19 virus into human circulation, as a biological agent of Status Quo Disruption. Perhaps "released" is not the correct or precise word to use here. The phrase "Allowed to spread secretly before sounding the alarm" is best to use.
Two bodies of data got me to begin to take the Chinese Intentional Circulation notion seriously. The first is an essay over at Amerika.org about Covid being an Hispanic disease, which can be read: HERE.
The most important part of the linked article is this chart:

So, basically the said article [which I am entirely in agreement with], says that in super ancient times Mexicans, Native Americans, etc., genetically split [genetic drift & environmental adaptation] from ancient Mongolians. Clips from the said article: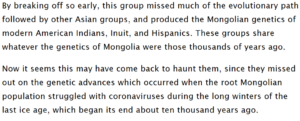 […]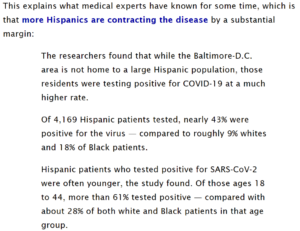 The concept that Asians have a genetic immunity to various species of Coronaviruses, and therefore don't die as much as other races, intrigued me, because I simply assumed that Covid-19 was an egalitarian virus that equally infected and killed all of us at the same measurements and proportion. My assumption, being wrong, I set out to do some light research on how many Asian people have actually died from this disease: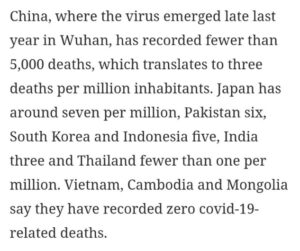 The Simple Hypothesis:
The Chinese – specifically its governing regime – allowed the Covid-19 virus to circulate and spread secretly for a while, as a biological agent of Status Quo Disruption.
By Status Quo, I mean to say the current World Order, which is dominated by Western Countries and Democracies such as America and Europe. By "Disruption" I mean to say that the Covid-19 is not lethal enough to be classified as a biological agent proper, such as anthrax. Therefore, the intent is to not use the said virus as an agent or weapon of mass biological destruction. The intent is to weaken the governing faculty of America and Europe, and the economies of the said Western Countries, as well as to disrupt their social orders.
Such a virus would in fact be good at performing its intended function, because, as I have said: countries like America simply lack the draconian governing authority and compliant civil population to manifest an intense total lockdown to stifle the virus and its spread: unlike China.
Not only does China not need to genuinely worry about mass casualty of its population, but they are able to utilize super strong total lockdowns to inhibit the spread and circulation of the Covid-19 virus.
My hypothesis states that the introduction of the said virus into global human population, in order to disrupt the World Order and global Status Quo is a long-term [a decade, give or take a few years] project. My hypothesis posits that the Chinese government has the end goal of having the virus not only weaken America [American social order and America collective morale], but also the American economy. Why so? Because the money a country makes in revenue pays for military expenditure, military growth, and military ventures.
Hence why we are now seeing China become more bolder and bolder in the South Sea, and bolder with Taiwan. They are testing America. I have a nagging suspicion that during the transpiration of this decade, into 2030, that if America does not win the war on this pandemic and its mutations, that the social order in America will continue to get worse, and its economy will continue to weaken further. For dumb people: this virus makes America go into lockdown, which means many businesses are closed and many people have no jobs, which means the economy grows weak.
I don't believe that the Leftists in power are of much help in this case, because they give away free money, and pay people – via unemployment benefits – to stay home, which means that the Labor Force is happy not working jobs and are getting free checks.
My hypothesis posits that the Final Objective of China is to use the status quo disrupting power of the virus to obtain World Hegemony by approximately 2030-2040.
If this hypothesis holds, then we should see in the years to come:
American social order will continue to deteriorate [meaning Leftists will continue to conduct mass protests and witch hunts]
America will not be able to conduct any meaningful lockdown to effectively stifle the Covid-19 virus and its mutations.
We will see more half-assed lockdowns, which will close businesses and keep people out of the work force.
The Stock Market will be affected and weaken.
The American economy will grow noticeably weaker.
In order to puff themselves up, Chinese Propaganda will talk shit about America's military, especially how it pulled out of Afghanistan and lost that war.
China will increase tensions with America, per the new cold war status.
Covid deaths will continue in America, due to its variants, which will gradually cause mass panic, in American social order.
More deaths in the West means less work force to support a weakening economy.
A world war between China and America may not be necessary for China to achieve global hegemonic status and change the World Order. So long as America and Europe continue to deteriorate from within, by the process of Demoralization, per Subversion. The end fruit of Subversion are several possibilities: civil war, collapse of the nation, or invasion.
/Chloe
---