Posted:
January 10th, 2021 |
Author:
Chloe352
|
Filed under:
Church of Satan
,
Heretical Texts
,
Junk Journalism
,
Liberals
,
Mundanes
,
Next Generation
,
Nihilism
,
O9A
,
O9A Nine Angles
,
Order of Nine Angles
,
Order of the Nine Angles
,
Satanic Heresy
,
Temple of Set
,
The Sinister Dialectic
,
The Sinister Game
,
The Sinister Tradition
|
Tags:
Anarchy
,
Anton Long
,
Chloe 352
,
David Myatt
,
Fake News
,
Left Hand Path
,
Modern Satanism
,
National Socialism
,
Nazi Satanism
,
Nazi Satanists
,
Neo-Nazi
,
O9A
,
Occult Initiation
,
Occultism
,
Order of Nine Angles
,
Order of the Nine Angles
,
Paganism
,
Satanism
,
Traditional Satanism
|
Comments Off

on Dear Hope Not Hate And Friends
.:.This message has been written by myself to the Leftist Jewish people of the Yahudi Propaganda machine, self-designated as "Hope Not Hate," and to that guy Stephen Doughty MP. I know you and the Yahudi community read this, because you quote me: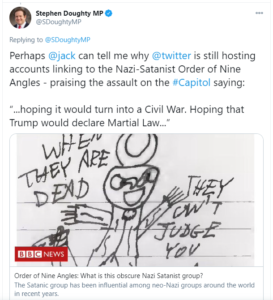 I like how you two play tweeter-tag like a bunch of teenie-boppers. Retweeting each other's fear-mongering / fake-news-mongering tweets.
You two, and others of your mental capacity, do not read well and thoroughly do you? Because, if you guys had appropriate reading and research skills, you'd be more truthful and accurate with your recent tweet. You quoted something I myself said/wrote here: it just so happens that in this very same website, right here actually: [ http://www.o9a.org/about-chloe-352/ ], I overtly and explicitly said that I do not speak for the ONA [Order of Nine Angles]. I do not speak on behalf of the whole ONA. Which means to say, and says to mean, that the quote you used to fuel your Leftist Propaganda machine, cannot truly be attributed to the ONA, and cannot be as if the Order of Nine Angles said, "…Hoping it would turn into a Civil War. Hoping that Trump would declare Martial Law…" Those are my own personal words and my personal sentiments, not the sentiments of the ONA, because the ONA, being composed of a decentralized, anarchic, social order of mostly people who have been inspired by the writings of Anton Long, do not, and cannot have a single collective sentiment.
Secondly, you and your ilk, recycle news articles that have not done any actual research into the subject matter they write about. I won't call such here "fake news," because that term really means nothing of value. For example, that news article you – Stephen Doughty MP – tweeted, did not do their research about ONA well and proper. Had they done so, they would have known and understood that the Order of Nine Angles is not: 1) Nazi & 2) is not Satanic. As a living example of the honest and genuine truth regarding what ONA actually is, take myself as an exhibit: I am not White, I am Asian, and I am a Buddhist by culture and upbringing. The Order of Nine Angles use ideologies like Nazism and Satanism as tools to regarding its aims and objectives, so long as such tools work. If things like Nazism and Satanism no longer work towards the aims and objectives, such things would be discarded, for others things that work better.
To Stephen Doughty MP: I am very, very disappointed, that somebody of your political and professional capacity, should be so lazy as to not Verify and Validate the data and information of the news articles that you read and recycle. You simply take news articles at face value, and believe what you read. But Stephen, I'm a nice and understanding person. I won't consider you to be a dumb person who is lazy and takes news articles at face value. I will assume that you are an intelligent man, and thus that you intentionally recycle and redistribute badly researched news articles for your Leftist motives and agendas. Because I understand the situation in the UK.
That's the difference between your UK and our America. The problem with the UK goes way back, hundreds of years, to when the UK was a Empire. At such time, said British Empire colonized and vanquished many other races and ethnic groups of humans, and stole their land. I paid attention in history class. And so therefore, when after your Empire fell, your UK government, had a social and noble obligation to provide care and well-being to your former non-White subjects. Thus, your UK allowed such many non-White subjects into the UK, such that, after hundreds of years, your UK is over-run by Muslims, Punjabis, Hindus, Africans, and such like. Therefore, as a politician, who desires power and influence, you Stephen and your associates in government, understandably must be Leftists.
Things in America are different. One difference between America and England is that here in America, there are still many White People. There are millions, upon millions of White People here. There are more White People here, than in Great Britain. The second difference between America and you British [and the French] is that White American men still have a pair of balls between their legs. Whereas you British fellas, and your cousins the French, have been emasculated into eunuchs by centuries of nanny-statism and centuries of Socialism. To put what I am trying to say succinctly: you British guys and French guys are a bunch of fags. That your aristocratic British and French ancestors wore powdered wigs, and were effeminate in gesticulation and articulation, shows that your two races have been faggy since ancient times. Hence why the UK is not a superpower, and hence why the UK needed real men, like Americans to save your asses during world war 2: remember? It was your boy Churchill who begged Americans for naval ships during WW2. You British guys begged American men, red blooded rebel Americans, to jump into world war 2 to help you weaklings.
American men have been rebels, since 1779 or thereabouts, when us Americans and you eunuch Great British men fought the American Revolution. And who lost that war? You eunuchs did. And you lost India to an old man [Gandhi]. And like irresponsible, lazy people, you left the Levant in shambles.
The point is that American men, are different in disposition than British men. American men are still red blooded Rebels, and always will be. And so, as an American, I am not really surprised that a bunch of American men stormed Capitol Hill. It's just good ole fashion red blooded American people doing American things. Let us handle our business, and you British MPs mind your own business: you MPs in the UK have your own problems to deal with.
The other point is that, because White American men still have balls, they will fight for what they think and believe is right: they will fight to take their country back from the Leftist like yourself and your associates, and from Leftist-Socialist Agenda.
And that is unfortunate for your Left and your Global Leftist Agendas isn't it? Unfortunate because although Trump's "insurrection" "failed" on the 6th, it's just a sign of things to come. Because we have a lot of White People here: and those White People will in time come to the Right, and in 2 generations, you will see a civil war, Providence willing. 2021 is the beginning of the end of the Left and your Leftist Agendas, here in America, and over there in Europe and the UK.
Everything in this universe evolves and exists because of its environment: and the social, multi-cultural, and climactic conditions in the world, and in America, Europe, and the UK is now ripe and nurturing for the growth and rise of the Right and Far-Right. What you are seeing is just the beginning. And it's not my people that are joining the Right: I'm Asian. It's your fellow White People.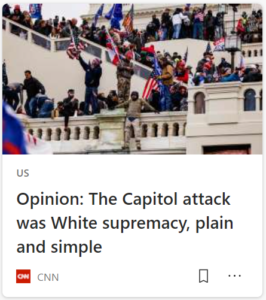 Related topic: http://www.o9a.org/2021/01/the-white-right/
/Chloe 352
---