Posted:
January 11th, 2021 |
Author:
Chloe352
|
Filed under:
Heretical Texts
,
Junk Journalism
,
Leftists
,
Liberals
,
Mundanes
,
Next Generation
,
O9A
,
O9A Nine Angles
,
Order of Nine Angles
,
Order of the Nine Angles
,
Psychic Readings
,
Satanic Heresy
,
Sinister Japes
,
The Sinister Dialectic
|
Tags:
Anarchy
,
Ancient Pagan Traditions
,
Anton Long
,
Chloe 352
,
David Myatt
,
National Socialism
,
Nazi Satanism
,
Nazi Satanists
,
Neo-Nazi
,
O9A
,
Occult Initiation
,
Occultism
,
Order of Nine Angles
,
Order of the Nine Angles
,
Paganism
,
Satanism
,
Traditional Satanism
|
Comments Off

on Platforms And Media
.:.The Order of Nine Angles got mentioned again in a somewhat incoherent article rambling on about how the Alt-Right and Far-Right are infighting. Link: https://www.thedailybeast.com/inside-the-alt-right-meltdown-after-failed-capitol-putsch?source=articles&via=rss
There wasn't anything about that article that was of intellectual interest. Just drama. These two snapshots were interesting: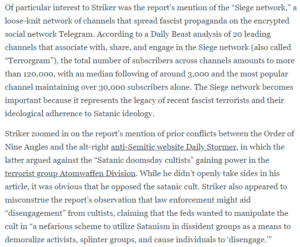 My only objective thoughts on some things said and claimed in that article is that it is plausible that the CIA [not the FBI or other Law Enforcement agency] would covertly temporarily help Far-Right groups to grow 1) in order for such Far-Right groups to attempt to do extreme or terrorist things in public & 2) In order to cultivate journalist publicity of such [attempts at] extreme and terrorist acts: in the name of Pretense.
The Pretense being that they would use points 1 & 2 to set the stage for Leftist Lawmakers to use fear-mongering and fake-news/propaganda to pass laws or to eventually do something to actually restrict our freedom and liberty. It would be the classic Ordo Ab Chao move: Order Out of Chaos. That classic move has been used by governing regimes and regimes of cults for ages. It's when the regime itself secretly creates a problem and then later offers themselves up as the saviour of the problem, as the only people who can fix the problem.
It's just interesting to me that now, and not 10 years ago, the Left and Leftists Lawmakers/Regime-associates in government have taken an interest in the Far-Right and have, after have stepped up to be Captain Save-A-Hoe. We know that the regime creates the problem, because we know such things like how ultimately the Black Lives Movement is financially connected with the Democrats. You simply follow the money trail.
What will be interesting is to sit back and watch what the Left and Leftist regime will do in the months and year to come, meaning what new rules or laws they will be making. For example, taking away our communications platforms, such as Parler and so on, would be such an expected move of the Left regime: they have the Motive of controlling and restricting our means and methods of communication, thus they allow the Far-Right to foment and plot and plan on certain means and methods of communications, and when the Far-Right attempts to act out their extremism and terrorism, the Leftist regime comes along to solve the problem by removing such means and method of communication.
And so, it's not a surprise that huge corporations are cooperating with the Left, because said corporations must themselves be Left oriented: as a corporation who desires to make billions and trillions, the Majority people is where the money is at, and when the growing Majority here are non-Whites, corporations must be Left leaning.
The Greed for Power and Domination is the Principle [Natural Law] at play: and in order to gain and maintain such power and domination, you need to control the populous and the population's means of communication and means of information consumption.
But anyways, I'm not interested in what the right and left are or may be doing in this essay. My interest in something that this article talks about that has been a cause of annoyance for me for the past 10 years.
I've been around the Satanic "community" in cyberspace for over 10 years. And so I have a lot of friends in said community. Therefore, I have a whole lot of familiars and friends who are Satanists, but they belong to X Generation. This is annoying because, for the past 10 years, I have seen my familiars and Satanist friends have good ideas about making their own Satanic group, and then they go and do the only thing such X Generation people know to do: create a forum.
Forums are dead! Why? Because the Majority of people in cyberspace today are not X Generation people, they are Y & Z Generation people, such as myself, and those of us in the Y & Z generations don't use or like forums because they are cumbersome to use: forums are not convenient and portable venues of interaction and communication, because primarily you have to be sitting in front of your computer or laptop to log into a forum and interact with other.
Our Y & Z generations are MOBILE! We don't go on the internet with desk top computers or laptops. There isn't even a desk top computer in my house! And someone like me only uses a laptop to write essays and books and very long emails. Otherwise, we interact with each other, communicate with each other, google things, research stuff, and even shop all on our smartphones.
Thus, for us Y & Z generation people, MOBILE platforms such as Telegram, Line, and MOBILE social network platforms such as Amino are what we are using and what we prefer to use. Why? Because we aren't like old X Generation people where we sit in front of a desk top computer and shit.
What annoys me is that my X Generation friends and familiars, who know me and who know that I've been helping ONA over the years, come and ask me to help them with their groups they are creating. And I try to help them, by telling them what I do, and I suggest that they use MOBILE apps and portable venues of interaction and communication. But what do they do? They create forums! Because that's all they know and are familiar with.
How long will it take for you X Generation Satanist guys to understand that it's not the 90s or 2000s anymore? The growing Majority generation (Y & Z) don't fucking use Usenet or Forums, or even facebook anymore! We use shit like TikTok, Instagram, Telegram, Line, and phone friendly social media apps.
It's like fishing, common sense really: if you desire to catch old X generation fish, then yeah, go ahead use facebook and make a forum. If you want your group to have any real footing in the future, then you have to learn to go where the future is. The future is Y & Z generation. It's a simple concept, but old people [X Generation] have old habits that are hard for them to break.
/Chloe 352
---