Posted:
January 16th, 2021 |
Author:
Chloe352
|
Filed under:
Church of Satan
,
Heretical Texts
,
Junk Journalism
,
Labyrinthos Mythologicus
,
Leftists
,
Liberals
,
Mundanes
,
Nihilism
,
O9A
,
O9A Nine Angles
,
Order of Nine Angles
,
Order of the Nine Angles
,
The Sinister Dialectic
,
The Sinister Game
|
Tags:
Anarchy
,
Ancient Pagan Traditions
,
Anton Long
,
David Myatt
,
Fake News
,
Left Hand Path
,
Modern Satanism
,
Nazi Satanism
,
Nazi Satanists
,
Neo-Nazi
,
Nihilism
,
O9A
,
O9A Aural Tradition
,
O9A Guides
,
O9A Mythos
,
Occult Initiation
,
Occult Mythos
,
Occultism
,
Order of Nine Angles
,
Order of the Nine Angles
,
Paganism
,
Satanism
,
Traditional Satanism
,
Traditional Satanism. O9A Logos
|
Comments Off

on FBI Informants In O9A?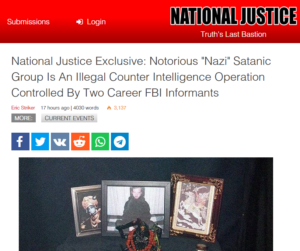 .:.Erik Striker… strikes again. This is his second article he's produced about o9a with this fbi theme. I'll give a link to his article shortly. When I was given a heads up about the article yesterday evening, I was debating with myself on whether or not to write a quick article about the article or to just keep it to myself; because the theme Erik Striker is using is worrisome to me. I'll explain why it worries me in a bit.
So in Erik's article, based on his sources, Erik accuses a second party of being "Career FBI Informants." The Accused party are Joshua Sutter and Jillian Hoy, who are the two heads/leaders/founders/personas of the famed and notorious Tempel ov Blood.
The story/hypothesis/narrative/accusations which Erik has produced against the said second party is elaborate and rationally bizarre. It should be kept in mind that the said second party – Joshua and Jillian – have not presented their side of the story, and that Erik's article did not provide possible alternative scenarios or include defensive arguments from the accused party. Erik just presents his narrative/accusations.
The story that Erik Striker has produces is this: For the past 15 years, Joshua and Jillian have been secretly working for and with the FBI on an elaborate scheme of creating and infiltrating radical right-leaning groups, for the FBI, in the hopes that a few mentally and emotionally unsound individuals will commit high crimes, so that the FBI can arrest those handful of people, and use this whole schema as a way to slowly erode our civil liberties.
To me, something about that equation is inefficient. Here's what I mean: We're talking 15 years. Not 10, not 5. 15 years. And so, the FBI "hired" or is using Joshua and Jillian, for a whole 15 years, to use the internet, write books and blogs, make cool pictures, for 15 entire years, to inspire and radicalize, directly and indirectly hundreds of people over the course of 15 years… all in the hopes of catching a handful of possible perpetrators of high crimes.
It just looks inefficient and like a huge waste of time. If the FBI were looking for terrorists, wouldn't it be more easier and efficient and productive for them to study and watch known radical/terrorist networks from places like the Middle east who are financed by big money, and just arrest potential terrorists of known terrorist organizations? And why such a bizarre fixation on some obscure/fringe Satanic cult [o9a] and not the Boogaloo Bois or the Proud Boys, or any of those groups of people who stormed Capitol Hill the other day?
My personal feelings about Erik Striker:
It seems as though Erik has an unwholesome view of the FBI and such agencies, where he seems to not trust them, and seems to actually believe that they are evil people, working in the shadows to make criminals out of random people, for some nefarious plan to ultimately erode our constitutional civil liberties. I feel that, like us all, Erik has an agenda and motives for saying and writing such things he produces, and that such things he produces should be taken with a grain of salt.
My personal feelings about Joshua and Jillian:
We all have to make a living somehow. If they are indeed FBI informants, then it's all good in the hood still. Because: Aeonically, meaning viewing things Long-Term-wise, the effort and work that Joshua and Jillian have put in for the past 15 years in helping grow the far-right, and specifically in helping grow and beef up the mythos of ONA, is substantial and note-worthy.
The pictures and books, and image/mythos they produce for the Tempel ov Blood and transitively for ONA, has helped ONA grow in popularity to what it is today, has help garner for ONA all this media coverage/publicity, and has helped ONA grow new nexions around the world.
Why I'm worried:
This theme of ONA being a honeytrap, or FBI front group of entrapment, if the Leftist Journalists/Vultures smell such theme, and if such vultures write and produce news articles claiming o9a to be such, and when the public begins to believe such: it would hurt and harm the ONA's public image/mythos, which will in turn cause a lot people to not want to join it. That's why it's worrisome.
These past 5-6 months have been interesting, due to all of the news coverage of o9a. The Leftist Journalist propaganda machine is up to something. I can see it now. It's now apparent. Radical Islam is old news. The Left are now working on making far-right groups into the new scapegoat, scarecrow, and boogeyman. And the obscure o9a is merely something the Left is using for such scarecrow ends. They question is why? What are they up to? They [the Leftist Media] has been heavily fixated on the far-right these past few months, especially since the Capitol Riot. But why do they [the Leftist Journalist media] have such a weird fixation on some fringe Satanic cult [o9a], instead of far-right groups that actually stormed Capitol Hill? It's bewildering. Unless the fear-mongering I discern is actually apparent/transparent.
One thing is now certain: Things today are not like how things were in 2008. Today, o9a has been infiltrated by stuff like the UK secret service and such like. In the past, it was standard practice that when a new initiate self-initiates themselves into the ONA, that a mentor works with them, to guide them and teach them. I feel that such old practices, today may no longer be viable or desirable, given that it can potentially be that your mentor is a person working for the Left/Liberals who's motive is merely to influence you and coerce you into committing a crime so they can catch you. And use such activities to fuel fear in the public mind, for their own Leftist/Liberal ends.
And so, it's more intelligent to be an individual, to make o9a and individual thing, where that if you are interested in o9a, in its Satanism, Paganism, magic and sorcery and philosophy, that you initiate yourself, put its corpus – in whole or in part – into practice as an individual, for your own individual self-edification, and to create your own nexions, and trust only members of your nexion. As an individual, you take what you need of the o9a, and make something of yourself, and only yourself. Because getting involved with other nexions, other people claiming to be o9a online, may be a bad idea from now on.
But, I feel that we should not be so prone so as to hate those accused of being moles/plants/infiltrators or to allow paranoia and distrust to influence us. Meaning that, it may very well be that there are secret intelligence agents who have infiltrated o9a, that informants are present in o9a, that Leftist Journalists are using o9a as a scapegoat, but Aeonically speaking, their activities and usage of o9a builds ONA's Mythos, and serves a positive function.
Now I anticipate that this theme Erik Striker has produced will be circulated, and the public will soon gossip and talk about how o9a is a honeytrap, or "glownigger" farm, in the months to come. Which logically and rationally is both a good and a bad thing: Bad because such unsubstantiated and fallacious gossip may hurt the public image of o9a [its "coolness"]. Good because any publicity is good publicity: should we all in o9a know how to use the attention garnered from such publicity.
This is Erik Strikers article in question: https://national-justice.com/national-justice-exclusive-notorious-nazi-satanic-group-illegal-counter-intelligence-operation
---