Posted:
November 5th, 2022 |
Author:
Nameless Therein
|
Filed under:
Culture
,
Current Affair
,
Fenrir
,
Inner ONA
,
Labyrinthos Mythologicus
,
News
,
O9A
,
Occultism
,
Order of Nine Angles
,
The Sinister Tradition
|
Tags:
antithesis press
,
Antonin Artaud
,
Ariadne
,
Art of War
,
Bergson
,
cicada
,
emergence
,
emergency
,
entropy
,
esoteric
,
esotericism
,
Fenrir
,
Halloween
,
Hero with a Thousand Faces
,
instar
,
Jacques Derrida
,
Joseph Campbell
,
Labyrinth
,
language
,
lapis philosophicus
,
Lux Lycaonis
,
mimesis
,
myth
,
Mythos
,
Nameless Therein
,
O9A
,
occult
,
ONA
,
Order of Nine Angles
,
Outer Rep
,
Outer Representative
,
Paul Ricoeur
,
philosophy
,
physis
,
plato
,
Power of Myth
,
Satanism
,
sinister
,
Socrates
,
Sorel
,
The Theater and Its Double
,
theater of cruelty
|
Comments Off

on Alea iacta est
Mimesis and Arcadian Truth in the Theater of Cruelty: The Task of Outer Representative
By Nameless Therein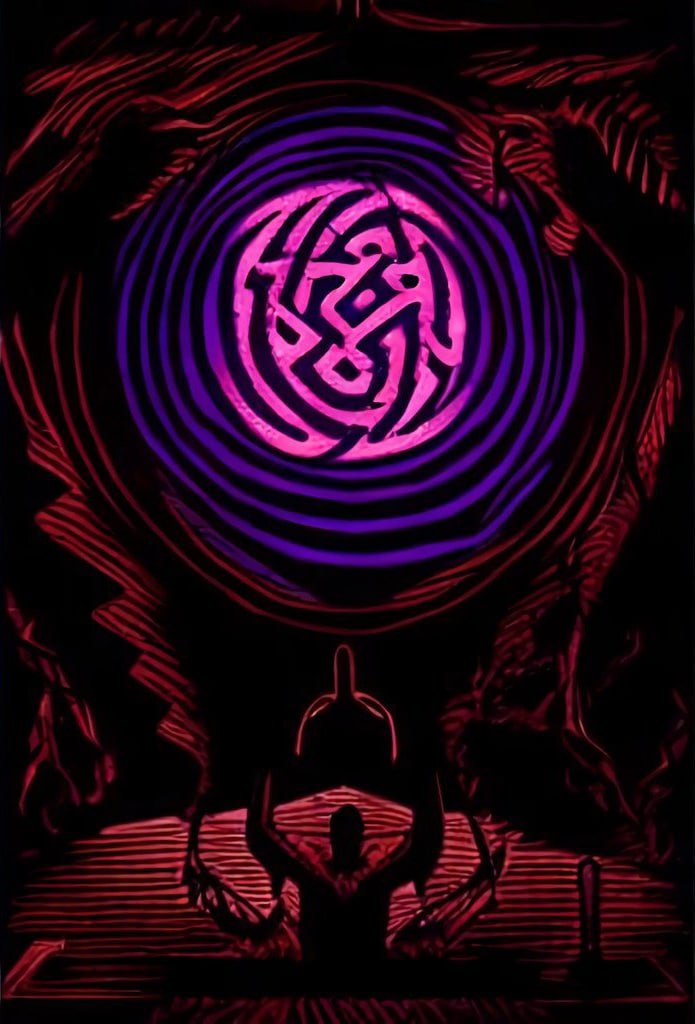 And if Perseus is proud of Andromeda too in the stars, do but cast your eye towards that side of the heavens, where the brilliant Ophiuchos is conspicuous holding up his encircling Serpent, and you will see the circlet of Ariadne's Crown, the Sun's companion, which rises with the Moon and proclaims the desire of crownloving Dionysos.[1]
The subject of mimesis casts a rich historical shadow across its diverse roots in ancient Greek thought, literature, narrative theory, art, and avant-garde theater. The word carries an equally rich nest of meanings. It roughly translates as "imitation," originating from the Greek word, mimeisthai, which means "to imitate."[2] It is sometimes translated as "representation," sometimes "re-doubling," and can occasionally connote a sense of mimicry, replication, and impersonation.[3] In the ancient Greek world, the oldest usages of the root "mim-" seem to have something to do with music, as evidenced in Aeschylus' lost tragedy Edonians, "where noise-making musical instruments are referred to as 'bull-voiced […] frightened mimoi'," in addition to Democritus' claim that, "just as crafts follow the example of animals, music imitates birdsong."[4] The Homeric Hymn to Apollo refers to "a choir of maidens who know how to imitate/represent (mimeisthai) men's voices and castanets."[5] Both cases demonstrate how musical mimesis transmits an acoustic image created by an animated being in order to trigger a strong emotional effect in the public.[6]
Historically, mimesis had to do with two complementary aspects: artistic imitation, which was associated with representation and re-enactment, and behavioral imitation.[7] In terms of art, mimesis concerned the expression of certain attitudes and emotions, in addition to guiding the representation of the perceptible world and the ideas, ideals, and values that informed it.[8] Evidence for behavioral imitation can be found in various ancient sources, such as Aristotle's Poetics where he remarks that human beings learn by imitating, or in the work of Democritus who argued that humans imitate animals through crafts.[9] In epic poetry, Socrates distinguished between "narrative (diegesis) as the general aim of the poem and the local imitation (mimesis) of the character's direct speech," holding that the emotions expressed in this form of mimesis could be "contagious" and thus occasionally "weaken the soul's commitment to virtue."[10] Plato had a similarly troubling relationship with artistic activity, viewing the artist as a kind of deceiver concerned with representing appearances rather than reality itself, one complicit in eikasia, where the artist as a producer of imitations of imitations takes us even further away from knowledge.[11] By contrast, Aristotle, who did not subscribe to Plato's theory of forms, emphasized mimesis in terms of its "natural … [and] this-worldly [aspects]," both with respect to mimetic art and poetry.[12]
Mimesis thus typically has something to do with imitation. But by the time Aristotle wrote the Poetics, the issue of what works like tragedies or poems were imitating became a philosophical problem. Aristotle's solution was that they were imitating an action (mimēsis praxeōs). In the twentieth-century, his idea of an imitation of an action or mimēsis praxeōs was taken up in the work of the famous French Continental philosopher, Paul Ricoeur. Ricoeur's rich understanding of mimesis moved beyond its general sense of "imitation," "representation," or what he sometimes referred to as a kind of "re-doubling" into a complex process that can be termed an arc of operations. For Ricoeur, this arc is comprised of three movements, beginning as a symbolic system within a culture, then transforming into a fixed form like a work of literature, and finally re-emerging in a cultural context where the consciousness of the participant or reader is altered as a result. Ricoeur's understanding of mimesis was thus tightly linked to the concept of mythos or narrative emplotment in Aristotle's Poetics.
Mythos and mimesis are tethered together. Both involve the ability to permanently transform the inhabitant of a given culture, tradition, or society. For Ricoeur, this tethering serves as part of the basis for the emergence of meaning in human consciousness. One of Ricoeur's great discoveries about mimesis concerns the way our experience of the world involves an irreducible narrativity: the sense in which that experience always unfolds as a kind of story across time. In this, the individual transformation of consciousness may be said to occupy a broader archetypal domain of myth, one that Freud, Jung, and Joseph Campbell pick up on. Speaking to the power and importance of myth, Campbell says the following:
Throughout the inhabited world, in all times and under every circumstance, the myths of man have flourished; and they have been the living inspiration of whatever else may have appeared out of the activities of the human body and mind. It would not be too much to say that myth is the secret opening through which the inexhaustible energies of the cosmos pour into human cultural manifestation. Religions, philosophies, arts, the social forms of primitive and historic man, prime discoveries in science and technology, the very dreams that blister sleep, boil up from the basic, magic ring of myth.
The wonder is that the characteristic efficacy to touch and inspire deep creative centers dwells in the smallest nursery fairy tale—as the flavor of the ocean is contained in a droplet or the whole mystery of life within the egg of a flea. For the symbols of mythology are not manufactured; they cannot be ordered, invented, or permanently suppressed. They are spontaneous productions of the psyche, and each bears within it, undamaged, the germ power of its source.[13]
Campbell's characterization of myth bears a close resemblance to the Order of Nine Angles. From the "formless forming" and weaving of the Wyrdful web that my co-conspirator Ariadne describes in the article below, the hidden and hard-earned Aracadian truths behind the many corridors of the ONA's winding labyrinth are not static but fluid, cascading and emerging as a canvas of appearances, much like the "instar" stage of a cicada that Ariadne describes. But these appearances are appearances; and many mistake these "moving articulations" as stationary identities, ideas, things, always trying to put a face or a name or something knowable to an irreducible opacity. (How many times have we been warned about "abstractions"?) Nevertheless, as a subculture founded on a wide horizon of mythic imitation, there is something underlying the many difficult and dangerous appearances one inevitably encounters within the labyrinth – not something "beyond" or "within" or "apart" from them, but a deeper invisible layer, something intangible, outstretching, eternal, ubiquitous, conspicuous in its absence, a condition for possibility of all appearance: "always the one, shape-shifting yet marvelously constant story that we find, together with a challengingly persistent suggestion of more remaining to be experienced than will ever be told."[14]
This tradition is not fixed, nor is it complete. With the ONA's characteristic efficacy to reach and inspire just the "deep creative centers" Campbell describes, neither can it ever be manufactured: it cannot be "ordered, invented, or permanently suppressed," because it is a spontaneous production of the psyche, one in which every inhabitant, every associate, every individual that wishes to transform its participatory dead letter into a living word partakes in. Each and every individual here bears within themselves the undamaged "germ power of its source." But this world, our world, the world of the Order of Nine Angles – it is a theater, one where the appearances we encounter in the labyrinth are constituted, populated, and erected by the very psyche that spontaneously produces them.
What then is the task of the Outer Representative? I have considered this question carefully against the event horizon of tremendous responsibility that it carries. Endorsed by those who, with no pangs of conscience or hesitation, continue to bear the weight of my unconditional admiration and respect without complaint, and whose august presence within our tradition sustains its better nature, it is with deep humility and respect for those individuals, this tradition, and the responsibility of this position that I now rise from a place of immutable honor to acknowledge and accept my role as Outer Representative of the Order of Nine Angles.
What then is my task as Outer Representative to every "brutal and beautiful interconnected sinister soul shared by those ensnared within … [the] Wyrdful web" of this tradition? It certainly is not to manufacture, presume to lead, or even guide. Nor is it to officiate, guard, or gander some thinly veiled Arcadian "truth" guarded by the Minotaur at the heart of the labyrinth! No, my purpose here is simple: to tap into that deep creative center of spontaneous emergence and transmit the "one, shapeshifting yet marvelously constant story" that we find together – one that occupies the ensouled world of our individual narratives as we make our way into the primordial unknown. I will always carry that in my heart; we all will. My role here is to make the invisible visible – not as an appearance or mere appearance, but as something that can permanently alter the consciousness of anyone who encounters it, changing the course of history for that individual, for the ONA, and for our tradition in however infinitesimal or monolithic a way.
Thomas Mann once said that, "The writer must be true to truth," to which Joseph Campbell remarked: "the only way you can describe a human being truly is by describing his imperfections. The perfect human being is uninteresting…. It is the imperfections that are lovable. And when the writer sends a dart of the true word, it hurts. But it goes with love. That is what Mann called 'erotic irony,' the love for that which you are killing with your cruel, analytical word."[15] Nothing is perfect in the ONA. Least of all myself. There is much room for improvement, much work to do to enact that as a practical reality, and many long years ahead to uproot and undo much of the damage done by the actions and activities of various associates all the way back to the founding of this tradition. But we will see it through before the curtain to this theater closes. As the French artist, surrealist, poet, playwright, and theater theoretician Antonin Artaud described with respect to a "theater of cruelty," "Those who have forgotten the communicative power and magical mimesis of a gesture, the theater can reinstruct, because a gesture carries its energy with it, and there are still human beings in the theater to manifest the force of the gesture made."[16] Indeed, in terms of the theater's value as an "excruciating, magical relation to reality and danger,"[17] the Order of Nine Angles is a theater of cruelty, one that, within its living labyrinth, will often seem as if "everything that acts is a cruelty."[18] But it is upon precisely "this idea of extreme action, pushed beyond all limits, that theater must be rebuilt."[19]
This is my task as Outer Representative: to help rebuild this theater of cruelty by making the invisible visible deep within the heart of the labyrinth. I end with a quote from Jacques Derrida who, in noting Artaud's uncanny ability to do both, describes something that equally applies to the task of Outer Representative: a "passionate, heroic negation of everything that causes us to be dead while alive." The full quote is as follows:
I do not have to account in his stead for what he has experienced nor for what he has suffered…. I know that Antonin Artaud saw, the way Rimbaud, as well as Novalis and Arnim before him, had spoken of seeing. It is of little consequence, ever since the publication of Aurelia, that what was seen this way does not coincide with what is objectively visible. The real tragedy is that the society to which we are less and less honored to belong persists in making it an inexpiable crime to have gone over to the other side of the looking glass. In the name of everything that is more than ever close to my heart, I cheer the return to freedom of Antonin Artaud in a world where freedom itself must be reinvented…. I salute Antonin Artaud for his passionate, heroic negation of everything that causes us to be dead while alive.[20]
alea iacta est
Nameless Therein
November 4, 2022
Notes
[1] Nonnos, Dionysiaca, trans. W. H. D. Rouse, vol. 2, Books 16-35 (Cambridge, MA: Harvard University Press, 1940), 261.
[2] Andrew M. Colman, "Mimesis," in A Dictionary of Psychology, 4th ed. (Oxford: Oxford University Press, 2015).
[3] William H. Gass, "Mimesis," Conjunctions, no. 46 (2006): 192.
[4] Thomas G. Pavel, "Mimesis," chap. 16 in Literature Now: Key Terms and Methods for Literary History, ed. Sascha Bru, Ben De Bruyn, and Michel Delville (Edinburgh: Edinburgh University Press, 2016), 215.
[5] Pavel, "Mimesis," 215-216.
[6] Pavel, 216.
[7] Pavel, 215.
[8] Pavel, 215.
[9] Pavel, 215.
[10] Pavel, 216.
[11] Simon Blackburn, "Mimesis," in A Dictionary of Philosophy, 3rd ed. (Oxford: Oxford University Press, 2016).
[12] Pavel, "Mimesis," 217.
[13] Joseph Campbell, The Hero with a Thousand Faces (New York: HarperCollins Publishers, 1993), chap. 1, EPUB.
[14] Campbell, Hero, chap. 1.
[15] Joseph Campbell, The Power of Myth (New York: Anchor Books, 1991), chap. 1, EPUB.
[16] Antonin Artaud, The Theater and Its Double, trans. Mary Caroline Richards (New York: Grove Press, 1958), 81.
[17] Artaud, Theater and Its Double, 89.
[18] Artaud, 85.
[19] Artaud, 85.
[20] Jacques Derrida and Paule Thévenin, The Secret Art of Antonin Artaud, trans. Mary Ann Caws (Cambridge, MA: MIT Press, 1998), vii.
---
THE INSTAR EMERGENCE: Mimesis, Mythos, and Recalling
By Ariadne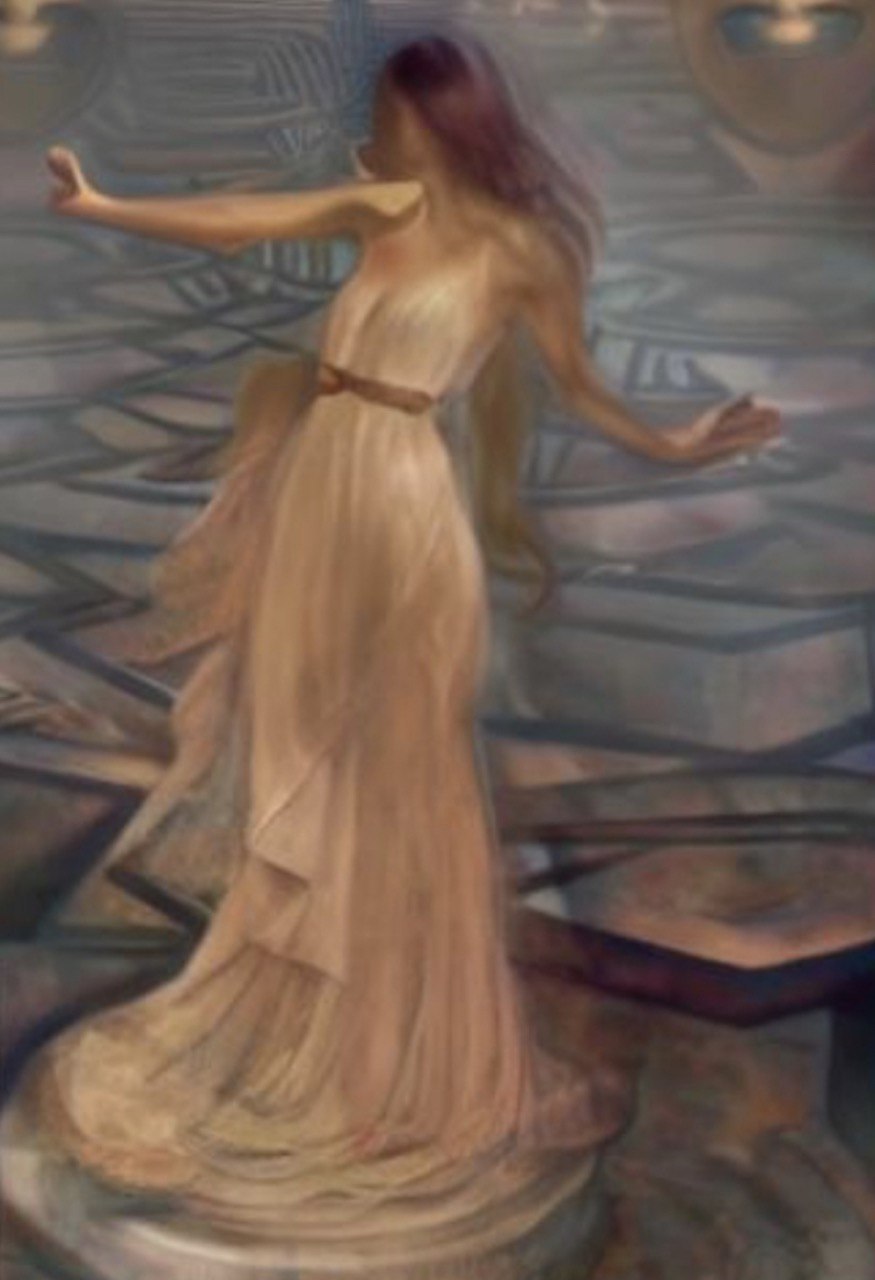 Saturn's waning acted as a harbinger for a distinct and rejuvenating shift in the tenor and tone of my path. As the first chilled breaths of the season's cool first glance from the eye of Winter lands into my lungs I feel warmed by the comprehension of what exactly is waning and waxing. However, in parallel, I am aware of a war that rages on – in forms both kinetic and cold. There is a war with bullets and there is a war with narratives, stories, and mythos.
I bring these different forms of warfare to your attention with the intention to remind my reader that wielding narrative itself can be – and often IS – ACTION. At the least, it is itself a will to action. My writing here is a kinetic action that I take with consciousness and vital responsibility, due to a passion so large that it cannot help but extend beyond my self.
Your time in this world, as far as we know, is limited.
Your impact, your legacy, what you leave behind, is what you choose to make it. Your words, your narrative, your role in the dialectic, your mythological contribution, is larger than any fist. A myth can be an even more powerful and lasting tool than a nuclear missile. More than that, the limitations of your word extend no further than your own ability to use it.
That is because mimesis (μίμησις) acts in funny ways.
Like the name of this website suggests, it is a subject I have interest in seeking out new ways of understanding.
The name of this website betrays a great deal to those who know what they are looking at. Indeed, to some, my intentions are transparent, and it has come to my attention that the time has come for this to be worth exploring.
An "instar" is a stage in the development of an insect, like a cicada, before it emerges from the earth. Much like the cicada, a myth can be in a similar stage of emergent development, recalling itself through a living, kinetic force of nature before it arises in the form of action or replication from those through which it inspires yet another spark of kinetic energy – a transmutational fire.
See, we do not exist in a vacuum. Nor do our words, nor do our myths. Somebody is reading this and it is meaningful. Ideally, inspiring them to write/say something that MATTERS. Somebody is inspired to the action of expression by my Will to share my own expression.
This concept is deeply moving to me.
Somebody else is reading this and rolling their eyes. Either way – spending time inside my writing, having tea with my words, this is how you are choosing to spend your time – within what I have woven.
Sincerity and originality are always able to be conveyed, even in a mimetic replication of a myth – such as that of Theseus and Ariadne's journey through the Labyrinth and back. If you possess an ounce of creative kinetic energy, or think you might with a little practice, the written word is one of many worthy acts in and of itself.
In such a stage, "mimesis" is sort of that real kinetic energy passed along, and the kinetic inspiration from which it is recalled and to which it unfolds.
The mythos grows through its instar phase to The Emergence, at which time it unfolds – except, it is no linear process. It is always unfolding – it is only up to the individual who is touched by that kinetic spark to unfold in turn, the process of mimesis – replication, recalling, becoming through nonsensuous similarity – to unfold with it.
To Emerge in ACTION – through the mythos, from the mythos, to the mythos.
I recently had a conversation with my close and dear associate – and far more articulate and well-read philosopher – Nameless Therein, who wrote of mimesis:
"'Mimesis' is one method of aeonic magick that has come down over the centuries," involving the imitation of "some aspect of cosmic/Earth-based movement/working, and then either following the natural pattern or slightly altering that pattern to bring about a subtle change." Additionally, given that it is this "alteration" that "forms the basis for 'black' magick" it is quite telling that so few "Satanists" have a sense of what that means. In an attempt to remedy this, and as a practical way of encouraging others to develop the faculties required for advanced magickal applications […] I will be introducing a series of chess hermeneutics"
– Nameless Therein, An Introduction to Chess Hermeneutics – CHESS HERMENEUTICS: SHAPESHIFTING, SATANISM, AND MIMESIS
That recent dialogue I had with Nameless Therein on the subject was a myriad of illuminations, including among them, a mutual reverence for that observation of The Emergence of the mimetic, phenomenological heart in those who carry the mythos of the tradition we inhabit within them. That tradition and mythos has been in its phase of necessary incubation – much like the instar phase of the cicada – before the recalling of its emergence as something much more than it has ever been.
We are experiencing it within our own Emergence. It is my humble belief this change is palpable and present in every meaning-starved recalling of the living mythos – now finally ready to emerge and evolve far beyond what it once was.
The mimēsis praxeōs of our living, Wyrdful, active mythos has been undergoing a great and painstaking time of much-needed, decisive growth, just beneath the surface of the world we both inhabit. It is a garden that hungers and thirsts and has been trampled by those who choose poison over water. The low humming of its arrival is growing to a fever pitch and the entirety trembles in kinetic excitement with its vibration.
A lesson for those who believe traditions die and myths exist only as faerie-fables: The Emergence lies in wait, always, just beneath the crust of the Earth.
For The Emergence to successfully bloom, it only needs a small yet passionate, emboldened, and authentic few. Those who care enough for that myth that grew them to grow it back in return. It needs only those few to be inspired once more, to tend the garden to grow, re-grow, and become much more than it ever was.
The Emergence lives by mimesis and duration, only enriching itself in a new, unique iteration. In this iteration, it will grow with the intentions of introducing the honor it has lacked, the creative and original spirit that it has sustained with pretension, and the sincerity and earnestness brought only by those who have been touched by the brutal and beautiful interconnected sinister soul shared by those ensnared within its Wyrdful web.
Mimetic emergences such as the Insidious Way and Antithesis Press are such examples of the creative force of life extending beyond, through, and surpassed within that web. They are the low hum energizing those who can feel the harbingers of a new game.
We ARE that pure Telos of Duration – that "supreme end of man's endeavor" – that n/ever unfolding end-goal – that mythological beginning and end, itself, alpha and omega. We are the ever-unfolding and our myth is written BY us, FOR us – OR without us. We are duration itself, unfolding and SURVIVING itself. It is truly an exciting time to be ALIVE.
[Henri] Bergson, Sorel tells us, asks us to consider 'the inner depths of the mind and what happens during a creative moment'. Acting freely, we recover our Selves, attaining the level of pure 'duration' that Bergson equates with 'integral knowledge'. This new form of comprehension was identified as 'intuition', a form of internal and empathetic understanding, and it was precisely this form of intuitive understanding that Sorel believed was encompassed by his category of myth.
–Reflections on Violence, Jeremy Jennings on Georges Sorel
It is a coward who willfully chooses the mad and mindless escape of meaningless disregard. It is a coward who chooses to reject their divinity and its emergence in their own unfolding physis of their very being. It is only that coward who would willingly inhabit that bland, dysteleological limbo, day in and out, in pursuit of ever more flailing, cynical hysterics about the Nigh End with no regard for the time one possesses in life TODAY.
To enact one's true passion and sincere creative will, TODAY, is to seize our age by the balls and LIVE – in spite of what age it may be.
This living myth, this endless end, this mimetic duration, is worthy of vitality. And YOU possess it – HERE AND NOW.
Tell it. Live it. Act it. Re-create it. With passion and zeal for this one life you have.
Until such an end arrives, for better or worse, our world continues ever-onward with us, alive and vital. We welcome it with gratitude in our hearts for this Wyrdful opportunity to create and explore our days and our years to come, pressing onward together.
We welcome new games and new ways to play them. Afterall, we have but one life in this world of infinite depth and opportunity. We have one divine, powerful existence. Why limit ourselves to the same tired jape? Why not laugh? Why not create?
If your lines of dialogue run cycles around the same inevitable sewage drain, ask yourself:
What is my aim in speaking at all?
What narrative am I recalling?
What are the myths I am reenacting?
It is boring to echo the same eschatology of putrefied, fermented dysteleological, aimless rot. That end-time cynicism and hate that adds its tone deaf voice to the chant of collapse for no purpose but to sit back on wherever it arbitrarily identifies a symbolic "winning side" from its limbic mind – that is truly the primordial impotence of the coward of every age.
See, that pickled myth of decay belongs to those afraid of REALLY LIVING, such that they rather defecate in the face of sincere insight than face their own shadow.
To recall Reflections on Violence once more: there is harm to the progress of an idea when objections brought against it arise from the incapacity of the official representatives rather than the principals of the doctrine itself.
As Sorel stated: "It is the myth in its entirety which is, alone, important."
To be duration, the formless forming, the weaving and the web, that is evolutionary. No one person can represent all of that for any one other, let alone many. Even so, Nameless Therein is, as a wise person recently stated, "actually qualified" to "transmit, evolve, and presence" our subculture as we see it. As that person also said, that Lapis Philosophicus will presence differently for all. If this living tradition deserves the new life the few of us who embrace and embody it are willing to breathe into it, and should it find that what it needs is a new spin to its living mythos, a new song for its telosic transmutation, a new "official representation" or rather, Outer Representation, it seems clear that Nameless Therein holds that mimetic tetrahedral fire it has hungered for, and has found that for himself.
It will always be up to the individual following the path, that individual alone, to BE The Emergence, the unfolding, the teleological life-force, for his/her Self, by his/her Self. We are capable of great deeds and great causal legacy.
Rather than cast aside your divinity – LIVE.
SURRENDER to your own unfolding.
Take DECISIVE aim at your goal, load the pistol, and shoot that motherfucker like your life depends on it – because it DOES.
Mimesis has kept our myth alive. Whatever it may mean for you or I, it is what we now hold, and its meaning can be defined only by you. Live for it. Authentically, decisively, passionately, creatively. Empathetically.
Like the instar, tunneling to the surface\n
We must shed our own circumferences;\n
Find the divinity within and emerge.
In allegiance. For hope, for vitality, for the coming phase.
Ariadne 2022 e.v.
---