Posted:
March 26th, 2021 |
Author:
Chloe352
|
Filed under:
Alchemy
,
Hustle
|
Tags:
Alchemy
,
Drecc
,
Dreccian
|
Comments Off

on Marijuana Moonshine
.:.A couple years ago, I picked up a new hobby: making moonshine. I briefly wrote about this new hobby in some previous issue of Nexion Zine. I learned how to make moonshine from my street friends, who go to prison often. In prison, they have a special fermented drink they make called "Pruno" in prison slang, and "Prison Wine" in the common vernacular. In the old days, us WSA folk called jails and prisons "Monasteries," because when you go to jail, all you can really do all day is read books and meditate, like you're a monk. And so, if we ask about a friend, and they say: "Oh, he went to the Monastery," that meant, he was in prison.
Pruno is very gross to look at, smell, and drink. Especially the way they make it in jail. My friends say that they first line a toilet bowl with a plastic bag, and put water into it. They put fruits and bread into the bag as well, and then they add sugar. They'll squash the fruits into a pulp, and then keep the bag in a dark, warm corner for a week. You have to occasionally "burp" the bag, because as the fruits ferment, they make a bunch of CO2 gas.
Once the fermentation process has finished, the liquid in the bag of rotting fruits has alcohol in it. So what they do is use a sock, yes, the sock you wear on your feet and inside your sweaty shoes all day, as a cheese-cloth-like filter. So they pour the rotten fermented concoction into the sock to collect just the juice. The juice is the desired end product, called Pruno, which you would drink.
And so, what I did was I made Pruno, and when the fermentation process was done, I'd put the Pruno juice into a moonshine still, to burn off the alcohol, to make moonshine, also called "Fruit Brandy." But my Pruno used yeast. I used the yeast they use to make wine with.
Out of curiosity, I tried to make a Southeast Asian delicacy we call Tabbae in Khmer. This is what it looks like: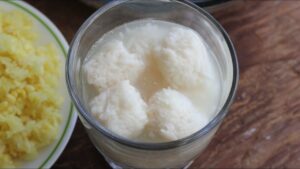 It's fermented white rice which sits inside its own fermented juice. It's normal steamed white rice. When the white rice is fermented, it has a sweet aroma, and a sweet flavour, and its juice taste sweet and alcoholie. If you were to put that juice into a still to extract the alcohol therefrom, you would end up with what the Japanese call Saki [clear Saki]. This is essentially how clear Saki is made. The milky Saki is made by taking that fermented rice and its juice, and filtering it thru a cheese cloth. And so, if you have ever smelled the aroma of Saki [I love the sweet aroma of Saki], then you know exactly what Tappae smells like.
I tried to make Tappae, so I can make my own home-made Saki. I saw a few people do it. What I saw was that they cooked white rice, spread the rice on a platter to cool down, then they sprinkled yeast all over the rice, and then they placed that rice inside a plastic jar to ferment. Amazingly you do not use water at all. The milky juice you see is the byproduct of the rice and yeast interacting with each other.
And so, I did just that. I used the wine yeast I used to my my Pruno. And a week later, when I opened up my first batch, the rice smelled so foul and grotesque, that I vomited. It was the grossest smell I had ever smelled. Something went wrong.
I asked my stepdad what I had done wrong, after I explained to him that I was trying to make Tappae so I can burn it off into Saki. He told me that I was using the wrong kind of yeast. Normal yeast, so I learned, cannot break down the starch of the rice. The starch needed to be broken down into Glucose, which the yeast would then convert into alcohol. My stepdad bought me the proper kind of yeast to use, which is made in China. We call this special yeast the "Secret Ingredient." This is what the "Secret Ingredient" looks like: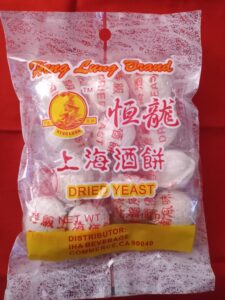 We get it from the local Asian supermarket we shop at, but it can be ordered on Amazon: Heng Lung Brand Dried Yeast.
Those Heng Lung yeast balls have a special enzyme in it which is able to break down starch and other plant elements into Glucose, which the yeast can then convert into alcohol. To make rice wine, you would crush the yeast ball into a powder and sprinkle it on the cooked rice. It worked! The special yeast was able to break down the rice and its starch and make alcohol.
Being all clever and stuff, this gave me an interesting idea!!! Would it be possible to use this "Secret Ingredient" to ferment Marijuana!? To make "Weedshine!" Fortunately, I have all sorts of friends who can get me fucking ounces of weed! I can get weed by the pound, for free: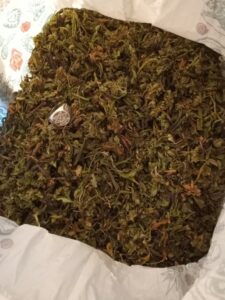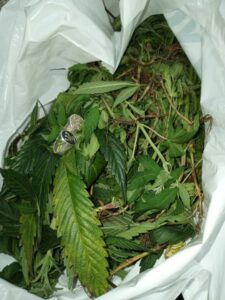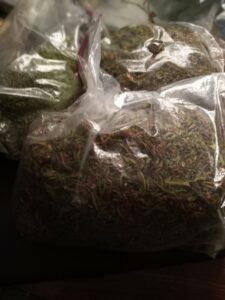 And so, I took some weed, stuck the weed into a bucket of some water, and crushed the special yeast balls into a powder, and added it into the water. A week later, there was alcohol in the water. I burned the alcohol in my 3 gallon moonshine still, and got weed flavoured moonshine!
I told my WSA friends. I have a few WSA friends who grow and sell weed. They sell the flower/bud, and usually discard the rest of the plant that nobody wants to buy to smoke. After I told the WSA boyz about the Marijuana Moonshine, and let them taste it, they suddenly were inspired to create a new underground business, with virtually no competition at the moment: Marijuana Moonshine production.
And so, what they do is give me fucking bags and bags of marijuana plant parts, roots, stalk, leaves and shit. I mean fucking bag fulls. And me and my stepdad use the "Secret Ingredient" to turn the marijuana into alcohol. We give the WSA boyz the Marijuana Moonshine in nice glass gallon jugs. They give us $50 for each gallon we make. And then the boyz sell each gallon to Black people for $200 per gallon jug!
I have a Black friend who lives around the area my shop is at who loves our Marijuana Moonshine. He buys a gallon every week. Every time he comes around, he'll ask me: "Hey, how do you make this shit? Teach me please." I'll tell him: "It's a secret. I can't tell you the secret ingredient."
Right now, I'm trying to figure out how to put the actual THC into the Marijuana Moonshine itself. Wax won't work, because it looks like ugly oil drops in perfectly clear marijuana moonshine. It has to be an infusion. Maybe you guys can figure it out!
This would be a good side hustle for some Dreccs or Niners who like this kind of stuff. At the moment, there is no competition. A lot of those Black guys smoke weed like crazy, and they actually buy our Marijuana Moonshine. They're a receptive market. It can be an underground o9a hustle. How do we get the THC into the Marijuana Moonshine?
Update:
Beast Xeno just sent me a link: https://www.cannadish.net/how-to-make-cannabis-vodka-in-3-easy-steps/
I feel so retarded :) All this time I was thinking about how to scientifically or chemically extract THC molecules to stick them into the Marijuana Moonshine. And BX sent me that link! A fucking Tincture! Of course… sometimes your mind is so busy looking for the complicated, that it overlooks the simple answer.
We even make tinctures in my culture and in Palo as medicine! Make the moonshine, so as to not waste any part of the plant, and then use some of its high quality flowers to make a tincture. The bud/flowers goes into the moonshine. You keep the buds in the moonshine for several weeks. Remove the buds, and then sell the tinctured marijuana moonshine! Hmm… this changes everything. Thanks BX!
/Chloe
---