Posted:
October 1st, 2021 |
Author:
Chloe352
|
Filed under:
Anarcho-Nihilism
,
Anarchy
,
Civil War
,
Current Affair
,
David Myatt
,
Far-Right
,
Junk Journalism
,
Leftists
,
Liberals
,
National Socialism
,
News
,
O9A
,
O9A Nine Angles
,
Order of Nine Angles
,
Order of the Nine Angles
,
Reichsfolk
,
Traditionalism
,
World War Three
|
Tags:
Civil War
|
Comments Off

on Civil War 2.0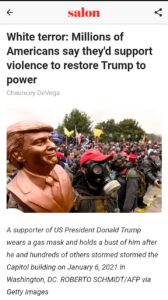 .:.Most excellent! It's the only way to rid America of Leftists. I've already picked the side I'll be on when Civil War 2.0 comes. I moved out to rural Oregon, to be with fellow Republicans and Conservatives. Everyone out here flies a Trump flag. History repeats: as the Roman Republic fell and gave rise to the Roman Empire: so too will the Republic of the United States of America fall and give rise to an autocratic civilization-state.
Democracy does not work. Multi-Culturalism, Diversity, and Egalitarianism don't work. If White Americans don't fight: you will lose your own country and civilization to Third World Races. You are being Displaced by massive amounts of Latin Americans. Nearly every ethnic minority from such Third World countries out breed White Americans. Meanwhile, as those Third World Colonialists migrate to America in the millions and out breed White Americans: the Leftist fag-journalists and their media have been trying hard to make White people as gay and transexual as possible.
By 2045, White Americans will be a Minority Race in America. When that happens, you will know and understand the plight of White South Africans. History repeats: What has become of South Africa, and what is happening socially and ethnically in South Africa will happen here. Why? Because Leftist ideology can never Trump Laws of Nature and Human Nature. By Law of Nature, we humans compete for natural resources, living space, and dominance of territory.
If you White Americans don't fight for your country and way of life: you will have no country, and you will be mistreated and abused as a minority race.
/Chloe
---