Posted:
November 26th, 2022 |
Author:
Chloe352
|
Filed under:
Civil War
,
Culture
,
Current Affair
,
Far-Right
,
Leftists
,
Liberals
,
National Socialism
,
neo-marxism
,
Polemics
|
Comments Off

on Genocide
.:.Time to get back to business: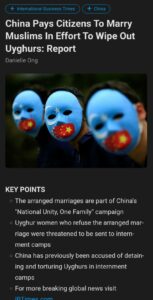 Back in Cali, an older regular customer of mine who was Vietnamese often complained about a subject matter most White people have never even heard of. The Vietnamese man complained about how the Chinese were engaged in what he called "Under The Table Imperialism." How he explained what under the table imperialism was, wasn't exactly what we in the West understand by the word "imperialism."
The Vietnamese man complained that China sends hundreds of students into Vietnam to go to colleges there, and sends Chinese women into Vietnam to marry Vietnamese men. The end goal is to procreate halflings [children who are half Chinese and half Vietnamese]. The Vietnamese guy complained that such halflings would grow to identify as Chinese and be loyal to China and Chinese culture, thus: 1) slowly breeding the Vietnamese race out of existence, 2) gradually infiltrate Vietnam with loyalists [the halflings], & 3) gradually gain more control of Vietnam with each progressing generation.
As a White person, you might be able to dismiss that Vietnamese man's complaints as some kind of bitter animosity or even racism against the Chinese, being that, in your White America, no such under the table imperialism seems to be happening.
But that pattern repeats: China has been not only doing the same thing in Tibet with the Tibetan people, but also with the Uyghurs in northern China. The end aim is to gradually breed those races into genocidal extinction.
If you are clever and pay careful attention to how China performs its game of racial genocide you will see the number of causal steps they use.
The first causal step is to impede and attack the culture of the target race. You can see this in the case of Tibet, where China antagonizes the Dalai Lama, doesn't allow Tibetans to pick his successor, flood the youth of Tibet with Chinese culture.
Why this first step? Because old people die and the young people take the place of those old people: thus, with each new generation, you destroy more and more of that race's culture and traditions.
Culture is the primeval social glue which holds a folk/ethnicity/race together, as a coherent racial entity. When you destroy that culture, the target ethnic race becomes weak, loses its ethnic/racial identity, and begins to dissolve.
The second step is to give [or force unto] such target race state sanctioned ideology and superficial idiotic substitutes for their destroyed culture and traditions. In place of Traditional Tibetan Buddhism, you give to those Tibetans secularism, materialism, and ideological communism. In place of that destroyed Tibetan culture you give them idiotic substitutes such as Chinese pop music, Chinese fashion, Chinese TV shows, Chinese supermodels, Chinese movie stars, etc.
The third step is to use finance and the economy to divide the Family Unit. Meaning that not only do you attack their culture, but you divide them by attacking their family unit [divide & conquer]. Make both parents need to go to work 40-50 hours a week, 8-10 hours a day. That makes it so that the children of such undesirable races are then raised and reared by the Chinese State. Make it cool to want to chase after money and material goods and material comfort [i.e: make individualism and the desires of the individual into a religion]: which causes young people in that undesirable race to not desire to have children, since having a child costs too much money, which money you can spend instead on cool things for yourself. No children: no future population for that undesirable race.
The fourth and overt step is to constantly antagonize their race, to attack them, and make them believe that something is wrong with their race. It's called "dehumanization." We dehumanize a people in order to make it more emotionally acceptable to then abuse and mistreat them.
If you can see those steps China is using to commit racial genocide: you as a White American will see the same steps being used by the Left against your own White race.
You no longer have a Culture. Being White and being proud of your Culture makes you a "racist." You no longer have any Tradition, besides the superficial idiotic substitute traditions that they have given to you: Black Friday, Cyber Monday, Amazon Thursday, Facebook Saturday, Apple Wednesday, TikTok Tuesday, Instagram Sunday.
You no longer have any semblance of Traditional Religion. In the place of Traditional Religion you are given Scientism, Materialism, Secularism, Individualism, Egalitarianism, LGBTQETC rights, Shemale rights, transvestite rights, genital mutilation rights [telling children they are transgender and can get gender re-assignment surgery to "correct" shit].
You no longer have any meaningful semblance of family. Look at the divorce rate, and the number of people who who desire to not get married. Look at the single parent households. Look at how, since the passing/death of the 1950s [the last Great American Era] you kick your kids out of the house when they are 18 and they kick you into a nursing home when you are old. The destruction of White people's Family unit and family value is an epidemic in White city-folk. Things are actually different in the rural countryside. A simple interesting example: out here where I live, about 10 miles from here, there is a vast field/land of about several hundred acres entirely owned by one family, and on this land, 90% of the houses are owned by members of this single White family [they live in those houses].
They flood America with third world races, who out breed White people, who all vote Left, who will gradually procreate with Liberal young White people to make future generations of halflings.
You White city people are very ignorant about what is happening and being done to your race.
---