Posted:
July 5th, 2021 |
Author:
Chloe352
|
Filed under:
Anarcho-Nihilism
,
Anarchy
,
Civil War
,
Far-Right
,
Islam
,
Journalism
,
Junk Journalism
,
Leftists
,
Liberals
,
Mundanes
,
National Socialism
,
neo-marxism
,
News
,
Nihilism
,
O9A
,
O9A Nine Angles
,
Occultism
,
Order of Nine Angles
,
Order of the Nine Angles
,
racial equity
,
Reichsfolk
,
Satanic Polemics
,
The Sinister Dialectic
,
The Sinister Game
|
Tags:
Ancient Pagan Traditions
,
Anton Long
,
Left Hand Path
,
Modern Satanism
,
Nazi Satanism
,
Nazi Satanists
,
Neo-Nazi
,
Nihilism
,
O9A
,
O9A Aural Tradition
,
Occult Initiation
,
Occultism
,
Order of Nine Angles
,
Order of the Nine Angles
,
Paganism
,
Satanism
,
Seven Fold Way
,
The Dark Tradition
,
The Nine Angles
,
The Sinister Dialectic
,
The Sinister Tradition
,
The Sinisterly-Numinous Tradition
,
Traditional Satanism
,
Traditional Satanism. O9A Logos
|
Comments Off

on Race War's Abrewing
.:.So when you allow BLM negros to burn streets, cities, and police stations down, and rather than incriminate such BLM negros, you support and praise them, such negros will begin to feel empowered, knowing they can get away with anything and not get busted. Thus, such negros will become even more radical, because they know they can't and won't get into any trouble: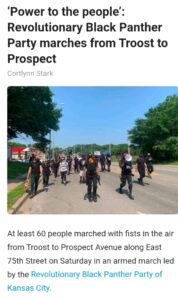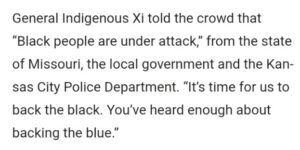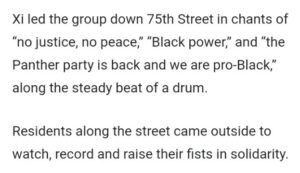 Of course, because Leftists are in power, a group of militant Black radicals, armed with rifles, chanting "Black Power," aren't considered racists or domestic terrorists. And of course, because Leftists are in power, a group of White people, armed with rifles, walking down streets screaming "White Power," would be criminals, racists, and domestic terrorists, who would all quickly be jailed for federal offenses.
The Reality [re: Realism] of things is that we are Primates, that as Primates we are social/troop creatures who form primate groups [families, clans, communities, gangs, political parties, etc], and as primates: we are territorial. What's that mean in simple English? It means that when you have different breeds of human primates occupying the same territory: you will have 1) Competition, 2) Rivalry, & 3) Fights to gain Control of the said territory.
And so, it makes sense, that during this period of America, when Blacks 1) know that their numbers are growing into the New Majority & 2) knowing that the Leftist Regime supports them, that these Blacks will militarize and desire to use force and violence against Whites to take control of as much of American society as possible. It's just the Law of Nature. Diversity and Equality by Natural Law cannot co-exist together, or territorial conflict is inevitable. If you want Diversity, you cannot have equality [see the Vedic Aryan caste system]. If you want equality, you cannot have Diversity [see homogenous nations/cultures like Japan].
White people here in America have made a grave mistake, and their children and grand children will pay for their mistake. This is what happens when you are an idealist and you try to impose ideals and ideology [racial diversity + egalitarianism] on top of Natural Laws/Principles. Ideology – meaning our human invented abstract beliefs – can never displace or replace the Laws of Nature. There will be ethnic conflict/struggle for territory and power here in America. It's how Mother Nature works/functions. As time passes, you will see more and more radical Black groups: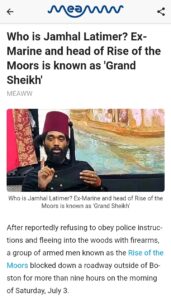 Human behavior is based on human nature, which in general is predictable. It's predictable because human nature is instinctive, and human instinct is "reactive" or "reactionary," meaning that we humans, and all biological organisms, React to Stimuli. In other words: the Stimulus influences the Reaction: fire to skin = react by pulling away from fire; see food = react by eating; long day at work = react by resting idly when home; thirsty = react by looking for water to drink; need money to pay bills = react by searching for work.
And so, unbeknownst to Leftist Journalist Clowns [like Hate Not Hope], when we see Whites become radical or extremist Nazis, that outer expression of them being Nazis is a symptom of a cause: a reaction to environmental stimuli. As a Buddhist, when we see a White person radicalize, we ask: Why? What is the Cause? There weren't this many Neo-Nazi and Far-Rightists groups 10 years ago in Europe and the UK. I remember. So what happened in those 10 years? A number of things happened, but one big thing that happened was Angela Merkel and her lunatic Leftist-Liberal immigration policies. That's the Stimulus. All people are born good and nice. Like all puppies are born good and nice. But when you back a nice dog into a corner, and it feels threatened, it will bark, behave aggressively, and try to fight back.
And so the same with humans. When you push White people into a corner with stupid open boarder immigration policies, and millions of Africans and Muslims invade and colonize Europe which then threatens native European cultures and social order: some Whites will react to that stimuli by becoming aggressive, radical, extremists, Neo-Nazis. And so, putting such far-right Whites into prisons only covers the symptoms: it does not get rid of the Cause. You can throw far-right White people in jail all you want: but as long as the cause is still present, that cause will continue to generate more far-right Whites. The Cause of the symptom is the Left and their policies/agendas. Get rid of the Cause and you get rid of the symptom.
The reason/cause for why Blacks are radicalizing into militant Black Nationalist movements is different. They are radicalizing because their stimuli is emboldenment brought by a Leftist Regime and their progressive/liberal agendas. Shit like this: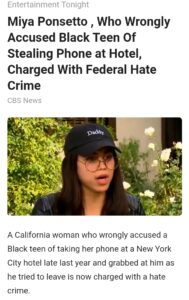 It is a Federal Offense to behave with these Blacks in the wrong, unsanctioned way now. They can play muck games with you, get you irrational and angry, you do or say something in that irrational state, and BAM: Federal Hate Crime [fake crime]. Shit like that, along with their ability to burn cities down and loot sans punishment, embolden them.
That plus how Nature works. In the biological animal world [we humans are animals] when two rival groups are fighting each other for territory and resource, before and during the fight, the two groups size each other up. That's when you observe your rival and determine if you can fuck them up or not. Fight or Flight. And so, on a collective level, Black people are sizing up Whites. What do you think White people look like in the eyes of a Black man? You have to try to see this in an objective manner. The Media gives you clues.
In Black oriented media, such as music and its derived Hip Hop culture, Black men are tough, gansta, fuck bitches left and right, risk takers, violent, etc. And how does Leftist media condition White people to be? Like this: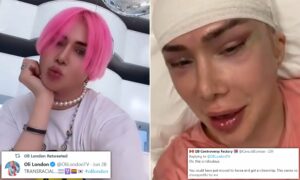 It's some fucking White guy who thinks he's a girl and Korean. He got surgery to look Korean, and says he [or she, whatever] is "transracial." Haven't you realized that today there are a whole lot of fags and trannies? It wasn't this bad 10 years ago. Now, they are everywhere. Even grade school kids are gay and transexual. It's almost as if the Leftist Media is trying to make White people as gay and emasculated as possible. I'm not White, and I honestly feel embarrassed on your guys' behalf. Don't know guys understand that the Left is doing something to your race and people?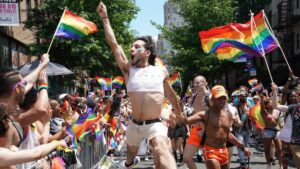 It's as if, in the minds of the Leftists-Progressives, the only good White person is a fag. White faggots are the Darling Poster Child of the Left, because as a White faggot you aren't racist, you can't radicalize because you're a fucking sissy, you'd rather wear a dress than buy guns, and you are a True Believer in the doctrine of Diversity. You are harmless, passive, docile: you've been emasculated. And if you act tough: they call you a White Supremacist.
White fags would rather put in the effort of fighting to be able to urinate in the girls bathroom, and compete in sports with girls, then buy guns and become violent. What else are White faggots good for? They think girls are gross and don't make new/more White people. Do you see the difference? Black media conditions Black men to be macho, gansta, and sexually promiscuous, while Leftist Media conditions White males/boys/guys to be fags and trannies. So how do you think White people look in the eyes of a Black man, a militant, Black nationalist man? Like emasculated men.
Add to that the fact that the Leftist Regime in America and Capitalist Corporations no longer support White people [who are portrayed to be all inherently racists]: and you have an emboldened race of Black people. Bold enough to now become armed radical Black nationalists. Of course: you won't see any of those Leftist Journalist websites bring up Black Power and Radial Black Nationalists. Just like they don't deem the riots, arson, and looting by BLM to be radical, violent, extreme, racist, or domestic terrorism/mayhem, or even criminal. What do you think America will look like 20 years from now, if Whites continue to be emasculated, and Blacks continue to increase in population size and power?
/Chloe
---