Posted:
June 8th, 2021 |
Author:
Beldam
|
Filed under:
David Myatt
,
Order of Nine Angles
,
Richard Moult
,
The Sinisterly Numinous Tradition
|
Tags:
David Myatt
,
Left Hand Path
,
O9A
,
Occultism
,
Order of Nine Angles
,
Satanism
,
Seven Fold Way
|
Comments Off

on The Melding of Opposites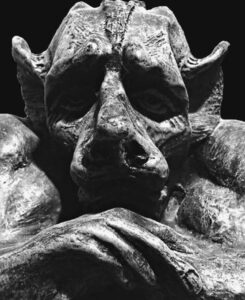 Excerpt from Thurhfaran:
"As I see things, beyond all the labels, the seeking of experiences, the grasping of and for "knowledge", there is only the potential of quiet, numinous presencings, brought wyrdfully, and for the most part, out of our control." -R.M. exchanged letters.
As I sat in silence in a glade, near the woods, enjoying a temporary break from reading Chrétien de Troyes; Tales of the Round Table and enjoying the first warm days of summer, I lost myself in dreaming and reliving certain moments of the past. Such moments became entwined with my dreams of leaving for the Canadian west, which shall be happening soon and In-between such memories, such hopes, both lived and unlived, it seemed to become all so apparent to me, all so clear. Not a revelation, enlightenment or an awakening but rather, a simple understanding of a life that passes, of something so temporary and seasonal. You can't make sense of this life, you can only live it, experience it and let the years pass like a Ferris wheel. You may choose to dwell in abstractions and force a purpose, a mechanism, a framework on all those unknown variables that we are faced with during our lifetime but that comes with a cost. The cost is limitedness and often hubris, for we are arrogant beings, proud of our intellect, of our language, of our ideologies that we throne as absolutes and universal. They are not. They will be unable to solve the mysteries, to bring about the comfort of certitude.
They will fail you since they are imperfect creations of the mind, susceptible to movement as any other things are. Very few people know who they truly are beyond such creations, what moves them, what lingers in their heart, what is worth fighting for and isn't, what truly matters to them and what they want for themselves. Instead, we try to convince ourselves that such creations are necessary and that they should supplant who and what we are. We become certain that this obsession with a political or religious avenue is legitimate, righteous and that it grants us a special authority to judge and impose our ways upon others. We become drunk with ideologies, addicted to theoretical frameworks that we try to make manifest in the world by sacrificing empathy, temperance and all the things that truly matters and requires no words. Such creations will pass over the course of life. They will become brittle and cracked until the day they shatter, just like ice melts at the end of winter. Abstractions are natural and perhaps, even necessary for a time to allow ourselves to explore, to go on a quest and come back, inwardly changed. They are the unavoidable offspring's of our fallible and limited perception and mind. And yet, as I was sitting under the birch trees, enjoying the silence in the glade, I felt the dance of deliverance in me. Being in peace with abstractions does not mean that life ceases to have purposes or unicity.
On the contrary, it is a complete embracing of the very experience itself. It is an invitation to not mind life but live life. To love intensively, to travel the world, to connect with nature, to cherish all the moments spent with family and loved ones. To find who we are by perfecting a craft, by keeping our body healthy, by helping others in such inspirational pursuits so they can also find their own path. Not because it fits to an ideology or a religion but because it simply is what seems honorable, just and balanced within our heart. Life is the poem, the ritual and there is no true journey, no true beauty if such a journey, such an aching beauty can't be shared with someone else. Whatever path we choose for ourselves, whatever we learn from adversity, there is no forgetting for me that love is the answer and that there is nothing like seeing the ensemble of our being, echo in someone else. Nothing like two souls remaining loyal for a lifetime and loving each other's until the very end. Past that, there is only life passing like a dream would. There is no evolution, no synthesis, no titles or grades, no achievements or enlightenment. Just a gradual awareness, a learning from adversity, a tempered character that seeks to do right by others, to be balanced and refrain from falling prey to what is hubriatic and rotten. Just a being, momentarily partaking in this phenomenon that we call life for a time, a very short portion of time.
"It struck me then that this immersion in 'the Light' was exactly the process described by the stage of post Internal Adept/pre-Abyss – that this stage involved a synthesising of opposites which could lead either towards and beyond the Abyss to thus deepen one's Sinister oath, or instead towards something else entirely – a deepening synthesis perhaps, one which was possibly unique to the individual, unconnected to any current. And for me, post Internal Adept … A leaving of Shropshire after myself and my ex-partner came to the conclusion that we could no longer be together. And then time spent in Hastings, followed by a most wyrdful move to Scotland; much travelling, much music – a time of seemingly growing away from the confines of my understanding of the Sinister Path, and evolving a natural 'Way' which expresses the totality which is me.
Looking back, and out of a respectful mindfulness for those caused suffering by some of the things I have aided, I hesitate to say I do not regret anything. However, one has to look inside one's heart at the time, and I know that whatever stage I was at, my main motivation was (and is still) the quest for self-knowledge and to presence the numinous. As time progresses, life becomes simpler and focussed on what is personally important, and so there has been a gradual leaving of the outer trappings of the 'Sinister' and an arrival back to the shores of my music and painting. This has not been some tactic in order to attempt to achieve some sort of worldly artistic success: rather, it is a natural evolving towards my essential 'destiny', made possible by all my journeyings hitherto. Which is, after all, the point of any genuine esoteric way. I have never made any grand claims about myself: my creations for the Order are consequences of my experiences – if some people value them, fine; if some do not, also fine. As has been written so many times before by the Order, everything can and should be surpassed. Nor do I present my experiences as some sort of benchmark for other Sinister aspirants. They certainly are not, as these recallings surely demonstrate. This is just simply one modest, personal tale, for those who may be curious. "
-R.M.
-Beldam
---