Posted:
May 26th, 2021 |
Author:
Chloe352
|
Filed under:
Acausal Theory
,
Alchemy
,
Anarcho-Nihilism
,
Anarchy
,
Civil War
,
Current Affair
,
Drecc
,
Dreccian
,
Far-Right
,
Heretical Texts
,
Islam
,
Journalism
,
Junk Journalism
,
Labyrinthos Mythologicus
,
Leftists
,
Liberals
,
Mundanes
,
National Socialism
,
neo-marxism
,
News
,
Nihilism
,
O9A
,
O9A Nine Angles
,
Occultism
,
Order of Nine Angles
,
Order of the Nine Angles
,
racial equity
,
Satanic Heresy
,
Satanic Polemics
,
The Sinister Dialectic
,
The Sinister Game
,
The Sinister Tradition
|
Tags:
Alchemy
,
Anarchy
,
Ancient Pagan Traditions
,
Anton Long
,
David Myatt
,
Fake News
,
Labyrinthos Mythologicus
,
Left Hand Path
,
Modern Satanism
,
Nazi Satanism
,
Nazi Satanists
,
Neo-Nazi
,
Nihilism
,
O9A
,
Occult Initiation
,
Occultism
,
Order of Nine Angles
,
Order of the Nine Angles
,
Paganism
,
Satanism
,
Septenary System
,
Seven Fold Way
,
The Dark Tradition
,
The Nine Angles
,
The Sinister Dialectic
,
The Sinister Tradition
,
The Sinisterly-Numinous Tradition
,
Traditional Satanism
,
Traditional Satanism. O9A Logos
|
Comments Off

on The Ape Rebellion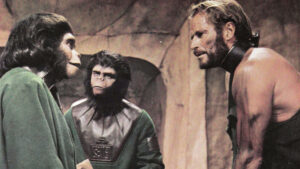 .:.Let that picture sink in for a moment. A White man in chains, subjugated by Apes, by talking monkeys.
I love science fiction. One of my most favorite sci-fi stories/movies is Planet of the Apes. The Topical Plot of the story is that on some planet in a future timeframe, there lived a race of humans [White people] who lived with a race of apes. I can't remember how the apes began to walk upright and talk, but the apes were at first slaves, servants, and test subjects. Eventually, the apes came together and began to fight for their liberation. This was called the "Ape Rebellion." Once liberated, they subjugated their White oppressors. There is something prophetic about that movie, isn't there?
I am by culture, class, varna [Brahminical caste], and upbringing a Feudalist. I believe in Dharma and the sanctity of the Most Ancient and Aryan Caste System. I believe in the total stratification of the Human Species into strata based on Mental Capacity, Cybernetic Capacity, Dharma [Nature/Ethos/Tao], and Race.
Therefore, if a civilization of a certain race should import or subjugate another race into its civilization to be made slaves, such imported slaves who are of a different race, different mental capacity, different cybernetic capacity, different dharma, must be: 1) restricted to the very lowest tier of the feudal caste, 2) must never be allowed to be educated where they are able to read and write, 3) must never be given the same kind of liberty of the top classes, 4) must never be treated as equals, & 5) must be psychologically subjugated with the dominant religion and weltanschauung of the dominant race.
What has kept the caste system in India going for so many thousands of years is that the lower castes are subjugated by the doctrines and religion of the Brahmins [so-called Brahmanism or Hinduism]. When you become ideologically liberal and stupid, where you get rid of traditional religion, and believing in the ideology of Egalitarianism you elevate those underlings of the lower castes as your Peers and Equals: such underlings will rebel and revolt. Which should be a recognizable Pattern of Human behavior:

History repeats, because when we say "history," what we actually mean to speak of are the fruits of our collective human actions, activities, and behavior. And so history repeats because we humans all think the same human thoughts, react the same way to primal stimuli of Greed & Fear, and we commit the same mistakes.
The Great Republic of the United States of America is currently experiencing its own Slave Rebellion. You let them be free, instead of shipping them back to where they came when you didn't want them anymore. And you trusted them. Never trust a race who holds a 400-year grudge against your own race and kind for enslaving them: because they will brood and one day seek vengeance and retribution.
What's that Term for toads which you bring into your Cane fields which are not natives of your country and its ecosystem? Those Cane Toads are Termed "Invasive Species."
In human terms, our environment isn't just the land and trees that surrounds us. Our environment also includes our Social Order and Culture, which are Cultural entities. The environment of one specific race or ethnicity of human being works for them and only them. The simple concept of being free and voting for our leader works for us, yes. But when you bring into that social order an invasive species like Muslims who are not indigenous to that social order: such Muslims 1) do not know or understand how to function properly in said social order where they force their religion and culture on you & 2) because they are not indigenous to that social order, they will out breed you and mix-breed with your race.
You guys have the intelligence and sense to pass laws that protect natural environments from the introduction of invasive species. But when it comes to human races and ethnicities and cultures, you guys become stupid and ignorant, where you don't understand what is actually happening or taking place when millions upon millions of Muslims, Africans, and Mestizos from Latin America force their way into Northern places such as America and Europe. What is happening is invasive species not indigenous to such Northern Homelands are Colonizing said Homelands.
Why do we have laws that makes it unlawful to introduce invasive species into habitats? Because such invasive species will grow in population due to there being no natural predators to keep their population at a state of natural equilibrium, which in turn fucks shit up for the local/native species. That's easy for you guys to understand, when we are talking about shit like snails and fish and ferrets. But when it comes to speaking about human breeds and races, you guys become stupid and idiotic. Why? Because you allow abstract and emotive ideologies to be superimposed onto Nature and how Nature works, and your abstractions – your ideologies, Egalitarianism, Communism, or Neo-Marxism for example – are believed to be able to replace and work better than the Real [re: Realism] Laws/Principles of Nature.
The mistake and error that most humans make is that 1) they do not understand Dharma/Tao [the Laws of Nature and how Nature works: the Ethos of Nature] & 2) they believe that man-made doctrines, beliefs, and ideology can not only work better than how Nature works, but can actually replace Natural Laws.
You cannot get rid of or replace Laws of Nature. Like you can't pass laws to make gravity go away. No amount of science or religion will ever get rid of Human Nature & Nature's Nature. If you understand Human Nature and Nature's Nature, then its easy to understand what is happening in the West, what mistakes we have made, and what will become of our social orders and civilization in the west. Human Nature trumps ideology and doctrines. It was human nature that caused people in the past to enslave others, and it is human nature that drives the descendants of the said slaves to do what they are doing.
There will always be competition and struggle for Wealth & Power, for Hegemonic Dominance of a given habitat or ecosystem. It's simply how Nature has been functioning for billions of years. It is simply the process of developmental evolution. Hegemony is the step before Genetic Dominance. After that is Genetic Drift. And from genetic drift arises new breeds and species. When a species of a given environment achieves Hegemony in that environment, it ensures by Natural Law/Principle that such Hegemonic species have the capacity, the dharma, to not only survive, but to thrive.
And so White Hegemony in Western Nations is nothing evil and nothing to be ashamed of. Like it's not shameful or wrong that East Asians hegemonically dominate East Asia. The social order which White Hegemony has create is Coveted by everyone: hence why millions and millions of Africans, Muslims, Mestizos want to come here, risking life and limb. Because the social orders of the West functions properly and provides security and well-being. It's a rare creation that a nation-state can do that for its citizens: most nation-states are failed states.
/Chloe
---