Posted:
May 13th, 2021 |
Author:
Chloe352
|
Filed under:
Alchemy
,
Civil War
,
Drecc
,
Dreccian
,
ghetto
,
Leftists
,
Mundanes
,
neo-marxism
,
Occultism
,
Order of Nine Angles
,
Rounwytha
,
The Sinisterly Numinous Tradition
|
Tags:
Ancient Pagan Traditions
,
Occultism
,
Paganism
,
Seven Fold Way
,
The Dark Tradition
,
The Hermetic Tradition
,
The Sinister Tradition
,
The Sinisterly-Numinous Tradition
,
Traditional Satanism
|
Comments Off

on Country Life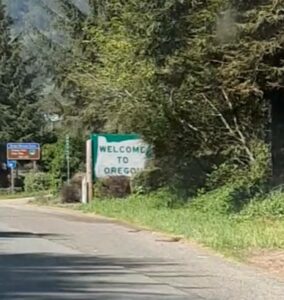 .:.I made it to Oregon; and I got internet connection again. I now live in a very rural county called Coos County. I've physically adjusted easily to the new environment. But I'm having a very difficult time psychologically adjusting, because I've been born, raised, and living my whole life in Southern California, where everywhere you go there are cities, suburbs, and urbanized areas, giant shopping malls, and so on… and here, way out in the rural/countryside/boondocks: there is nothing but open vast open fields of emerald green grass, endless forests that go on forever in every direction, lakes and rivers everywhere you go, and lots of cows and sheep.
The countryside here in Oregon is very different than Orange County or LA! The biggest "city" here in Coos County is called "Coos Bay" which has a population of a mere 16,000 people! 16,000 People is like 10 Mexican neighborhoods back in LA! All of the other "cities" in Coos County are properly "Towns," not cities. Each town here has a population of 9,000 or under. The towns are so small that Coos Bay has the only DMV in the whole county! I have to switch my California driver's license to an Oregon one, and so I have to go to the Department of Motor Vehicles [DMV], and Coos Bay has the only DMV for the whole county. Coos Bay is so isolated that the nearest big city of Eugene is 2 hours away; Portland is 4 hours away. Eugene is about the size of Fullerton or Anaheim.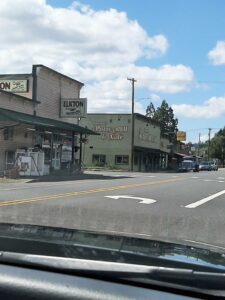 We were driving around the county, exploring, and looking around, and we saw the little towns for the first time. We had to stop in the middle of traffic, and had a "What The Fuck" moment, because we thought for a few minutes that we had accidently driven into a Wild West Cowboy movie set because all of the buildings looked like those old Cowboy Western buildings and saloons. My sister said: "That's not a movie set… that's their city." It felt like you had driven into a fucking time warp into the past.
Over 95% of Coos County are White People. But they are different than White People in Orange County and LA Suburbs. White folks here are very friendly, they smile, say hi, and wave at you. Neighbors talk to you and each other. Neighbors even share things with each other. Whereas in Cali, you can go for years without ever knowing your neighbors.
White People here are a modest breed of people. They wear financially modest clothing; you rarely see brand name clothing. They also live in financially modest homes, and drive financially modest cars. Most White people here drive big trucks. Half of the White men here have beards.
There are in general 3 main groups of White People here in Coos County. The first group is the most visible. This group is the old Retired White People who all have big RVs that are like buses. This first group travel in their RVs up and down Oregon's Southwest Coast and park their RVs in places called "RV Parks." I've never seen an RV Park before, until I got here to Coos County. An RV Park is like a cross between a big parking lot and a camp site. Most of the RV Parks here in Coos County are located in nice places such as overlooking lakes, near big rivers, by the beaches, and so on.
This group of White People – old retired RV nomads – dominate the city council of Coos Bay, and so, per their mentality and aims, they fight to keep Coos Bay from growing and expanding into a large city, since they desire to keep Coos Bay a tourist place for tourists and RV nomads like themselves, who enjoy nature and the beautiful environment. Thus, the population of Coos Bay is very small [16,000]. This also means that there are not a lot of industries or diverse jobs in Coos Bay. The lumber industry and fishing industry are the biggest ones here. And so, many men here are lumber jacks or fishermen. In the tiny city of Coos Bay, there are two whole casinos. And so, you can find jobs there. You can also find work in the many hotels and restaurants.
Because the city council works to keep Coos Bay from expanding, housing in Coos Bay is very problematic, especially rentals. It's very hard to rent an apartment or house here, because of the limits imposed on the city by the city council, and because of Oregon's bizarre rent laws. All apartments, homes, condos, or anything which desires to rent itself to the public must work through a middle-man called a "Rental Agency." You submit applications of specific apartments or homes you desire to rent to a Rental Agent, and they put you on a list for that specific unit being rented: the first person or family who qualifies gets the unit.
Because the housing thing is a huge hassle and because there are no good jobs or work here, Coos Bay has a homeless and drug problem. It's nowhere as bad as the homeless problem you'd see in LA or Portland or Eugene, but there are a few homeless people and there is a problem with the bored and poor sections of society here who do meth.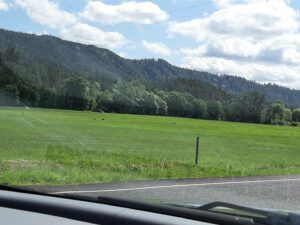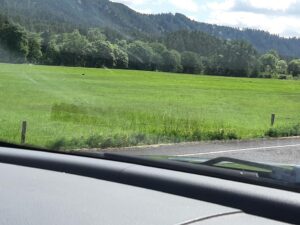 The other third portion of White People here are the rural farmers. Coos County is rural proper. If you drive in any direction from Coos Bay city for about 5 miles, you will end up seeing vast fields of beautiful lush grass, which are used to raise primarily cows and sheep. I have never seen a baby lamb before, until I moved here. They are very cute! The cows are black or brown, which means they are raised eventually for their meat. The cows and sheep live a very nice and relaxed life in vast open fields all day.
The farmers live in modest homes and in trailers. Sometimes their homes look dilapidated and poor. I wrongly assumed that they were poor people, until I check how much their land cost. When we saw the beautiful open fields, we all wanted to buy a house with about 10-40 acres of such open field. So I looked around for the price of such kinds of open fields, and they were about $1 million or more! They look poor, but they have wealth locked up in their land and livestock. It was wrong for me to assume that they were poor, using California standards.
The farming class are a friendly breed of people. They wear modest clothes that are not expensive brand names. They own tractors. All the males seem to have beards and wear straw hats. The females don't usually wear makeup or fix their hair up. A majority of them – especially those around our age [Y & Z Gen] – seem to be shy or timid around people they know are from California. They can tell we aren't from around the area [not natives] by how we dress, carry ourselves, and talk our English. You don't organically realize you speak English with a SoCal accent until you talk with them, because they talk their English differently.
Besides the rural farmers, there are the rural folks who live in the woods, who don't farm. Their houses are found along twisted and curvy little streets in the forest, by rivers and such. They have beards also, and a lot of junk in their yards. The junk consists of mostly old rusty vehicles. These folks in the woods seem to have their own rural community economy, where their homes doubles as shops. Some of their homes are art galleries.
The last third portion of White People here are the children and grandchildren [descendants] of those rural farmers and rural forest-dwelling folks. This group are the ones who come together to form and build those small towns and small cities in the county.
The 101 Freeway that we are familiar with in Cali, here in Coos County becomes the Main Street of every township here [or a small highway that breaks off of the 101 is their Main Street]. There homes are located on small streets which are tributaries of the 101 and the small highways, which are two lane highways here. The speed limit in town – when you drive through the town – is only 20 miles per hour. All of their shops are located along the 101, which is their main street.
The people who live in such towns are different than their farming and woodland kindred in that the people who are around our age seem to try to be more "cosmopolitan" or "metropolitan" like us in cities and suburbs out in Cali. There are kids in these towns who are "punkers" with dyed hair. I've seen a few skaters as well. Interestingly, I don't see very many people out here into the Cowboy subculture! They all try to be more like the people they see on TV from places like Cali and New York and so on.
These White People in town remind me of White People I've seen around Arizona and parts of Nevada: they are ordinary people, friendly, not stuck up, but modest in dress and demeanor. To get a better understanding of what kind of people these White People here are, I surfed their local radio frequencies to see what kind of music they listen to in general. There are a few radio stations that play Alternative and Pop, a few stations that play Classic Rock, many stations that play Country music, surprisingly a few stations that play Classical and Jazz, a few stations that play Gospel music and Church preaching, and that's it.
My friend Beast Xeno told me that when you move out to a new environment like this, that your perspective about things will change accordingly. He's very right. The rural environment and the people here are starting to change the way I see and feel about things. Which is why I am having a hard time adjusting psychologically.
First it's like a major Culture Shock. I come from Southern California, where there are so many Mexicans, that everyone speaks Spanish everywhere you go. Out here, in Coos County, nobody speaks Spanish. Everyone speaks English! After being here for a few days, exposed to the English coming out of everybody's mouth, I was so weirded out that I said out loud to my sister and Vanessa: "Wow… it's like we're finally in America! Everyone speaks English."
Another thing that shocked me was when we drive around in Cali, we see Mexicans working the streets, as city street workers, like they lay down asphalt, fix potholes, put those orange cones around the streets. I'm so used to seeing Mexicans do that type of work, that when I saw White People do that work here in Coos County, I was shocked and confused. That White People did common labor.
Another thing that shocked me was when we went into a McDonalds to get some hamburgers. I'm used to seeing Mexicans work hamburger places. When I walked inside a McDonalds here, there were young White People working the place.
I now realize that my perspective and opinions/views about society is born from, rooted in, the place I live. In California, especially Orange County, I believed that White People did not have a culture, because they were atheists, were into New Age shit, and practiced cultural appropriation. But here, in a rural countryside, you can see and witness that these White People here do indeed have their own culture, traditions, and way of life.
A culture, traditions, and way of life that is fast dying. There is a huge disconnect between the White People here [who constitutes over 95% of the population] and the faces you see on their local TV shows and commercials. I was shocked and confused to see Black People and Latinos faces on their local TV shows and commercials; given the 95% majority race here. I was so taken aback that I said out loud, as I was watching a commercial: "What are Black People doing on TV here?"
I feel very bad for the White People here because their media bombards them with faces and cultural shit that do not represent their People and Way of Life here. Their morning news is from New York and their TV shows are from California. The people and cultures of New York and California have nothing to do with the Rural Folk here and in other rural places. It's Incremental Cultural Liquidation.
Incremental Cultural Liquidation is what China is using to push Tibetan people into racial and cultural extinction. It happens gradually, and with the young people, since they're the most receptive to the invasive memes. The older Tibetans can resist and fight off the cultural liquidation all they want, but they will die and the new generation takes over.
And so little by little, the young Tibetan teens speak more Chinese than Tibetan. They think Chinese pop music and Chinese cultural stuff is "cool" and trendy, and so they stop listening to Tibetan music and so on. They think Chinese clothing and style is cool, and so they adopt that as well. They feel weird or shameful for living in rural areas of Tibet, and so they move into cities in China to find work and jobs. They like cute Chinese girls.
Slowly, with each new generation, Tibetan culture and Tibetan religion, and the Tibetan ethnicities are being pushed towards racial extinction: which is genocide.
The same thing is happening in America with White People. The System and the Left/Neo-Marxists have deemed White People as its enemy, and are using the same Incremental Cultural Liquidation with White People. It's "cool" to be like people from California and New York. And so you see the younger generation of White People here mimic and emulate what they see, what their media – Leftist Propaganda – feed them. I walked into a gas station the other day, to pick up a few snacks for our road trip, and there was a young White guy and his White buddy hanging out and working the counter. The buddy was in a back room just behind the counter with an old radio. The radio was playing rap music. There isn't a fucking Black dude 50 miles around them, and there isn't any ghettos here.
My perspective is slowly changing. I once believed that multiculturalism is fucked up and doesn't work. But being here, in the countryside, and seeing all these White People has made me question such views. As I walk and drive around, seeing these White People working common labor, an old movie I once watched keeps popping into my mind.
It's an old movie that takes place in the ancient Roman Empire days. Rome had conquered England and parts of the North. And so, the Romans began shipping blonds down to Italy to be sold off as slaves. One day a Roman aristocrat sees a young blond boy and says: "Such a fair race shouldn't be made slaves."
My perspective has changed to where I believe that it is not right and is unbecoming for White People and East Asians to be engaged in basal common labor. Blacks and Mexicans should be doing that shit. Races with high IQs shouldn't be doing the work and labor of those underling races with low IQs.
The ancient Aryans in India and the ancient Aryavarta had it correct: a Caste system which strictly structures races into tiers, and gives each race duties and work according to their Dharma. The various Aryan tribes and races were at the top as Brahmins and Royals, and the dark skinned races – Dravidian & Munda – were at the bottom castes. "Strictly Structured" means that if or when you breach your caste and its duties and so on you were killed. In ancient times, only offspring of a Brahmin were allowed to learn and study the sacerdotal language of Sanskrit. If you were not Brahmin Spawn, and you tried to learn Sanskrit, you were either beaten or killed. Which was one reason why the Buddha forbade his followers to translate his teachings into Sanskrit.
India and the ancient Aryavarta, as well as the places the Aryan tribes colonized, are good examples of how multicultural and multiracial societies can function well for hundreds and thousands of years; by way of strict and total racial stratification.
Dharma is a concept many people don't understand. Dharma means your Natural/Organic Disposition/Nature. For example, most people are by Nature and Ethos: inconsiderate. They lack the capacity to Consider others. It can be small things, like how Mexican guys park their cars like they own the parking lot: they lack the capacity to Consider others, where they think and feel in their hearts: "If I park like this, other won't be able to park in this lot because my truck takes up 4 parking spaces." That's Dharma.
Honor is Dharmic. Not everyone has equal capacity to be Honorable. If you lend a person $10, and he never pays you back, that is lack in the ability to honor his debt. When you make a promise, it requires the capacity to be Honorable to keep that promise. There is no such thing as equality in Nature, and so there is no such thing as every human being and race having the same level and quality of Honor. That's Dharma.
And so, stratifying people and races goes beyond measuring IQ and Intelligence and skin color. Dharma is the factor of caste and feudal stratification.
My second change in perspective has to do with "Mundanes." Back in California, when I used the term "Mundanes," I was referring to the mundane people around me, in these cities and urban areas: they are generic, low quality human beings. And because I was born and raised and lived in SoCal, I assumed that all people were like that. But out here in the boondocks, the rural folks here don't fit the reference and term "Mundane." They are a kind and gentle folk, they are considerate, many of them might be poor but they take care of each other, they have a sense of community with their neighbors, they have their own culture, complete with their own traditions, traditional cuisines. The people here are not the type to be described by derogatory terms, or the type to be disliked or hate on. They are ordinary people, but they aren't Mundanes.
I need to redefine what I mean by "Mundanes." It seems to mean the "Generic Homo Hubris Who Populates Urban Areas." People in these rural areas are a whole different breed: they are gentle and modest, not hubristic. Too gentle for their own good, because they have a Political System that has identified them as The Enemy.
My Third change in perspective has to do with my views about Crime & Violence, and Dreccian stuff. I now understand that, when living in the cities, in urban areas, being confrontational, using violence, and doing crime, and so on are Reactionary behaviors to the said Urban Environment, which is essentially a Neo-Darwinian "Dog-Eat-Dog" environment. And, per Natural Law, all things, including human behavior, are products of its matrical environment.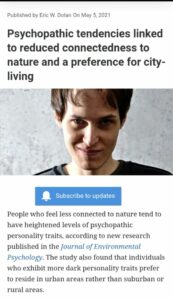 The urban environment, in cities across Southern California at least, is stressful, because there are so many gangs out there, so much general competition, so much crime, that you have to – as we say in English – "Fight fire with fire." You have to be Dreccian in such a Neo-Darwinian environment to survive and thrive.
Out here in the countryside there are no gangs. My sister feared that there would be gangs. I laughed and told her: "There is no such thing as White People gangs. Bloods and Crips and stuff like that are phenomena of ghettos from California and New York and Texas and other big crowded metropolitan areas. Ordinary White kids don't have gangs. If they do, it's a wannabe gang." In SoCal, poor neighborhoods are riddled with street gang graffiti. Here in Coos County and in the other rural counties, there are no graffiti of any kind, even in the poorest neighborhoods.
Here in Coos County, there is a Corrections Facility [a prison]. It's a laughable prison. This prison has a capacity of 250 prisoners. The only people that go to that prison are people who are alcoholics, meth-heads that need to be taken off the street when they are high, people who did petty property theft, homeless guys who are mentally impaired, domestic violence shit, and that's about it. The prison is in the woods, next to a lake and river, by the beach, in a beautiful setting, and is minimal security. The prisoners look like trailer park trash, what are call "Pobuckers." These prisoners/criminals here are basically clowns. If they were in Southern Cali, they'd be obliterates by LA criminals. And if they were inside a Southern Cali prison, they'd all be girlfriends of California inmates.
Urban style -neo-darwinian style – crime doesn't fit in the countryside. It's just not the right environment. These people have communities and their own culture and way of life. And I believe such community and culture shouldn't be corrupted or interfered with. These people and their communities should just be left alone. And so, being a Drecc, out here in the rural countryside, is environmentally out of place. We are all a product of our environment. It's hard to be a Drecc or a violent criminal gang member, when you live in a thick forest, surrounded by a bunch of trees and rivers and cows and sheep and elks. Coos County is an actual Temperate Rainforest [an immensely beautiful one], where it rains half the year.
I currently live in a town which has a population size of 9,000 people. 98% of the town is White. This town is like Sleepy Hollow [every city and town in Coos County is]. Every day, after 6PM, everybody vanishes off the street and the whole town is dead quiet. It's like the town got abandoned. I'm used to how Southern Cali is, where it's always busy, day and night, always loud, people hang out until late at night and shit. Not here. I have no idea what these people do for fun [besides meth]. And oddly, on the weekends, all of their little shops are closed. The town is so small, and the style of architecture is so old fashioned, that you literally feel like you're living in the Wild West Cowboys and Indian era, and any moment there's gunna be a gun shoot out in front of the saloon.
I can now see that the o9a's Rounwytha Way has its place and environment. Being Drecc out here is pretty much useless and out of place. Me and Vanessa can probably beat up 6 White guys here and take their money, and they wouldn't put up a fight, because they are scrawny and a little too gentle for their own good. I think it's time for me – due to my new environment and my age – to age-out of the Drecc thing and grow into being a Rounwytha and focus my awareness on the Natural Pagan spirit of the area.
I like Coos County a lot. It's an exceptionally beautiful environment. Driving here is a pleasure, even for hours. It's like taking your car for a hike in the woods. Everywhere you drive, a giant river of some kind follows you. When you are not flanked on both sides by forest, you are flanked by huge emerald green pastural fields dotted with cattle and sheep. Frequently, as you drive, you see deer, elk, and wild turkey. The only honking you hear is the honking of geese flying over you to some nearby lake or pond. The rivers are as wide as lakes. The lakes are as wide as bays. The creeks are as big as any river you'd find in Southern California. The trees here, their stupendous height, make any tree in SoCal look like shrubs. The beaches are rarely crowded and are only a few minutes drive. With hiking shoes and binoculars, you can spend all day walking and driving around, exploring. If there will ever be a civil war or third world war, I'll be pretty safe, because there is plenty of fresh water to drink, and plenty of wild animals to hunt, and plenty of thick forests to enter into to hide.
If you are a typical urbanite, used to the city-life in those big cities: you will go insane living out here. This place is almost literally a retirement community of old people: the RV Nomads who are enjoying their retirement in a place where their retirement money goes a long way. There are more old people here than people our age.
You have to like Nature, the Out Doors, hiking, going to the beach, exploring rivers and lakes, watching wild life, riding a boat around the rivers and lakes, whale watching, looking for crabs and clams and crayfish to cook and eat, looking at trees, fern, and the other plants, visiting the sand dunes: because that is all there is to do out here. At night, you can see the stars and Milky Way.
It's a great place to be intimate with Nature, to reconnect with the Animistic Nature Spirits: the gnomes, sylphs, elves, and so on. Your mind and awareness can easily get lost in the Nature that surrounds you. It's quiet and peaceful. The perfect place and environment for a Buddhist-Rounwytha to sit still and Contemplate and listen to Nature Preach Her ineffable Gospel.
/Chloe
---