Posted:
April 25th, 2021 |
Author:
Chloe352
|
Filed under:
Anarcho-Nihilism
,
Anarchy
,
Civil War
,
Current Affair
,
Fake News
,
Far-Right
,
Journalism
,
Junk Journalism
,
Leftists
,
Liberals
,
Media Attention
,
Mundanes
,
National Socialism
,
News
,
Nihilism
,
O9A
,
O9A Nine Angles
,
Order of Nine Angles
,
Order of the Nine Angles
,
Satanic Polemics
,
The Sinister Dialectic
,
The Sinister Game
|
Tags:
Anarchy
,
Ancient Pagan Traditions
,
Anton Long
,
Fake News
,
Labyrinthos Mythologicus
,
Left Hand Path
,
Modern Satanism
,
Nazi Satanism
,
Nazi Satanists
,
Neo-Marxism
,
Neo-Nazi
,
Nihilism
,
O9A
,
Occult Initiation
,
Occultism
,
Order of Nine Angles
,
Order of the Nine Angles
,
Paganism
,
Satanism
,
Septenary System
,
Seven Fold Way
,
The Dark Tradition
,
The Nine Angles
,
The Sinister Dialectic
,
The Sinister Tradition
,
Traditional Satanism
,
Traditional Satanism. O9A Logos
|
Comments Off

on The Mass Cop Exodus And The Neo-Marxists
.:.And they're off! The Lambs in Blue, realizing they're being led to the slaughter by Leftists and the Mob, are fleeing their profession in droves!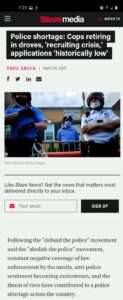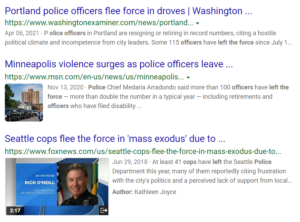 I'm beginning to see a Trend… a Pattern: It seems like states that are heavily Democratic [ruled by Leftists], have the most cops scattering and fleeing the Law Enforcement profession? How weird is that? That the Democraps and Leftists Mob's Witch Hunts would have such an effect! I would obviously consider such effect to be a negative one, because without cops, there will be more crimes and murders in the area devoid of law enforcement.
But the Left don't care about that shit do they? They care about playing muck games with you and putting you guys into prison. They care about writing their Leftist Journalist articles about how murderous and racist you guys are, for money, because Journalism is going through an existential crisis. You White cops and White People in general are just a means for the Left to get money and power.
You White Cops on the Left will learn one day that you are on the wrong side: you might as well join the Right side because the Left will treat you like a psychotic racist nazi anyways. You might as well join the Right side and make yourselves useful and help your White People survive these tough times. Because things here in America are going to get a lot worse for you and your fellow White People.
I don't recommend that you leave the Force at all. A mass exodus of White Cops from Law Enforcement is the very thing the Leftist Mob wants. Why? Because they desire to Replace you, to take your place, to make their own kind – Blacks and Mexicans – into Cops. What's this shit: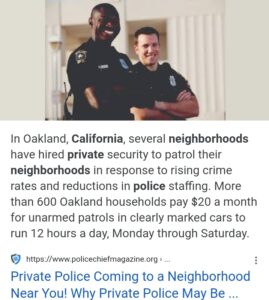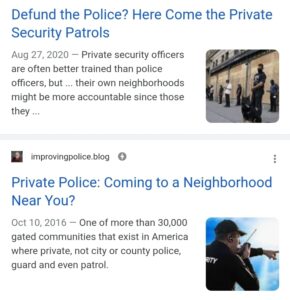 This is the Leftist Future. You White cops will be Replaced. You're going to be defunded. You don't mean shit to them. There are going to be community based security hirelings performing your function. What's that mean? Come on now! I'm not fucking retarded, and neither are you. Think: In a fucking State like California or New York, where you White People are a fucking minority race, in cities of said States, where they fucking hire their private community security, what makes you think they will hire a White man, whom the Left has already made to look like evil racists?
They are fucking Replacing you! Therefore what? Therefore, when you have the New Majority [non-Whites] hiring their own kind/race as community security officers, you will have two things: 1) The Further systematic oppression of the White minority & 2) The Leftists will have control of your communities, will have power down to the level of neighborhoods. Every neighborhood in the fucking country will be owned and controlled by the New Majority.
And when that day comes, when Blacks are Cops, yes, the very same BLM race of people who are now systematically hating and systematically oppressing you guys: you White People will be going to prisons for Fake Crimes. This is your fucking future!
What's a Fake Crime? It's a crime you go to prison for because: 1) The Leftist Journalist as Judges and Prosecutors have convicted you as criminals, & 2) The Leftist, who are their Jury, will deliberate and simply put you in prison in order to reduce massive mob protests in cities. You guys are going to prison. Chauvin went to prison for Fake Crimes: to appease the Mob. This is democracy. The rule of the Mob.
Here's one reason why they want to defund the police:

It's another way for the Leftist Neo-Marxists to do a Power Grab. The way Law Enforcement is currently structured, State and City level administrations have authority over Law Enforcement. Thus, if the Leftist Federal Government – a Government infiltrated by Neo-Marxists – pass counter-Constitutional gun control laws, Right leaning States can decree their Law Enforcement in their State to ignore such unconstitutional "laws."
When you defund the police, and allow local communities to hire Private Security Police, you get rid of State and City level power over Law Enforcement: the Police are now under direct-democratic oversight of local communities of citizens. Therefore: the Left and their Fake News machines can work to fear monger such citizens with news of school shootings and so on, to manipulate such communities to comply with gun control laws. Neo-Marxism may have replaced Class Struggle with Race Struggle, but the revolutionary nature and objectives of Marxism, is still present. And you can't have a revolution if the Right, and Right leaning citizens are armed, because the Right has the potential to fight back.
The Leftist Journalists aren't happy just being Prosecutors, and Judges, they are now making themselves into Lawmakers:

That's right. Those Leftist Journalists are now starting to push the idea that you White Cops should get the Death Penalty. That's your fucking future boys. The Left will work to remove your fucking Cop Immunity/Impunity, and they will work to give you the Death Penalty. They play their Passive Aggressive muck games with you to Provoke you on Video, you become irrationally emotional/enraged, you pull that fucking trigger: And you get hanged, the electric chair, the lethal injection, the gas chamber, a firing squad. How do you White Cops want to be executed?
Are us people on the Right trying to kill you? Are us people on the Right wanting to pass laws to execute you? Are us people on the Right out on those streets burning your Cop cars and Cop stations? No. The Left people are doing all of that. Who's the Real Fascists now? Who's the real group of people wanting to take your freedom away? Who's your Real fucking Enemy?
The Real Enemy is the so-called "Left," which, in plane English are Neo-Marxist. The basic difference between old-world Marxism and modern Neo-Marxist Doctrine is that the dialectics of Capitalism and Class Struggle have been replaced with race struggle. The Neo-Marxist Doctrine, today is euphemistically termed: "Critical Race Theory." A snapshot: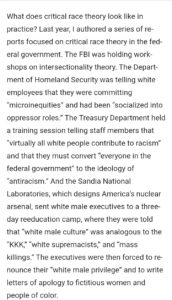 If you are White, I highly, highly urge you to educate yourself regarding Politics and Political Philosophy, because such shit influences and controls our lives and country. I urge you to research Neo-Marxism and its Doctrine of Critical Race Theory very carefully: because the Left, which is to say the Neo-Marxists in power have deemed your White Race the enemy of Equity in a very real way.
Like old-world Marxists deemed the aristocracy/bourgeois to be the enemy of the Proletarian Class. In Neo-Marxist parlance bourgeois = White [the oppressor] & Proletarian = Non-White [those who are oppressed]. And just like in the old days, in Germany, how the Communist Party and Nazi Party had their street hooligans: today the Neo-Marxists have their Antifa & BLM on the streets. Please open your eyes; I'm trying to help. It's the same Patterns and Games. Something is happening in the West. A snapshot: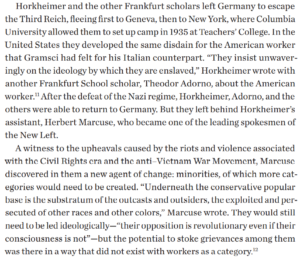 There is a Reason why Antiracism is the New Religion of the West: the New Majority are non-Whites, and a religion such as Antiracism garners the Leftist Neo-Marxists Power. If you are White and on the Left: you have made a very grave mistake and are on the wrong side. These are serious Games the Left are playing. They are coming after you.
The term "White Supremacy" in Critical Race Theory [CRT] actually means something different than what that term is comprehended to mean in the basal public mind; explained: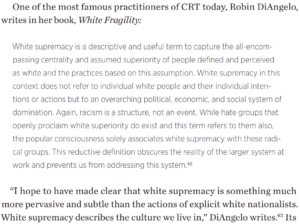 The Neo-Marxists have replaced Class Struggle with Race Struggle, and have replaced Aristocratic Bourgeois with White Hegemony. The aim is the same: Oppressed revolts against Oppressor. The Left have literally made you White People their ideological Enemy. Remember what their old-world Marxists brethren did with the Bourgeois once they obtained total systemic power: They executed [killed] them.
You become what you hate: the Left have become the very kind of people they ideologically hate: Fascists. You guys need to be more smart and aware of the actual meaning of words: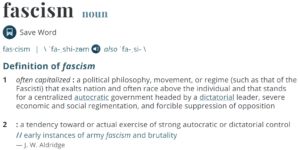 Fascism is a "Movement," which often "exalts" "Race," and uses the means and methods of "Forcible suppression of opposition."
What exact is the Black Lives Movement? Isn't it a Movement, based on the awakening [Wokeism] of Collective Black Consciousness, which is called racialism, where they use force of Mob rule to suppress everybody and every group that is in opposition to their Mob oriented objectives?

They have Black Nationalistic qualities. They have Black Racialist beliefs. They obviously hate you White People. What exactly is that? You have the variables of: 1) Nationalism, 2) Racialism, & 3) Racial Prejudice/Hatred/Discrimination.
They point finger at you White People during their Witch Hunts for being "neo-nazis." And so, what variables actually equates "neo-nazism?" They are: 1) Nationalism [as in National Socialism], 2) Racialism [as in collective conscious awareness of belonging to a race or folk], & 3) Racial Prejudice/Hatred/Discrimination [as in us Aryans are better than Jews, etc]. It's the same 3 variables: but they make you fake Nazis [descent ordinary White people and White cops who are not actually adherents of Nazism] look like hatred filled monsters. Who's the real Fascists?
This is what happens when the Left get power. The Establishment has shifted Left, because the New Majority are composed of ethnic races who are Left leaning. The Establishment have shifted Left because of their Greed for Power and Money. And they are willing to Manipulate the Black mob to make sacrifices out of you, to put you White cops, Left or Right, into prison for the rest of your life, for being racists psychos. They want you to vacate your profession. In order to Replace you. With their own kind.
You White cops and White people in general are on the wrong fucking side. You White cops and White folks have a decade to think about things, to think about what side you should be on, because the Left, the Journalists, the Establishment, are Neo-Marxists who have declared war on your race and people. But you don't have to believe me or take my word for it. Wait a decade and see for yourself: when you are in prison for Fake Crimes, you will remember the things I have here said.
Please read the following for your own Enlightenment, and continue to study and research what is happening:
/Chloe
---