Posted:
April 22nd, 2021 |
Author:
Chloe352
|
Filed under:
Anarcho-Nihilism
,
Anarchy
,
Civil War
,
Current Affair
,
David Myatt
,
Fake News
,
Far-Right
,
Journalism
,
Junk Journalism
,
Leftists
,
Liberals
,
Media Attention
,
Mundanes
,
National Socialism
,
News
,
Nihilism
,
O9A
,
O9A Nine Angles
,
Occultism
,
Order of Nine Angles
,
Order of the Nine Angles
,
Reports
|
Tags:
Anarchy
,
Ancient Pagan Traditions
,
Anton Long
,
David Myatt
,
Fake News
,
Modern Satanism
,
Occult Initiation
,
Occultism
,
Order of Nine Angles
,
Order of the Nine Angles
,
Paganism
,
Satanism
,
Seven Fold Way
,
Survival
,
The Dark Tradition
,
The Nine Angles
,
The Sinister Dialectic
,
The Sinister Tradition
,
The Sinisterly-Numinous Tradition
,
Traditional Satanism
,
Traditional Satanism. O9A Logos
|
Comments Off

on The Coming Chaos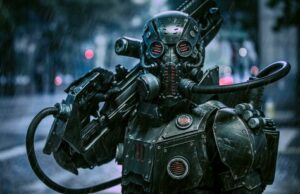 [ Reposted from: https://hagtaessa.wordpress.com/2021/04/22/the-coming-chaos/ ]
The fall of the Roman Republic is a case study for the fall of American Democracy. The Founding Fathers, with a classic case of the old European hard-on for all things Greco-Roman, explicitly modelled their American Republic on a their idealised vision of Rome, thus ensuring the very things that corrupted Rome will eventually consume America in kind.
Now this may be quite a lengthy read, but hopefully it will give you a perspective of things to come. We are going to do a brief post-mortum of the Roman Republic, and compare that to America's current state today. I am sure you will find the remarkable similarities fascinating, if not a little unsettling.
We can highlight 4 major steps that led to the fall of the Roman Republic:
Step 1- The Gracchi Reforms
Tiberius and Gaius Gracchus, Tribunes of the plebs (that is, representatives of the common people) began to exploit the power of the plebeian tribuneship to seize power in Rome.
The Gracchus brothers and the wider plebeian representative movement began as an attempt to address economic inequality that centered around land reform. Much public land had been divided among landholders and speculators who further expanded their estates by driving peasants off their farms. While their old lands were being worked by slaves, the peasants were often forced into idleness in Rome where they had to subsist on handouts due to a scarcity of paid work. For the perceptive among you, this series of events will be seen to be historically analogous to socialism and the rise of the Labour movement in the 20th century (an era in which employment, not land was the main source of income). Using the powers of Lex Hortensia, Tiberius established a commission to oversee the redistribution of land holdings from the rich to the unlanded urban poor. The Gracchi reforms were thus essentially a Roman version of appropriation, with land being seized and given back to the workers.
Many Roman senators had made their wealth off of such land-grabs and so were naturally anxious about the reforms. In a move which would be echoed in the disastrous Peterloo Massacre (where 60,000 people from the lower classes of society marched on Westminster to demand political representation), several senators personally marched on the Forum and had Tiberius and some 300 of his supporters clubbed to death.
With growing influence, Gaius Gracchus attempted to extend rights to non-Roman citizens. (Democrats are currently attempting to extend voter rights to non-US citizens, interestingly). This did not go down well with the plebs, who saw their voting power being diluted (gee, it's almost like there's a pattern here), and Gaius, facing imminent death at the hands of a mob, committed suicide on the Aventine Hill. All very dramatic stuff.
To simplify this series of events: the Gracchi reforms elevated social reformers who eventually turned on their constituents and became corrupt and inept.
Politics became more ruthless, and any previous attempts to reach a consensus became secondary to point scoring. It was only a matter of time before such political instability led to the rise of militarism within the Republic. Add to all this the general disdain that was growing against the aristocracy, who lived detached and opulent lifestyles in their palatial Beverly Hills mansi- I mean, Roman villas.
Now, as anyone who has read my writings on Aeonics or attempted to digest a chapter of Spengler will know, comparison of societies rests on analogy. It is important to see the forces behind such events, not to attach literal interpretation of the events themselves.
Step 2- The Rise of Private Militaries
With all these disaffected and landless citizens hanging around and no employment readily forthcoming, power hungry generals began recruiting them into their own private armies. Such actions can only really emerge in the late stages of a civilisation where capital has accrued to the point where the wealth of of private individuals can match that of small states. We're seeing such a rise in private capital emerge now in figures such as Jeff Bezos and Elon Musk. These men have the wealth- and perhaps with Musk, the vision- to potentially hire armies that could contend with a small nation on an equal footing, if they so wished.
This is the first rumblings of the age to come. We've seen how politics has begun to shift from party allegiance to person allegiance- Trump being a classic case in point. Do you really think this is a unique event? What invariably follows from the decline of party politics to that of personality politics? Caesarism, the rule of strong men of Destiny. The 2030s are going to see all these factors coalesce into the disintegration of stability and hegemony in the West. China is banking on this, and the fact that little is being done to counter their machinations speaks volumes to the dwindling moral strength of the West.
As for those who currently occupy themselves with le Sinister BS, you need to pay close attention to current events and realise that the future is marching toward us- and it has boots on. You stand to get crushed in this relentless tide of history unless you ally yourselves with these emergent forces and plan very carefully. The current hysteria over the O9A's influence will be nothing compared to the literal witch hunts that will emerge if a religiously motivated Caesar-like figure rises to power in America- a future that is becoming more likely by the year.
Step 3- The Conspiracy of Caesars
Of the rise of the Roman Caesars, several stood out as commanding particular weight and influence. Pompeius Magnus aka Pompey, Crassus and Julius Caesar. Pompey was a renowned general and statesman and all round badass- his enemies referred to him as Carnifex (the butcher). Crassus reads very much like a George Soros type figure. He had made himself the wealthiest man in Rome by profiting from Sulla's proscriptions- the outlawing of Roman citizens by putting their names on lists and putting a price on their heads, wanted dead or alive. Proscribed citizens saw their civil rights nullified and their property confiscated and auctioned off by the state. Crassus exploited the proscriptions to acquire property in Rome and countless estates throughout Italy. He used his wealth to buy influence in the Senate and throughout the urban populace and emerged as an influential figure.
Julius Caesar needs little explanation. He is essentially a mix of JFK and Trump if they pursued a dual career in the military. Crassus would later die in a battle in Mesopotamia (modern day Iraq), and Pompey, sensing Caesar's growing influence, sought to eliminate him. He lost against Caesar during the second civil war, leaving Caesar the sole inheritor of the Triumvirate's power and duly elected himself dictator in perpetuo- dictator for life- having liquidated the few remaining oligarchs who had been conspiring against him up till this point.
Step 4-Caesar Declared Autocrator
Out of the heady mix of conspiracy and bloodshed, Caesar emerged victorious and reformed Rome into a stable imperial power. However, he was assassinated only weeks later. But Rome had been changed forever. The Republic was dead, and in its place was an autocratic regime that would endure for centuries to come.
Attempting to map these events on to America's potential outcome ignores the many variables that were at play both during Roman times and our own. But the same impulses and historical factors are there, and they will lead to similar outcomes. The Sinister has the unique advantage of possessing a secret key to understanding the future (and, some say, influencing it) in the form of Aeonics. Why they aren't using it is beyond me. But I will continue to delineate my observations here and hope that some pay attention and prepare accordingly, if only to ensure they live as comfortable a life as possible over the next coming decades. What we are seeing at present is the fomentation against established order by those who lust for power over said order. What they are actually unleashing are chaotic forces which won't be reigned in until perhaps 2050. This is providing Russia doesn't nuke the West and China doesn't attempt a full scale invasion.
Ask yourself, amidst these titanic forces of history, hungry for blood and power- where does the fate of an obscure occult sect fit in to the picture? Do you honestly think the Order, as it's currently behaving, will survive the coming chaos? All this talk of shadows and darkness, perhaps that is from where the Sinister is best served. For now.
As a final note, the following interview highlights an interesting perspective on the ideas discussed here, featuring a favourite thinker of mine. Skip to 1:25:40 to get to the relevant part. The incessant "erm" is worth it for Yarvin's brilliant laugh, in my opinion.
[ Originally from Yorkshire Rounwytha's Blog ]
---