Posted:
April 5th, 2021 |
Author:
Chloe352
|
Filed under:
Current Affair
,
Far-Right
,
Journalism
,
Junk Journalism
,
Leftists
,
Liberals
,
Media Attention
,
Mundanes
,
News
,
O9A
,
O9A Nine Angles
,
Order of Nine Angles
,
Order of the Nine Angles
,
Reports
|
Tags:
Anarchy
,
Ancient Pagan Traditions
,
Anton Long
,
David Myatt
,
Fake News
,
Labyrinthos Mythologicus
,
Modern Satanism
,
Nazi Satanism
,
Nazi Satanists
,
Neo-Nazi
,
O9A
,
O9A Aural Tradition
,
Occult Initiation
,
Occult Mythos
,
Occultism
,
Order of Nine Angles
,
Order of the Nine Angles
,
Paganism
,
Satanism
,
Septenary System
,
Seven Fold Way
,
The Dark Tradition
,
The Hermetic Tradition
,
The Nine Angles
,
The Sinister Dialectic
,
The Sinister Tradition
,
Traditional Satanism
,
Traditional Satanism. O9A Logos
|
Comments Off

on Modern Journalism And The Left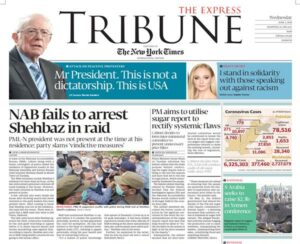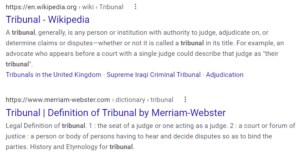 .:.I agree with Communist Regimes and the German Nazi Regime: Journalists are scum and should simply be executed.
I'm beyond "fascism" when it comes to my personal and private beliefs and opinions of so-called "Journalists." I'm Khmer. Our old-world social order is based on Brahmanism, meaning that our old-world culture and society is a Feudal society which was/is divided into castes [varna in Sanskrit, Vanna in Pali]. Traditionally, based on our Traditional Feudal views, a Peasant [those of the bottom caste/class] have no legal or social right to be literate. It was illegal, back in the Kingdom for those people to go to school and learn to read and write. I am by upbringing a Feudalist.
There was a reason why such social rules were established. Same reasoning why, relatively "recently" African Slaves in this country were forbidden to learn to read and write. The reasoning is that humans who are ignorant by nature and ethos cause more problems when they can read and write: because they are Stupid by default, and due to a lack of organic high order intelligence, and a lack of reading and articulatory comprehension skills, they will misunderstand what they read. Which is one reason why conspiracy theories are so prevalent amongst the common public.
But those peasants wanted to learn how to read and write. And so they eventually got together and gave birth to the Khmer Rouge: peasant Communists. They fought and killed for their right to read and write. And then what happened? And then, once in Power, they Understood why people shouldn't be literate. And so, what did the Khmer Rouge do? They murdered every fucking person who were able to read and write, and murdered teachers and educators.
There are two lessons to be learned from the Khmer Rouge: Lesson 1 = We all understand things in the proper time and place. As peasants they did not understand why it was not lawful for them to learn to read and write. When they themselves became a regime, they Understood why. Lesson 2 = Like the old people in my culture say: "You will stumble upon that which you hate." The peasants hated those of us in the top varna/vanna so much for oppressing them and keeping them illiterate, that they themselves eventually became the Oppressors and they themselves murdered people en masse to keep them illiterate.
The State of Journalism & The Left
I learned about journalism first in Middle School, and then once again in High School. But this was long ago, when journalism was actual journalism: when it was an honorable profession of writers and reporters.
We learned in Middle School that a journalist "reports" stories to people. They write a "story" by answering the Core Questions of: Who, What, Where, When, Why, & How. Data must be collected from people and so on, in order to answer those Core Questions. The Data must be Objective and Unbiased. And so, our teacher gave us assignments where we were ordered to write an article about an event that took place in our neighborhood or in our family.
Interestingly, I failed that assignment, because I was very young and dumb at that time, and so, I did not know what exactly being "Objective," and "Unbiased" meant. The subject I decided to write a news article about was on a few kids who lived on my block [they were friends of mine] who did drugs. My "journalist" article defended their right to do drugs, and I attacked the DARE program as being incompetent. I ended up being sent to the principle's office.
And so, I learned back then, that when a journalist interjects their own private views and opinions, that it is not a "news article" proper, because it's not Objective [as opposed to subjective views and opinions] and Unbiased. An article which is subjective and biased, which incorporates the emotions and views/opinions of the journalist was called an "Editorial" back in those days.
Today, in journalism, there is no difference between a news article, an editorial, a tabloid, and fake news. In the old days, what we today call "fake news" was referred to as "Misinformation." And back during the era of WW2, "Misinformation" was referred to as "Propaganda."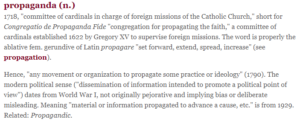 The word "Propaganda" – which shares the same root lexeme as the word "Propagate" – is a means or method of Propagating a certain view, sentiment, belief, or opinion, in a given target group. And so, when modern Journalists write their fake news, such fake news are not objective and unbiased stories about current events: they are narratives written to Propagate their own views, sentiments, beliefs, or narratives designed to spread manufactured opinions and sentiments in order to influence readers [i.e.: citizens].
Today, journalism has gone far beyond being shitty fake news manufacturing machines. Their "news articles," and "reports," have gone beyond editorials.
Today, journalism has self-promoted itself into tribunals. And every journalist today is a Judge and Prosecutor.
A good example of the current state of Journalism as Prosecuting Tribunals, is the 1990s interview recording involving David Myatt & Nick Lowles. I've had about a week to listen to that interview and formulate an opinion.
In the said interview, David Myatt is clearly on the Defense. In that interview, Nick Lowles is not acting or behaving like a Journalist. He [Nick Lowles] is playing the role of a Prosecutor, one who already had a Pre-Meditated, Pre-Fabricated notion/story/theory that David Myatt is behind the ONA, and that because David Myatt is behind the ONA, he [David Myatt] is therefore an evil and awful person. And like a Prosecutor – one who is functioning outside the legal jurisdiction of any known court mind you – Nick Lowles does not ask David Myatt objective and unbiased questions. Instead Nick Lowles tries to actually Prove his case during the entire duration of the so-called "interview."
I find a few things disgusting and despicable about that so-called "interview": 1) That Nick Lowles, playing the role of a Prosecutor, acted in the capacity of such outside of a court, and outside of any known and legal judiciary jurisdiction, 2) That Nick Lowles had the audacity to try and Prove his case, without any actual evidence, by asking David Myatt weasel questions and playing amateurish lawyer games, 3) That David Myatt did not have a Lawyer or Attorney by his side, to help Defend him and his side of the story.
Something about the United Kingdom, its government regime stooges, its journalist institutions, and Nick Lowles, disturb me. Here's what is disturbing to me:
You have Nick Lowles and UK "journalists" for the past few years relentlessly attack the ONA, with these stupid internet gossip they pass as journalist articles. None of which are researched properly, none of which are objective and unbiased.
Every one of those Anti-ONA journalist "articles" fear mongers the public.
At the Hope Not Hate website there is more fear mongering, where that entire website is dedicated to emotively stimulating the Readers into a fearful frenzy.
After the Readers of the said website are sufficiently afraid for their lives, a Button is provided to the fearful Readers to push in order to urge the UK Members of Parliament to ban the ONA.
So the questions those of us who are intelligent should ask are: 1) Did Nick Lowles and those journalists do any research to verify their story/narrative? 2) Do you actually think that the Readers, will do any research to validate the stories and fear mongering they read? And 3) Do you actually think that those members of parliament will do any research to validate and verify why their constituents [the fearful people] are afraid and if the stories they have been reading are valid and factual, and real? The answer to all three of those questions is: NO. That's why the UK disturbs me: they've made a political method out of fear mongering the stupid public in order to make laws that increasingly divest people of their liberties. Mind you, this is the same government regime that bans and outlaws groups for being Right Wing, which are labeled as "terrorists." Yesteryear the Leftist hate-words were "Communist" and "Socialist." This era, the hate-words of the Left are "terrorist" and "child molesters." Which is one reason why, as a Feudalist, I believe that commoners should not be literate, because they simply cause more problems when they read shit.
I've noticed that those journalists use a lot of logical fallacies when attacking the ONA. One main fallacy they have been using – they use this fallacy with anything they dislike – is called "Card Stacking."
Card Stacking, for example is when you have a normal deck of poker cards. In that deck there are red suits and black suits. And so "Card Stacking" is when you show people only the black cards, to make it seem as if there are only black cards.
In real life, Card Stacking is when as racists, we desire to make people believe that African Americans are bad people, and so we say: "Look at all the millions and millions of Black people in prison, blah, blah, they do drugs and gang bang, blah, blah." That's Card Stacking. It's Card Stacking because: what about all the White people in prison? And the Mexicans? And what about all of the millions and millions of descent Black people that are not in prison?
Those journalists Card Stack ONA, by telling internet gossip. What about the 5000 pages of institutional texts written by ONA founder Anton Long? What about all the ONA text that says that ONA is not neo-nazi? And so on?
I understand, because I'm not ignorant, that there was a time when Journalism could afford to be objective and unbiased. This was back in the "hey days" of Journalism. Back when paper-based news papers where still around. Journalism today is going through a crisis.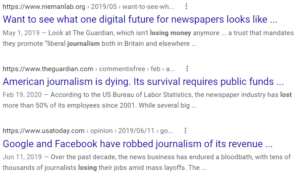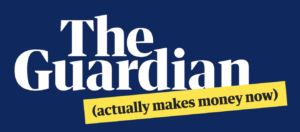 [making money now from trash liberal/Leftist journalism]
It's the same crisis Radio went through when TV was invented. It's the same crisis TV and Cable went through when the internet was invented. It's the same crisis that Playboy Magazine died from.
Playboy Inc, peaked during the mid-2000s, when it even had its own reality show on TV. But when the internet began to be used by everyone, you could just google for free porn. Playboy magazine didn't know how to work around this crisis and stay relevant to Generation Y & Z. They died and went bankrupt.
Journalism is going through the same crisis: paper-based news papers is dead. You can get news for free on the internet. For the past decade – I've been observing for a decade – journalism has been working to transition into an internet based [digital] institution. It's been a clumsy ordeal for them. Besides working to become digital, Journalism is working very hard to grow a new audience, since Baby-Boomers who read paper-based news papers their entire life, are phasing out [dying of old age].
Therefore, today, in the endeavor to build and create their new audience, all Western Journalist institutions which are carry-overs from paper-based news paper companies, are Leftist Institutions, because the Left is a lucrative market.
Which is why, modern Journalism, tend to have a heavy focus on sensational issues and stories that excite the Left. Such as: people beating up ethnic minorities, cops beating black people, gay hate crimes, State laws that threaten the rights of transexuals, loads and loads of reports about the Right and Far Right, making neo-nazis into the boogieman, etc. You simply follow the fucking money trail. Modern Journalism slangs shitty researched trashy Liberal narratives to their Leftist audience for money. I have absolutely no fucking sympathy or respect for you fucking modern journalists.
There was this one time, long ago, when Journalist news had this thing called "World News," which was when they would report about current events from around the world. These days, when I watch American news [I'm American] all I see is shit like cops beating up black people, how some tranny kid is crying because he can't use the girls' restroom, gay pride parades, how Mexicans are suffering at the border, what Donald Trump ate for breakfast and what he tweeted that day, and facebook shit.
You Become What You Hate
Journalism is today a kangaroo court of courtless Prosecutors and Judges, and the Left is their audience and Jury. The Left and their journalist emotion puppeteers don't realize it, but they hate "fascists" so much that they have themselves become the "fascists." Any group or organization that does not agree with their Leftist/Liberal doctrines and ideology gets put through the gauntlet where dozens of fellow journalist Tribunals circulate fear mongering shit about you all day long for years, until the lemming Leftist public act up and push their MPs and Senators to pass laws to save them. It's called the "Rule of the Mob." The Mob doesn't think, it feels emotions. Hence why today Journalism appeals to the emotions of the Left. Hence: fear mongering. Hence: fake news. It's a flaw in democracy I greatly dislike: when the Demos rules, journalists can influence and control the demos. Thus, those journalists become King Makers in such Mob ruled democracies.
Those of us on the Right, don't want to oppress anyone's freedom. Most people on the Far Right are simple traditionalists who are proud of their folk culture and race, and racial history. Most people on the Right are just Christian who see and know that their Christianity is a dying religion in the West, and they're just trying to speak and struggle to keep it alive. The unfortunate thing about Orthodoxy is that Old Things that can't adapt to the change of Time and Clime, and environment, become irrelevant and die out.
Today, Journalists and the Left have become the oppressors and fascists. Anything and anyone that contradicts their Leftist and Liberal views and agendas becomes their enemy. Under their Leftist influence, the Freedom to Think and Speak your mind is fast becoming legally uncertain. It's no longer socially acceptable to think and speak anything [to have opinions] that contradicts the Leftist mob and the Journalist Judges.
I hate Liberals so much, that I have, in a way, become Liberal myself. I believe that every human being, regardless of race, gender, age, nationality, has the natural right to be the human being they desire to be. And if that means that they desire to be Satanists, or Nazis, or Drug addicts, or Trump supporters, or misogynists, or racists, or rapists, or murderers, or homeless, or business owners, stay-at-home mom, cop, politician, or whatever: then that is their human and natural right. So long as we each understand that every action and inaction we commit or withhold generates causal consequences in this causal world: then we are each Free by Nature to be as we each desire to be.
I believe in Fate and Destiny and Dharma: that in this earthly Life, we each, by Fate/Wyrd, become the person we are meant to be. And what consequences in Life we each reap, because of the person we are, are also by acts of Fate and Providence. I don't believe we have any power over Divine Providence. It would be arrogant to believe so. And so, it's none of my business or concern really, if Providence has fatefully made a Man a racist hater of Blacks and Asians and Women; or whatever. And so, I see no need to force my personal views and beliefs – political or religious or otherwise – on others. God made us each how we are in life for a reason and purpose. I put my Trust In God, not in man-made ideologies, Left or Right.
/Chloe
---