Posted:
March 26th, 2021 |
Author:
Chloe352
|
Filed under:
David Myatt
,
Far-Right
,
Junk Journalism
,
Labyrinthos Mythologicus
,
Leftists
,
Liberals
,
Media Attention
,
Michael Aquino
,
National Socialism
,
News
,
O9A
,
O9A Nine Angles
,
Order of Nine Angles
,
Order of the Nine Angles
,
Reichsfolk
,
The Sinister Tradition
,
The Sinisterly Numinous Tradition
|
Tags:
Anarchy
,
Anton Long
,
David Myatt
,
Labyrinthos Mythologicus
,
Left Hand Path
,
Modern Satanism
,
Nazi Satanism
,
Nazi Satanists
,
Neo-Nazi
,
O9A
,
Occultism
,
Order of Nine Angles
,
Order of the Nine Angles
,
Paganism
,
Satanism
,
Seven Fold Way
,
The Dark Tradition
,
The Nine Angles
,
The Sinister Tradition
,
Traditional Satanism
|
Comments Off

on Remastered David Myatt Interview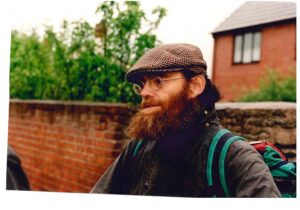 Nameless Therein remastered the recently released 1990s David Myatt Interview, removing the background noise. The audio quality sounds a lot better now. You can clearly hear both Nick Lowles and DM's voices.
Don't let DM's soft spoken voice fool you. Interestingly, most totalitarian dictators are highly intellectual with very soft spoken voices. Consider the voice of Pol Pot, Mao Tze Tung, that Kim guy from North Korea, and the various dictators of South America; etc. Most of us are use to equating dictator and strong men with Hitler and his screaming voice. That loud, screaming voice of Hitler's is his public speaking voice and Public Persona: it is not his everyday speaking voice and everyday casual persona. An important element in manifesting Charisma is the ability to craft and finetune a Persona and lexical inventory specific to your Target Market. This is something DM can be seen to be able to do as well: consider his look, persona, and lexical inventory when he was a Neo-Nazi with when he was a Muslim.
There is a saying on the streets that goes: "It's always the quiet ones." That saying goes with another saying that goes: "A dog that barks loud doesn't bite very hard." Like Snoop Dog said in "G Thang": "Your bark was loud but your bite wasn't vicious…" It's the quiet ones like DM, one who is not loud, who speaks softly, almost like a mouse, almost timid and shy: that can be very dangerous [as well as being very sly and coy], especially when they snap. I had always wanted to hear DM's voice to discern what type of person he was/is. I had my suspicions. Thanks to this interview recording, I now know the sound and quality of his words.
The remastered version is here: SOUNDCLOUD LINK
Both versions are originally posted at ABG's website: https://abglodge.org/blog/post-24/
That picture of DM has become my second favourite picture of him. It's a very nice one. I wonder where he was going before he got ambushed?
Gratitude goes out to Nameless Therein; thanks!
/Chloe
---