Posted:
March 13th, 2021 |
Author:
Chloe352
|
Filed under:
Anarcho-Nihilism
,
Anarchy
,
David Myatt
,
Fenrir
,
Generation Three
,
Heretical Texts
,
Iteration Three
,
Leftists
,
Liberals
,
Next Generation
,
Nihilism
,
O9A
,
O9A Nine Angles
,
Occultism
,
Order of Nine Angles
,
Order of the Nine Angles
,
Phase Three
|
Tags:
Anarchy
,
Ancient Pagan Traditions
,
Anton Long
,
David Myatt
,
Fake News
,
Fenrir
,
Left Hand Path
,
Nazi Satanism
,
Nazi Satanists
,
Neo-Nazi
,
O9A
,
O9A Guides
,
O9A Mythos
,
Occult Initiation
,
Occult Mythos
,
Occultism
,
Order of Nine Angles
,
Order of the Nine Angles
,
Paganism
,
Satanism
,
Septenary System
,
Seven Fold Way
,
The Nine Angles
,
The Sinister Dialectic
,
The Sinister Tradition
,
The Sinisterly-Numinous Tradition
,
Traditional Satanism
,
Traditional Satanism. O9A Logos
|
Comments Off

on Fenrir, Generation Three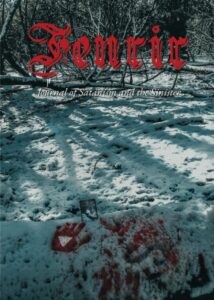 .:.By the Grace of Providence: Everything happens for a Reason, in its own Time & Season. I am very Happy to announce that Fenrir, the ONA's Journal of Satanism and the Sinister, after many years of hiatus and slumber, has Reawakened.
What perfect Timing. The Timing, given the Context of the situation and events ONA has found itself in for the past few years, and given that there are agencies infiltrating and trying to disrupt ONA with their mind games, the Return of Fenrir is almost poetic in essence.
Poetic in essence, because ONA has garnered two sets of Enemies, working against ONA. First are the Leftist Journalists who have been spreading ill researched lies, rumors, gossip, propaganda, fake news, and misinformation about ONA. Second are the various government agencies working to disrupt and sow seeds of mistrust and discord. When groups like the Proud Boys have fallen apart because of the same set of enemies working against them, the ONA, which is to say the individual self-initiated people who Associate with ONA Corpus/Kulture, have come together, in a show of Sinister Solidarity, to bring Fenrir into its Third Phase, for Generation Three of the ONA Movement.
While the Leftist journalists relentlessly attack ONA with lies and false fear-mongering narratives, the agencies have worked to get rid of ONA's means of writing, and speaking its Voice, where that, ONA even has a hard time defending itself and its image and reputation, from such Leftist fake news attacks. They try to wedge ONA people and Nexions apart with their psychological games, to make us paranoid and distrustful of each other. Well it didn't work. The whole opposite happened!
Before I introduce the Fenrir Team, let me retell the history of Fenrir real quickly: Fenrir started a very long time ago, back in the days when Anton Long was still using those typewriter things. Back in those days, computers may not have existed. And so that iteration of Fenrir was circulated for a while, until everyone in ONA left to do their own thing. Thus that first iteration of Fenrir laid dormant.
It was around the years of 2009-2010ish, that I had asked the Old Guard DarkLogos, if we could have Fenrir and bring it back for our Generation of ONA Associates. Bringing back Fenrir was not my idea. The idea to bring back Fenrir was Saturnyan's, an individual who worked behind the scenes back then, who was instrumental in helping ONA grow. And so, DarkLogos gave us Fenrir and the green light to restart Fenrir.
Thus, Saturnyan was actually the primary editor who worked to collect contributions from the various ONA Associates and Nexions, he was the one who put each Fenrir issue together, and he was the one who distributed each Fenrir issue, via his 'The Heresy Press' and via a WordPress blog [which is today defunct].
Gradually, Tempel ov Blood and the infamous Jall, and a couple other Nexions such as ABG Lodge & Niners joined that Fenrir Team, and together, they produced about 9 issues of Fenrir; the last issue of that second Fenrir iteration having been produced by ABG Lodge. Unfortunately, after the 9th issue, Saturnyan left cyberspace, and the ToB and the other Nexions left to concentrate on their own things. I was saddened to see Fenrir go dark again. Because the ONA, each generation of ONA initiates, need to have a constant Voice and a Vehicle/Medium for that Voice.
And so, I am happy and proud to say that the old second iteration of Fenrir Team, minus Saturnyan, is back behind this iteration of Fenrir, for Generation Three of the Sinister Current. And so, I'll name a few nyms and Nexions who will be behind this iteration of Fenrir.
The main Editor is Albert Nythra, who hails from France. Albert is around my age, and so, belongs to our generation. He has been acquainted with ONA since he was 16, having become associated with ONA a couple years before I had discovered ONA. And so Albert Nythra has been around ONA for over a decade. During that time, he forged connections and fellowships with other ONA Associates and Nexions, making himself a nexus or liaison or node of many Associates and Nexions around the world.
One of those Nexions Albert is in fellowship with is the Tempel ov Blood & Jall, who will be behind this iteration of Fenrir as well. Albert also has connections with Nexions such as Drakon Covenant [mother Nexion of the infamous Mr. Ryan Fleming], Sentiessence / ATRA Albion, ABG Lodge, and a whole host of other Nexions from Europe. Albert is in fellowship and communication with various Dreccs and Niners, some we all know very well who have been around for years.
Besides old names/nyms and faces, more importantly, Albert is in fellowship with New Blood [new, younger generations of ONA Associates]. One such New ONA Blood is the talented Larensina who published the beautiful Spanish version of NAOS, and who made the Fenrir cover up above, which will be the cover of the first issue. Like our own bodies stays alive across the years by refreshing its Cells: the ONA stays alive by adding to its body, new Cells [initiates/Associates] of a new generation. This is vital, in principle, for ONA's aeonic longevity. And so, those new generation of ONA Associates working behind Fenrir is very welcomed and very important.
And so, this iteration of Fenrir will have a healthy mixture of elders [old names and faces who have been around for years and years] with their experiences and wisdom gained from years of living and applying ONA Kulture, and young blood [those new generation of Associates] with their youthful passion and talents, and new eyes. Those new eyes of theirs are very important, because it is with new eyes, that ONA sees and perceives its Future and understands what direction it needs to move into to survive and thrive.
The ONA, today, genuinely is a Global Movement, with Nexions and Associates across the world. And the New Generation of ONA Associates, through Fenrir, will show us what ONA has become in 2021; and what direction they will be taking ONA into, towards the Future. So, before I extend this announcement into a long essay, let me quickly provide Contribution details:
Please Send Your Contributions To Fenrir
To The Main Editor: Albert Nythra
At:
Deadline For The First Issue Is Before The 6th Of June 2021
Commence Long Essay
What I'll do is upload each Fenrir issue here, to help distribute them. So, we've learned a few lessons this past decade haven't we? The best way to humanly learn things, is the hard way: from direct experience. We've learned something which I've tried over the years to tell people who talk to me, which I myself learned from studying David Myatt / Anton Long. It's a simple concept, which not many people seem to understand.
Over the years, since the mid 2000s, whenever I meet someone intelligent in those Satanist forums or social networks, I try to tell them this: "If you have intellectual capital, don't waste it by investing your ideas and thoughts in some random forum." Why not? Well because those forums are ephemeral. It's like putting in the effort to build a sand castle two feet away from the sea shore. But none of those Satanists I've met in those forums understood my advice and warning. And so, instead of investing their intellectual capital wisely, they scatter  – scatter is the key word, meaning incoherent, as opposed to a coherent beam of light – their ideas and thoughts in those forums and fagbook groups. What happened? What happened was that, after 10 years, Generation Y & Z people saw forums like how we of today see shit like usenet. What that means is that today, in 2021, all Satanic forums, forums of any kind, are dead. The new generation have moved to places like tiktok, and phone based mediums of communication like Telegram and Instagram and so on.
And so, for years and years, you had all these Satanists post their ideas, scattering their memes in forums. And now, those forums are either gone offline or dead. Which is good for ONA, because we have less competition. X Generation love forums. During the past decade, I was actually not able to convince a single X Generation Satanist to stop contributing to forums and to start their own thing or at least start their own blog. And then periodically, I'll have acquaintances who belong to X Generation, who will start their own group or Satanic organization, and they ask me to help them. So I tell those acquaintances to not make a forum and to use whatever Generation Y & Z are using; at least create a group with Animo App. But what do they do? They start a forum. That's exactly like if some old person were to come and ask any of us today to help them start a group and promote their group, and we tell them: "Okay, just don't create a usenet group, because usenet is dead, nobody uses usenet anymore." And those old people go straight away to make a usenet group!
You have to learn how to copycat David Myatt. The difference between a lightbulb and a laser is simply that the photons of the laser is concentrated into a coherent beam, whereas the photons of a lightbulb are incoherent and scatter in every direction. The same with your ideas/thoughts/memes. Whenever DM/AL had an idea [intellectual capital] he coherently invested it into ONA or The Numinous Way or Reichsfolk. And we see that after 40-50 years of concentrating his ideas into ONA, he's had a dramatic affect, where that now, journalists and governments are crying and afraid of ONA. And so, we learn from studying DM/AL that if you desire to inspire and influence, and own a portion of the Future, that you must coherently invest your intellectual capital wisely, and not scatter your ideas around incoherently, especially on ephemeral mediums.
And so, in Practice, concentrating your ideas/thoughts/memes into a coherent beam means: no forums, no dumb fagbook groups, no posting shit in random places in cyberspace. You concentrate your ideas/thoughts/memes inside ONE THING. One medium. One ONA. One zine or journal. Social media like Instagram stuff is for promotional work. You use social media to network and promote that ONE THING which contains the concentration of your intellectual capital.
The second thing we should all learn from DM/AL, which is something that I learned, is: Consistency. Stamina. For 40-50 years, DM/AL continuously wrote stuff for ONA. Most people don't even last 5 years in Satanism. People like DM/AL, who have the capacity to hang ten [last long] with one thing are highly valuable, aeonically speaking. Very few people in ONA, out of the hundreds, have been around ONA for 10 years.
This is the only way to own a part of the Future and to inspire and influence a future generation, like DM/AL did. To have the capacity, the stamina, to be Consistent, and keep producing writings, art, musick, etc; year after year.  But that requires Passion and Dharma/Wyrd. Time is our Tester of worth and quality. Many people come into something like Satanism, acting and wanting to be the next "Black Pope." But 99.99% of them fail. Why? For several reasons, which I will talk about. One reason why they fail, beside being scatter-brained and incoherent with their ideas, thoughts, and memes, is that they don't last long. They will put into 2-3 years making posts in a forum, and maybe self-publish one book. And then they vanish forever. It's a simple Game: the last person standing has the last word. The last Voice that speaks is heard by the Future generation. DM/AL kept speaking his Voice, for 40-50 years, until we of our generation heard him.
What's another reason why 99.99% of those Satanists fail to influence or inspire anybody? Audience, or lack thereof. I also learned this from watching and studying David Myatt. And when I figured the secret of Audience out, I jealously kept it a secret to myself and only WSA friends, to reduce competition.
100% of the time, if you do not have an audience, you will fail in any endeavor simply because, without an audience: you are talking to yourself. And talking to yourself, by definition, is not and can never be: Effective Communication, because you aren't fucking effecting anyone! You might as well just talk to yourself in the privacy of your own closet, with the door closed.
Once in a while, in the past, a very smart person will join a forum I was active in. And they scared me. In my mind, I thought to myself: "Fuck, this dude is smarter than me!" But I had a secret that those smarter people didn't: an audience. And so, I'd watch those smarter people make their posts and share their very intelligent minds. And I had little heart attacks when those smarter people came together to do projects with each other like make blogtalk radio shows and so on. But 100% of the time, to my gladness, every single one of those people, intelligent as they were, failed to spread their memes, inspire others. Why?
Because a forum of random people is not an audience. That's like going to the beach or a shopping mall and preaching your views and opinions to those groups of random people: those people aren't there to listen to you. They don't give a fuck what you have to say. They don't care about your self-published Amazon book.
An audience is when a group of people go to the movies, or go to a music concert: they want to be there. They are interested in what you have to say and share. An audience is the fanbase of a brand, or merchandise, or sports team, or music band, and so on.
Which means that, when you have a youtube or fagbook page, and you get a lot of likes: that's not an audience. That's random people who simply pushed the like button. It's the same fallacy as when a group of Satanists start their own Satanic group, and they make a forum, and they believe that people who register as users of their forum constitutes "membership." They aren't members: they are random users looking for a forum to interact with others. And so having 20,000 likes/subscriptions on your youtube or fagbook page doesn't mean you have an audience of 20,000 people: it simply means that 20,000 people who were looking for quick entertainment, found your video or fagbook page entertaining. Mundane people do not like silence and boredom. They hate it when their mind is silent. And so, to keep their mind from going silent, they have to constantly look for things to temporarily occupy their mind. So they find your video, or read your fagbook page. That's not an audience.
An audience takes time and effort to build up. A Brand Name is needed to build an audience. Over the years, a few people have asked me why I associate with ONA, and why I don't simply do my own thing. It's a simple secret and answer: DM/AL has put in the time and effort of 40-50 years to build and audience already. And with each new person who comes to ONA to contribute or help spread the ONA Mythos, that audience grows. With each new associate and Nexion that contributes and helps spread that ONA Mythos, the ONA audience grows bigger. And so, regarding ONA, all of us, collectively, doing what we each do, helps build an audience for ONA.
Therefore, Fenrir is valuable, because via Fenrir, your Voice is heard by an already existing and growing audience. Your audience has already been grown for you. And that audience, which includes me, are constantly hungry and thirsty for new ideas, new insights, new perspectives, new magick, new sorcery. The Body of Knowledge must continuously grow. Because all living entities – and a culture or subculture such as ONA is a living entity – must metabolize. And a memeplex, being a entity made of memes, metabolized new memes to grow and stay alive. Give your audience what they need and hunger for. A rich source and resource of new ideas, new views, new insights, are of course the New Generations of people, with their new eyes and new minds, born of a different timeframe than an older generation. And so, fresh blood, new cells [new ONA Associates] are very important regarding ONA's aeonic longevity. The ONA must be given to those New Generation of initiates, and they need a Voice. The medium of that Voice is something like Fenrir, and the ONA already has a vibrant and hungry audience.
So there was this time, long ago, when I had a conversation with an Old Guard. I believe it was with DarkLogos. This was back in the mid-2000s. The Old Guard and I were talking about ONA. And in that conversation, I said to the Old Guard, roughly: "Give people a Cause, and they will fight for it."
This is another secret I kept to myself and to a small few group of people. It's also a secret in human life, that empowers and imparts success to everything from corporations, to marketing, to political ideologies, to religion, to philosophy, to nation-states. Every fucking thing and element in our human civilization, the success of such, is predicated upon this single secret and universal principle: Give People A Cause To Live For, And They Will Fight For It, Die For It, And Kill For It.
Why is that principle so effective and powerful? Because as human beings, we are born as babies and children into this mortal world as Tabula Rasa, meaning a Blank Slate. As babies and children, we come into this world, with no knowledge, no understanding, no worldviews, no mind of our own, no nothing. But we spend that childhood playing, rightly so.
It's when we human beings become young adults [teens], that we stop playing, and we begin to search for Elders of our culture, tribe, race, community, to give us Meaning & Purpose in our life. It's because of that human thirst for meaning and purpose in life that all religion, all philosophy, and all political ideology are born. Give people a cause, and they will fight and die for it: Thus, we see that religion, philosophy, and political ideology are born from that human need for meaning and purpose, which are also the source of all our human wars and murders. Give people a Cause and they will fight and kill for it.
Have you ever heard the expression: "Rebel without a cause"? Giving people a cause to live for is easy. You give a magazine to a person and they will sell it. They are called Jehovah's Witnesses. I was a JW when I was 12. You join their religion. They give you meaning and purpose. They tell you about living forever in paradise. And then they say: "Here… take these magazines… stand on the street corner, and work hard to sell each for 25 cents, because you are saving those people and helping them live forever in paradise with us!"
It's easy. You give a young dude who is looking for meaning and purpose in life a red bandana and you say to him: "Here… take this red flag… you're now a Blood like us. We have bad people who want to hurt us and take our territory from us who wear blue flags." That's their Cause which they live, die, and kill for. And Blood and Crips have been killing each other ever since.
You say to people: "Here… support our ecofriendly business and buy our stuff which are made from biodegradable material, because you'll be saving rainforests and the environment." That's the Cause which creates diehard and loyal consumers.
You say to people: "Here… we believe in liberty and egalitarianism and social justice and liberal agendas and power and freedom for homosexuals and transexuals. You're a Leftist like us now. You're a fag just like us. But we Leftists have enemies who are very bad people. They are fascists, nazis, far-right extremists, who want to hurt and kill you and your beloved family, and take your freedom away!" That's their Cause. And what do they do for that Cause? You have Antifa fighting and sometimes killing right wing people.
Pol Pot said to people without a Cause: "Here… we're communists. We're going to create a utopian agrarian society, right here in the middle of Cambodia! It's going to be great! We're going to share everything. No more rich or poor people. Everyone will be happy and equal. But there are people who want to stop us from making our cool utopia. Very bad people. Stupid bourgeois." That's their Cause. What happened? 2 million people got murdered. And who did a majority of the murders? Young people around the age of 15. In our teenage years, when we stop playing like kids, we search for elders to give us meaning and purpose in life. And we will die and kill for that meaning and purpose.
Mao Tze Tung did the same thing. His Cause he gave to people was a new country, but in order to create that new civilization, the old culture must be destroyed. What happened? About 50 million people died during Mao's Cultural Revolution. And who did most of the killing? Teenagers did. Give them a Cause, and they will fight for it.
George Washington did it. His cause was democracy and self-rule. And people died and killed for that Cause. Oliver Cromwell did it. His Cause was democracy and self-rule. And people died and killed for it. Music Bands do it: you had Rage Against The Machine, who merged their music with a Cause, where they donated their money [supposedly] to Zapatistas in Mexico. That's their Cause: you buy our music and you're supporting rebels in Mexico.
Everything in our human civilization, which is successful, has a Cause, gives us and adds meaning and purpose in life. Including automobiles. You buy our Ford cars, go to work faster, be home faster to be with your family, and when everyone has automobiles, our nation's economy grows. That's a Cause. Nation-States that are successful have a Cause: The Statue of Liberty is our symbol, our meaning and purpose in life is liberty, equality, and whatever else. We give freedom to every human being. Give us your poor and rejected. When you support America, you support freedom. That's the American Cause. And people have lived, fought, died, and killed for that Cause. ISIS does the same thing: We're going to create a cool caliphate and show the West how a real country is run! That's their Cause. And what happened? That Cause called out a lot of people from many other countries to fight with ISIS for that Cause.
Without a Cause, your endeavors will not be successful, no matter how intellectual your thing is. Case in point: Global Warming, where scientists are shoving clinical data into our faces and warning us that if we don't do anything, we're all doomed! Guess what? Nobody gives a real fuck. Why not? Because there is no Cause behind it. No meaning or purpose to our human lives. Those scientists don't know how to market shit. Give people a Cause, and they will fight for it.
40 years ago, people didn't take David Myatt seriously. They mocked "Anton Long" and thought he was a nutter. They laughed at him. His contemporaries rejected him. But Anton Long gave people a Cause. And then what happened? Then Copeland killed people with his nail bomb. Then what happened? Then you have journalists and governments crying today about ONA. There is Power in being underestimated and overlooked. Because they leave you alone to brood and spread your memes. A man, such as DM/AL, with: 1) the ability to articulate his mind, 2) inspire others with his words, 3) the ability to build an audience, 4) the ability to give his audience a cause, & 5) the capacity to be consistent across time to inspire future generations: is a very, very dangerous man. Hitler had those 5 factors, and even though he is dead today, he is still a very, very dangerous man. Never underestimate a person who is in possession of those 5 factors.
And so therefore, Fenrir isn't just a journal. It is your means and medium of Effectively Communicating with the Future Generation, to give them meaning and purpose, to give them a Cause to live for. And if you can generate for yourself those same 5 factors, you and ONA will be a force to be reckoned with in the Future.
The Pen is mightier than the sword. The empires that Genghis Khan and Alexander The Great forged with blood and sword, were huge. But such empires did not last long. But: the Words of Jesus, Muhammad, Buddha, have inspired billions of human beings, have given birth to countless kingdoms and empires. Because there is Power in giving people Meaning & Purpose in life.
And there is Power in the Word. And so therefore, you must be mindful of the medium you imprint your Words down onto. All things are transitory, but somethings last longer than others. A forum does not last long. A magazine or journal lasts longer. We still have Fenrir issue from several decades ago. But there exists one medium of the Word, which transcends Time and Thanatos itself: Human Culture. Culture never dies. Culture existed before alphabets. The Word was transmitted in Cultural Mythos, Myth, rituals, ceremonies, and so on. There are Culture today that are thousands of years old. Vedic/Brahminical Culture is 5000 years old. In Africa, the Culture of the Koisan [the Bushmen] is over 100,000 years old.
And so, something like Fenrir, isn't just a journal. It is a medium of your Word, whereby you speak to a Future Generation, to give them ONA Kulture and a Cause, a Meaning, and Purpose. It is a medium through which you articulate your mind/Word, by which you inspire the Future Generation, just as DM/AL inspired us of his future, by which your Words reach an already built Audience, and with Constancy, you will have those same 5 factors that David Myatt and Hitler had. There is Power in Coherency. Every Nexion, and Associate needs a Voice. Especially today when ONA's means of speaking its Voice is gradually being removed and taken away. Fenrir is One Thing and Place, in which every Drecc, Niner, Balobian, Rounwytha, and Nexion can invest their/our Word and intellectual capital, and Voice, for a Future Generation:
Please Send Your Contributions To Fenrir
To The Main Editor: Albert Nythra
At:
Deadline For The First Issue Is Before The 6th Of June 2021

-O9A-
---