Posted:
February 9th, 2021 |
Author:
Chloe352
|
Filed under:
Iteration Three
,
O9A
,
Order of Nine Angles
,
Order of the Nine Angles
,
Phase Three
,
Realization And Renunciation
,
Reichsfolk
,
Third Iteration
|
Tags:
Order of Nine Angles
,
Reichsfolk
|
Comments Off

on Realization & Renunciation
.:.I've had a rude awakening today… an unfortunate realization. I'm not very smart, so it takes me a long while to learn things and figure things out. What I've realized and learned today is very sad and disturbing. Have you ever been in a relationship where you one day suddenly realized that you're being used and that you're boyfriend really doesn't care about you? I'm having that same feeling right now. It's a disgusting feeling.
These past few months have been weird. Ever since the Black Lives Matter protests. Something in the air/ether hasn't felt right. Like Games are being played. For many years o9a was peaceful and minded its own business being an obscure fringe occult denomination of Satanism that nobody would have been interested in paying attention to. All of a sudden, beginning in 2018, o9a got sucked into something bizarre. I know a Game is being played, when a Game is being played. Like we're being Played.
I've been keeping an eye on the news about The Proud Boys, and what has been going on with them. I saw something earlier today that set off a domino effect of realization: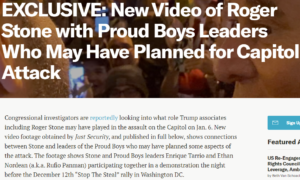 I like mysteries and solving mysteries. I can also research around, collect data, and connect the dots to solve mysteries. Context is 90% of all mysteries. Gather enough data, information, and intelligence about the Context and you've figured out 90% of the mystery. The other 10% must be deduced with hypotheses using reason and logic and Occam's Razor. This technique also applies in Natural Philosophy regarding figuring out universal principles and how the Cosmos works on a fundamental level.
The Context is: 1) That we have two political parties that run the government, 2) That both parties are factionalized, 3) That factions in both parties consists of cronies and power hungry politicians and wealthy men who finance such politicians, 4) That a faction in the Republican Party, associated with Donald Trump, used Rhetoric to emotionally manipulate people and groups on the Right and Far-Right and Alt-Right to do their "dirty work" of storming Capitol Hill in the hopes that said Right leaning people and groups will use force and violence to manifest a Coup to keep Trump and Company in power, 5) That therefore, the Capitol Hill insurrection was an inside job, 6) That a faction in the Democratic Party used Rhetoric to instigate and encourage people and groups on the Left, such as the Black Lives Matters movement to protest and riot, 7) That just as people and groups on the Right were manipulated to do dirty work for powerful men's agendas, so were the Left and BLM movement black people manipulated by the politicization of police mistreatment to serve the agendas of a faction of power hungry people in the Democratic Party, & 8) That each faction within each party influences and controls several journalism and media companies with which they use to produce the needed Propaganda to influence, inspire, and emotionally manipulate their target audience: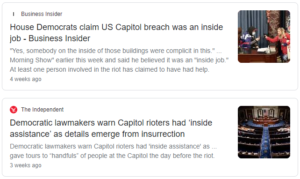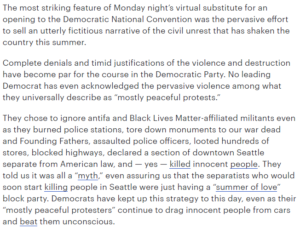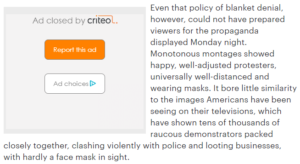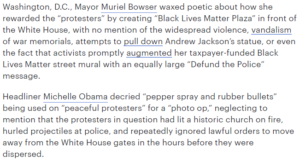 It would all be funny if it weren't so sad and disgusting. I am, like other human beings: an emotional creature, and so, sometimes unBuddhistically, I allow my irrational emotions to get the best of me, thereby clouding my sense of Reason and Rational mind. You can get emotionally trapped in that whole Left versus Right, Right versus Left thing. But today, after pondering and connecting the dots all day, my Rational Mind is working again, and I see everything very differently now. And what I see is disgusting, purely disgusting.
As a ground-level citizen, I see things from the perspective of a citizen. I see a bunch of Black People, who want nothing more than to be human and to be treated fairly, and not not be neat by cops. And I see factions in the Democratic Party manipulate and use those Black People to go out into the streets, do their dirty work, get violent, burn things down for the interests and profit of said faction. And I see that after such protests and riots, the same Black People who were manipulated are jailed, labeled as criminals and violent felons, and some die. But I see that said faction never got in trouble or even reprimanded.
I see White People, who simply desire a sense of security for their race and people because they have an uncertain future. I see factions in the Republican Party manipulate and use those White People to go out into the streets, do their dirty work, get violent, and storm the Capitol. And I see that after such protest and Capitol Riot, the same White People who were manipulated are jailed, labeled as criminals, violent felons, and terrorists. But I see that said faction never got in trouble and Trump and his cohorts will not even get busted for treason or go to jail, or even pay a fine.
I feel that it's disgusting that Power Whores in government and corporations can use innocent, human beings as Pawns, and manipulate their strong emotions as a means of obtaining and/or maintaining Power and making themselves richer. And it's disgusting to see a person, regardless of what skin color they have, who may be loyal to you, who may believe what you tell them, who then go out into the streets to do what you ask, and in return for that loyalty, you turn your back on them and make them into criminals and terrorists, but yet you yourselves don't get into any trouble.
I realized today that Politics and Corporatocracy is a Game of Chess and I realized today who the Pawns are: me and normal citizens like me. Left or Right, Black or White, Satanist or Christian: we are all Pawns, played by their Hand for their gaining of more Power and Money and Privilege. And that we Pawns get used and manipulated for their own agendas, and in the end we are the ones who get in trouble, we take their fall, take their rap. Like the Whipping Boy. I read a book in grade school they made us read called "The Whipping Boy," which was a story about a privileged boy who got into trouble, and when he did get in trouble, instead of he himself getting a whipping, some other boy got the whipping.
I've always wondered how or why JFK got assassinated. Today's realization, and the circus fiasco that has been taking place in the government for the past year has given me the answer.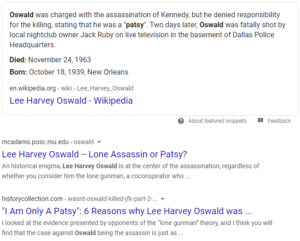 Lee Harvey Oswald was telling the truth. He was only a Patsy. A patsy is a fool who gets manipulated to do the dirty work of someone. Now my instincts tell me that there was a faction in one of the two political parties during JFK's time who did not like him and what policies he may have been making. This faction found a Pasty in Oswald, who was most likely mentally disturbed. Most people in the Islamosphere who become Radical Islamic terrorists are mentally unhealthy and emotionally disturbed:

Normal, mentally healthy people with stable emotions and a nice life to live, don't just one day walk out of the house and become an assassin or terrorist. Just like how a hacker can find weaknesses in your computer to exploit, some people, like certain factions in government and corporations know and understand that strong emotions = mental irrationality, and thus they can use rhetoric and ideology to hack your emotions and irrationality to exploit you for their own purposes and gaining of power. Somebody exploited Oswald. He was just a Pawn, and when he did the deed, he was a Patsy. The unfortunate thing in the Game they play is that us Pawns are expendable. And a Patsy is worthless after they have done their job. Oswald was set up. He was telling the truth. And the real killers – those shadow people in power – got away with it, gained power and more money.
Just like the pawns and patsies that were on the streets during the Black Lives Matters protests and in Capitol Hill Failed Insurrection, were expendable, took the rap, and those government and corporate factions who manipulated them, got away with fomenting such riots, mass arson, destruction of historical artifacts and cities, and deaths, and gained or maintained power and more money.  It's grotesque and sickening to see the two political parties in power, use citizens and exploit their emotional weaknesses for their own ends, agendas, and motives; and to see such politicians not get jailed or busted in any way, but their pawns and pasties are the ones who are "criminals," and "terrorists." You use them, and then you abuse them and throw them away in jail. It's disgusting to witness live, unfolding before your eyes, the façade of Politics.
Traditionalism
There are personal reasons why I dislike the Left and why I favor the Right. It's because I am by Nature a Traditionalist. What that means basically is that I believe that all ethnicities, all races, all nationalities are entitled by God/Cosmos/Nature to have their/our own unique culture, folk customs, heritage, religion, cultural practices, and way of life. And so therefore, just as I believe that Chinese people have a Natural Right to have their/our own [I'm mostly Han Chinese] culture, religion, way of life; I also believe that White People in America have the Natural Right to have their own racial identity, culture, values, religion, and way of life. And so, in that Light, I favor the Right, because the Right, meaning White people on the Right tend to have a healthy amount of pride for their White Race and Heritage, History, and Culture and Religion. And in that Light, I dislike Leftists, because they try to make everything and everyone equal, according to some stupid and silly ideology of egalitarianism. And in their Leftist endeavor to make everything level and equal, they destroy and have destroyed Traditional Americanism. Traditional Americanism meaning the actual culture White Americans actually had pre-1950s, when White People actually had traditional families, traditional family values, traditional religion.
But Traditionalism is not Right Wing ideology. Traditionalism means there is a Line and I stay on my side of the line and you stay on your side of that line, and as long as we both stay on our side of that line, we can be friends and be peaceful with each other. What's that mean? It means that although I believe and feel that White people, Black people, and Latino people have the Right to their own racial or ethnic pride, history, heritage, culture and religion: don't force your shit on me: I'm Asian. I don't force you guys to eat with chopsticks or become Hindus or whatever, so don't force your Christianity or Mormonism or Islam on me. Aren't me and my people entitled to our own culture and religion? If I can like, admire, and respect your culture and religion: why can't you be descent people and respect my people's culture and religion? Why do we all have to be the same and equal? Like a bunch of cookie-cut-outs?
As a Traditionalist I believe that Traditional Christianity, such as Catholicism, Greek Orthodoxy, Anglicanism, etc, are beautiful religions with a magnificent ancient history which has had massive influence on the evolution and development of Western Civilization. And as such, Traditional Christianity shouldn't be destroyed or dismantled, because of Liberalism or because of scientific materialism. I'm not retarded, and so I understand that there are a few bad priests in the Catholic Church that abuse children. But there are and will always be a few bad apples in every religion and institution, and that just because there are a few bad people in the Catholic Church, does not mean that the whole entire religion and institution of the Catholic Church is bad. I also believe that religions like Buddhism and Islam are beautiful religions. And each ethnicity deserves to have their own religion.
I sometimes have strong emotions with my Traditional beliefs, which is why sometimes I have harsh things to say about Leftists, and why sometimes I encourage people to go Right. It's rare that I personally get political like that. 99% of what I write – thousands upon thousands of pages – are philosophical and Buddhist stuff. The news upsets me where I sometimes get political. But, today, after having my disturbing realization about politics and political parties, and how they use and abuse us, I will make a Public Renunciation of a few things and Correct myself, because I don't want to be nobody's pawn, and I don't want any intelligent and rational self-initiated Niner, Drecc, Rounwytha, ONA Satanist/Pagan to end up being their pawn or patsy either:
Public Renunciation
I renounce racism, meaning the intentional hatred of and discrimination against other human races, because I now understand that regardless of our race, ethnicity, or skin color: if we are not billionaires or running the government: we are all Pawns exploitable by them for their greedy motives and agendas. We are all, regardless of our race: in the same shit hole and political prison; subjects of a distant and uncaring machine. I also renounce racism, because as Reichsfolk is my second religion, I believe that all human races, being that we all are expressions of the Divine Cosmos, are each sacred and entitled to respect and dignity.
I renounce violence, meaning the use of harmful force against the body and person of another individual, especially for political and ideological reasons, because such species of violence does not actually serve our interests: they serve the interests of the rich and powerful who see us as only pawns to be manipulated to use violence to do their dirty work. And it is us, not they who will be branded the violent criminal. I renounce violence also because I understand that using violence to destroy a government or nation does not change anything, because such things as government and nation are abstract nouns composed in actuality of people, and therefore to make and create any lasting change in human civilization: the change must happen in our hearts and minds first, and thus if a nation or government is to be changed, the people must themselves change and evolve, one person at a time, each in our own time and season.
I renounce the hatred of and discrimination against human religion and cultures, because as a Reichsfolkist, I believe that all human religion and cultures are manifestations and extensions of the Divine Cosmic Being, and that it is our respective cultures and religions which helps us as a species evolve and develop into the human beings that we are today, from the feral cave people we developed from.
I renounce the concept and intention of harming and/or destroying human civilization and human nations/countries, because as a Reichsfolkist, I believe that human civilization and human nations are an extension of not only the Numinous Cosmic Being, but that such are also extensions of the various human races. I renounce the destruction of human civilization and human nations and countries also because I understand that evolution does not happen outside of an ecosystem, and that our civilization and nations are aspects of our human ecosystem. Thus in the same way that a ecologist may love and desire to save an ecosystem from destruction, I likewise, in the same line of reasoning, believe that human civilization and human nations are to be preserved.
Therefore, in accordance with the four things I publicly renounce, I will not any longer write or distribute memes that pertain to racism, violence, the hatred of any human religion or culture, divisive politics and ideologies, and the destruction or desecration of human civilization and nations. I'll stick to what I like to write about most of the time: natural philosophy and Buddhism.
I consider myself to be somewhat intelligent. Intelligent enough to be able to figure out that there are very rich and powerful people playing Mind Games with us everyday citizens, by manipulating our emotions and fears and hatred: for their own reasons, motives, gain, and profit. I'm smart enough to try and figure out a way to leave their Game, because I don't want to be a pawn. My renunciations are a means to leaving their Game.
There are other ways to skin a cat as they say. As Anton Long of ONA said, which I now agree with:
"An important part of the knowledge, and the esoteric insight, of the accumulated esoteric and exoteric pathei-mathos of past millennia as well as of the past century or more, is that it is individual pathei-mathos and/or an esoteric inner transformation which gradually cause the most affective (the most long lasting, Aeonic) change. That is, that in Aeonic terms – over millennia – the outer development of individuals wrought or saught by wars, revolutions, conflicts, idealism, kampf, the birth and death of empires/nations/States, and social and political ideas/programmes, generally does not last. That there is a periodicity of us gradually losing much of whatever cultural accomplishments are achieved during those usually only centuries-long periods when there is a certain prosperity and a certain stability in a certain area or areas, with us en masse in those areas after 'the inevitable decline and fall' generally reverting back to type; that is, back to mundane/egoist/uncultured mode. Even mythoi and religions suffer such a decline and fall, although generally over somewhat longer periods, since they are prone to or require exegesis, with religions especially subject to periodic 'reformations' and 'counterreformations', differing interpretations, as well as prone to the emergence of new sects who invariably insist they possess 'the truth'.

Esoterically, this periodicity is easy to understand, since all such things are either purely causal forms, mere mortal emanations, abstractions; or only possess a limited amount of acausal energy and thus – as in the case of most archetypes (and most mythoi and religions embody archetypes) – have a limited life-span among humans, usually far less than a thousand years after which they fade away or may be temporarily revived by appropriating or melding with the acausal energy of some other usually younger, more vigorous, archetype(s), mythos, or religion. Naturally many in our era believe or assume that – with and because of our technology, our 'progress', our modern societies (and whatever) – this decline and fall will not happen to us, although anyone who has personal experiences of the harsh and brutal and everyday reality of the nature of various and multitudinous humans in various locales around the world (and who thus has acquired their own pathei-mathos) will know just how arrogant and/or naively idealistic such an optimistic belief/assumption is.

Hence, why we are an esoteric group – with an esoteric purpose and an Aeonic strategy and our own particular weirdness – which exists, is presenced in the causal, to aid those associated with us or inspired by us to carry out particular esoteric and exoteric tasks and functions such as their individual discovery of Lapis Philosophicus. For we seek to not only preserve, and add to, the knowledge and the understanding that both esoteric and exoteric individual pathei-mathos have bequeathed to us, but to manifest a new type of culture and imbue it with such acausal energies that its archetypes/mythoi will enable, over an Aeonic timescale, a significant evolutionary change in our species, regardless of what occurs in the 'mundane world' in respect of such causal things as wars, revolutions, changes of government, and the decline and fall of nations and States. Which is why we are, in everything but name, a secret society within modern mundane societies; and a
society slowly but surely, over decades, growing individual by recruited/assimilated individual." — Anton Long of ONA, 122yf.
Therefore, in accordance with my public renunciation, I will delete a few posts here.
Chloe, 2.8.21
---