Posted:
April 10th, 2021 |
Author:
Chloe352
|
Filed under:
Anarcho-Nihilism
,
Anarchy
,
Civil War
,
Current Affair
,
Far-Right
,
Journalism
,
Leftists
,
Liberals
,
National Socialism
,
News
,
Nihilism
,
O9A
,
O9A Nine Angles
,
Order of Nine Angles
,
Order of the Nine Angles
,
Reports
|
Tags:
Anarchy
,
Ancient Pagan Traditions
,
Anton Long
,
David Myatt
,
Fake News
,
Left Hand Path
,
Modern Satanism
,
Nazi Satanism
,
Nazi Satanists
,
Neo-Nazi
,
Nihilism
,
O9A
,
Occult Initiation
,
Occultism
,
Order of the Nine Angles
,
Paganism
,
Satanism
,
Seven Fold Way
,
The Dark Tradition
,
The Nine Angles
,
The Sinister Dialectic
,
The Sinister Tradition
,
The Sinisterly-Numinous Tradition
,
Traditional Satanism
,
Traditional Satanism. O9A Logos
|
Comments Off

on Weeding Out Extremism
.:.The US Military is Trying – functioning word is "trying" – to weed out extremism from its ranks. But unlike "some" lawmaker or "some" Department, the US military is doing things the right way: by first trying to define what exactly "extremism" means.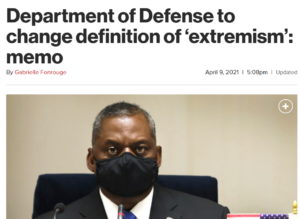 You can't logically and rationally just throw the word "extremist" around at random people or groups you don't like. It's not a medieval Witch Hunt. Just like you cannot simply throw the word "terrorist" around at random people and organizations. According to Legal Thought, terms and words must be properly defined, before such words may be used to accuse, convict, and condemn suspects.

Rhetoric, no matter how passionate and divisive, is just that: Rhetoric, which is protected by the Constitution. Would Fanatic Evangelicals, who use passionate and divisive rhetoric be considered and defined as "extremist?" And if so, would a military person who is a member of such a fanatic evangelical church be punishable? Would a Fanatic Muslim be punishable for being a Radical Islamists: is there a difference? Is a fanatic Muslim a "terrorist" or "extremist?" And would a fanatic Muslim be kicked out of the military for having extreme religious views and feelings?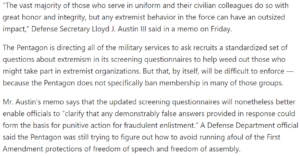 At least the military [Pentagon] are intelligent about their attempt at weeding out extremism from their ranks: they understand, because of the Oath they took to defend the US Constitution, that they must be careful so as to not violate people's Constitutional Right to speak and think as well as to assemble and form groups and associations. Unlike "some" lawmaker.
Does an American Citizen have the right to speak and think as they please? Even if such speech and thoughts are unconventional and fanatical, even radical? And do people of similar strong speech and thoughts have the right to assemble and form groups and organizations?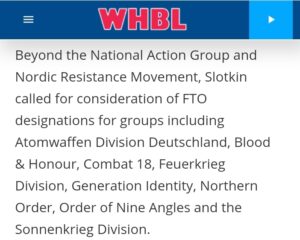 Are those entities listed in that list above actually "terrorist" "organizations?" Or collections of people who have assembled with like minds, who use strong speech and have strong views?
What in the world is Generation Identity and the Order of Nine Angles doing in that list?
The Left is beginning to worry me. Little by little, they take your freedom away. It's an age old game and technique: Ordo Ab Chao. Order out of chaos. They manufacture the "chaos." By Fear Mongering the public, until the public is worked up and afraid for their safety. And then they present themselves as the Saviours by passing "necessary" laws to keep the public safe from their manufactured boogiemen and chaos. And in that way, very slowly and imperceptibly, the Left erodes people's Freedom away.
Rhetoric is now slowly becoming a crime and even a "terrorist" offense. I'm amazed that the Left has not yet deemed the Republican Party to be a "terrorist" organization. There will come a time soon when a White person talking good things about White people will be a criminal offense.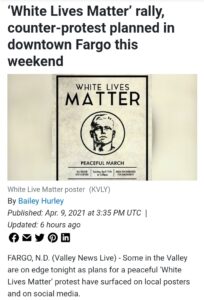 That "White Lives Matter" protest and movement should be interesting [assuming they can make it happen]. I'm waiting to see how butthurt the Left will get. Pay attention to the rhetoric of the Left after that White Lives Matter rally. Those White people will be called things like extremists, and possibly even "terrorists," and a "threat to America."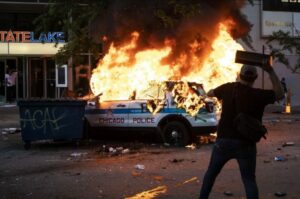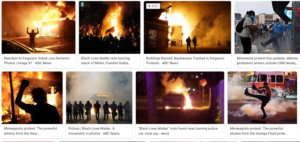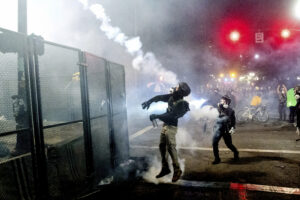 Whereas when massive groups of Black Lives Matter and Antifa run around the streets burning sections of whole cities, burning down police stations: those aren't "extremists," or "terrorists." Certainly not racists, or racialists. They are unhappy Black people and disgruntled Leftists, expressing their anger and dissatisfaction.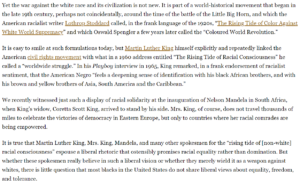 Based on what I have seen from the Far Right, I have not thus far seen the Far Right produce the amount of arson, looting, attacks on police stations, and neighborhood businesses, and general mayhem, that the Left has produced.
/Chloe
---