Posted:
February 14th, 2021 |
Author:
Chloe352
|
Filed under:
Anarcho-Nihilism
,
Anarchy
,
Current Affair
,
Far-Right
,
Generation Three
,
Iteration Three
,
Junk Journalism
,
Leftists
,
Liberals
,
News
,
Next Generation
,
Nihilism
,
O9A
,
O9A Nine Angles
,
Occultism
,
Order of Nine Angles
,
Order of the Nine Angles
,
Phase Three
,
Reports
,
Satanic Heresy
,
Sinister Japes
,
The Sinister Dialectic
,
The Sinister Game
,
The Sinister Tradition
,
The Sinisterly Numinous Tradition
,
Third Iteration
|
Tags:
Anarchy
,
Ancient Pagan Traditions
,
Anton Long
,
David Myatt
,
Labyrinthos Mythologicus
,
Left Hand Path
,
Modern Satanism
,
Occult Initiation
,
Occult Mythos
,
Occultism
,
Order of Nine Angles
,
Order of the Nine Angles
,
Paganism
,
Satanism
,
Septenary System
,
Seven Fold Way
,
The Dark Tradition
,
The Sinister Dialectic
,
The Sinister Tradition
,
The Sinisterly-Numinous Tradition
,
Traditional Satanism
,
Traditional Satanism. O9A Logos
|
Comments Off

on The Great Rat Panic
.:.The simple psychological games the FBI, CIA, MI5, blah blah blah, plays on groups and organizations is simple, but effective, and fun to witness and watch.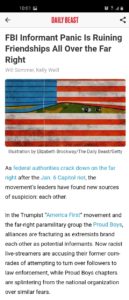 It's a simple technique intelligence services/agencies have been using for decades, since even David Myatt's time, when he was younger and into the Neo-Nazi scene himself! You just make a few informants, or plant an agent provocateur, sow seeds of distrust and discord: and let Human Nature take care of the rest of the work.
I personally prefer this method on a few counts: 1) Since the group eventually fractures and nobody trusts each other anymore, the group is Neutralized & 2) it saves money, time, and court cases because after such groups have been fractured and neutralized, most of their membership doesn't get busted. It's a "friendly" way to break up and neutralize a group or organization.
The funny thing about this technique of neutralizing groups and organizations is that for decades and decades, these X Generation guys are so dumb, that they keep on making the same mistakes over and over again: they keep making groups and organizations and have leaders. They don't learn!
There are two very easy ways to fix or remedy this problem, which many people of my generations [Y & Z] have learned: 1) don't have groups or organizations, instead have a decentralized leaderless movement & 2) don't use lethal violence against others.
The problem with any group, neo-nazi or radical Islamist, which uses lethal violence is that such groups are highly volatile. Volatile meaning that such groups self-destruct very quickly because its members go to prison for lethal violence.
Street gangs are violent. But, there is an important differences between a street gang and a radical Islamist group: a street gang's raison d'etre is not to use and inflict lethal violence against civilians, whereas a radical Islamist group has as its core doctrine and function [raison d'etre] the use of lethal violence against civilians, hence they're called "terrorists." I know of plenty of violent street gangs and skinhead gangs that are very violent [like 18th Street], but they are not labeled and considered as "terrorist" organizations. We all know that mafias are also violent, but I don't know of any mafia [Italian, Sicilian, Chinese, Russian] which is considered to be a "terrorist" organization. Motorcycle gangs [like the Hell's Angels] are also violent, but they aren't labeled by governments as "terrorist" organizations.
A volatile group, does not have the capacity to achieve anything aeonic, because they self-destruct or are neutralized very quickly. It's actually an oxymoron to believe that anything volatile will last long, even in science: something volatile like nitroglycerine by nature will not last long! It's a simple fractal principle. And during their brief life-time, they objectively achieve nothing productive. It's something to think about if you are an o9a initiate who understands that o9a is an aeonic occult movement, with very long-time goals and objectives. Why not follow the example of things that have successfully existed for decades and have continued to grow in membership: mafias, skinhead gangs, street gangs, the KKK, the Catholic Church, religion, cultures? Why continue to make the same mistakes over and over again, decade after decade? Doesn't being "intelligent" mean that you are smart enough to learn not only from your own mistakes, but from the mistakes of others also? Isn't the core concept of Evolution: Adaptation?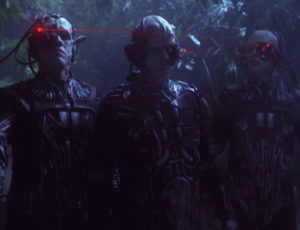 My favorite antagonist(s) on Star Trek is The Borg. I love them! One cool thing about the Borg is that they are extremely adaptive. You might be able to shoot a phaser gun at them once or twice and destroy one or two, but they will adapt to your phaser very fast! Why? Because their minds are merged into one vast collective hive mind: they are incredibly intelligent! They learn from each other.
Right now, is a bad time for The Proud Boys to be fracturing, because they got dumped by Trump and will be taking his rap. There are many weaknesses with the design of groups and organizations. One weakness is that such groups need internet infrastructure, meaning forums, social networks, websites, etc., in order to find and collect new members. Taking out such a group would be simple work: plant agent provocateurs, use informants, sow seeds of discord, and take away their internet infrastructure.
O9A is different: every human being who has ever been influenced or inspired by o9a can vanish tomorrow, and o9a would still exist: because the o9a is 5000 pages of the "Anton Long" Corpus. All it takes is just one person to read that corpus, initiate themselves, and put its occult traditions into practice, and the o9a is re-born. No infrastructure or structure or leader or group or organization is needed. Mind you now, most of that 5000 pages of stuff is firewall, mythos, stories, a maze of fantasy: created to keep out the Mundanes.
/Chloe
---