Posted:
February 16th, 2021 |
Author:
Chloe352
|
Filed under:
Anarcho-Nihilism
,
Anarchy
,
Current Affair
,
Far-Right
,
Generation Three
,
Iteration Three
,
Leftists
,
Liberals
,
News
,
Next Generation
,
O9A
,
O9A Nine Angles
,
Occultism
,
Order of Nine Angles
,
Order of the Nine Angles
,
Phase Three
,
The Sinister Dialectic
,
Third Iteration
|
Tags:
Alchemy
,
Anarchy
,
Ancient Pagan Traditions
,
Left Hand Path
,
Modern Satanism
,
O9A
,
Occult Initiation
,
Occult Mythos
,
Occultism
,
Order of Nine Angles
,
Order of the Nine Angles
,
Paganism
,
Satanism
,
Septenary System
,
Seven Fold Way
,
The Nine Angles
,
The Sinister Dialectic
,
The Sinister Tradition
,
The Sinisterly-Numinous Tradition
,
Traditional Satanism
,
Traditional Satanism. O9A Logos
|
Comments Off

on Notes On The Far-Right In Europe
.:.If some kind of data or information needs to be brought to my attention for whatever reason, Providence and/or the Library Angel somehow gets such data into my face.
Hope Not Hate has published a Report about the Far-Right in Europe, which includes data on the Pandemic and its effects on said Far-Right groups, as well as country-to-country statistics on Right Wing groups. I love statistics: they help you think and formulate ideas. The Report can be obtained here: Report Launch: State of Hate: Far Right Extremism In Europe 2021.
There was one part of that Report which should be highlighted and considered carefully: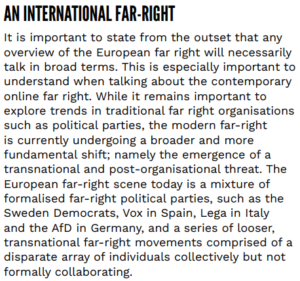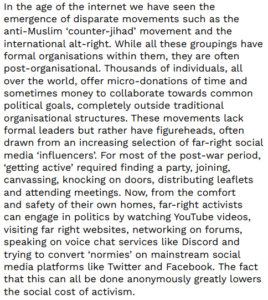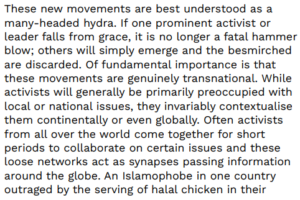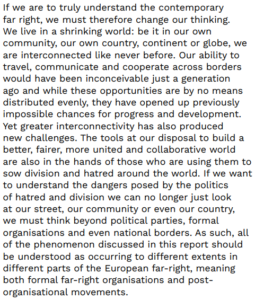 Two main factors are primarily responsible for the evolution or transition of groups/organizations into movements and transnational movements: 1) the aging and fading out of Baby-Boomers and Generation X from the social and national spheres of influence and the rise of Generations Y & Z to take the helm of social and national influence & 2) the internet and the "shrinking world" effect the internet has on us, where familiarity with others develops online and where information travels instantly.
Therefore, because of those two factors, HnH is correct in saying that we live in a Post-Organizational world. This is a concept that most Baby-Boomers and X Gen just simply don't understand. This is a good thing and a bad thing: bad for them because such older generations of people have brains that are working with 1980s and 1990s Mind-software, where they can't help but always think in terms of Groups, Organizations, Structure, Leaders. Good for the evolving Far-Right because such Baby-Boomers and X Gen people who dislike such Far-Right movements, due to their old thinking, have no understanding or means to counteract the growth of such Far-Right movements and transnational movement: how do you stop something which you simply don't understand? A movement is not like a group: there is nothing there to ban, there are no leaders to work on removing, it's not centralized where you can implant agents to sow seeds of discord to break up: because it's already broken up.
Furthermore, these Baby-Boomers and X Gens don't understand how to use the internet. There was a time, when those stupid X Gen Satanists laughed at o9a people for utilizing the internet to spread o9a, where o9a people back then created massive amounts of WordPress blogs, PDF texts to pass around and circulate. And back then, those stupid X Gens said that because o9a was an "internet phenomenon" that it was fake and their Satanic organizations were real. That way of seeing things is the exact same line of reason that someone born and raised in the age of Radio would say [talk shit about] people who used Television to broadcast their views, opinions, ideologies, and so on: it's silly and stupid. Why so? Because Radio became outdated, and during the peak of Television [and cable networks] Politicians fought each other for air time on TV networks, and the bulk of a nations propaganda used TV, because TV reached a huge audience/population.
A decade later, and the Left, the Baby-Boomers, and X Gens are literally crying about and afraid of the growth and rise of the Far-Right. How did the Far-Right grow and expand so quickly to be cried about and afraid of? Simple: by having a massive presence on the internet and using the internet to propagate their memeplex! And so whose fucking fault is it that the Far-Right is growing and has been growing at such alarming rates? It's your fucking fault! And so, as a stupid Baby-Boomer and X Gen person who has no understanding of the internet, no understanding of how Y & Z Gen uses the internet, who doesn't take the internet serious: how do you counteract and stop the growth of Far-Right movements?
You guys are stupid enough to not understand or take the world wide web serious. Like how Radio Generation people laughed at Television. Here's a prediction for you dummies from that old generation: in 25 years the Internet will be King Maker. The internet will make and give power to politicians, forge political alliances, politicians will be fighting each other for face-time on the internet to reach huge audiences, political platforms will be passed around the internet, the internet will be the main nexus of collecting new members for political parties, the internet will be the main means of collecting financial support for your political endeavors. Mark my fucking words!
The world wide web is Pandora's Box. Some stupid person opened that Box a long time ago: and now there's no turning back. The Internet will fuck up the world order that those post-WW2 Baby-boomers and their X Gen retard kids have built and created. We saw the power of the internet last decade, when the "Arab Springs" revolutions took place: they were movements of young people [of our generation] who used the internet [facebook and so on] to organize riots, revolts, uprisings, protests, and collect social and sentimental support. Much of the coming World War 3 will be fought in ciberspace by state hackers working for governments. The last decade gave us a clew/clue, an intimation, of things to come. And this decade will be the beginning of the end of the World Order that Baby-boomers and X Gens have worked to built. And the world wide web [ciberspace] will play a central part in the death and destruction of their world order. There's no going back. Those people, governments, agencies, and groups and movements who are savvy with the internet, from hereon, will have the most influence in how the world will change.
The Future Of Politics
HnH's Report provided statistics for Far-Right groups in each European Nation, how many are active, how many internet vectors each has, how many followers each has, and how many seats – if any – each has in their respective national governments. Although the numbers are better than the last decade, I found the current numbers to be unsatisfying and in want, as well as inefficient. There is an ineffectiveness to how the Far-Right groups are doing things. Things can be Opimalized.
The fundamental behaviour of political groups [left or right] is Fractal in Principle: Competition. All things – plants, insects, animals, religions, ideologies, nations – compete. It's a core element of evolution and incremental permutation. Therefore, political parties in Europe [and anywhere] compete with each other. And so, the way the Far-Right is competing with the "traditional" political parties is ineffective. By "traditional" political parties, I mean to say political parties that are groups, organizations, with leaders, which have been around for decades and have had many seats in governments.
In order for the Far-Right to effectively compete with the said traditional political parties, it will have to fully embrace the concept of a movement to the full extent. Movements are the future, and the internet is the means of growing and expanding movements.
Therefore, a more Optimal way for the Far-Right movements to compete in Europe first is to eventually establish a kind of umbrella entity that takes on the form of a political party. This umbrella entity would be a pan-European conglomeration / alliance of all Right-Oriented movements, loosely conglomerated together to Focus and Concentrate their effort, time, people, votes, money, etc towards several individuals chosen to be political members of said umbrella entity. The inefficiency is that you have a huge mess of many Far-Right little groups and movements who are competing with big, established traditional political parties. The Principle [law of nature] in play is: Coherency overpowers Incoherency. A huge mess of many Far-Right groups and movements is incoherent and is in principle: powerless.
A second thing the Far-Right would need to understand and work with is a concept called "Propinquity." Power and Domination actually transcends ideology, doctrines, sentiments, race, and views. Because the idea of "power" and "domination" are reific nouns. Reific, meaning Reification, which is when you treat something to be concrete when it is not. Power is an abstract noun which you can't touch or poke. When we say "power" what we in actuality mean is: People in a Coherent condition, where they are coherent enough to express and actualize their Will to affect change. Affect and change a people, nation, civilization, society, etc.
Propinquity is the idea that Familiarity is born from Proximity, be that proximity physical or psychological. For example, when two people live in the same apartment/flat complex, such two people are said to be in "propinquity" with one another. When people attend the same church, such people share a propinquity with each other. Two Chinese men, share a propinquitous rapport and connection with each other: their common racial/national background. Ideas/memes travel faster via propinquity. In the very same sense that a virus is more contagious in a group of people who are close in proximity to each other. A meme is a mind virus and thus, follows the same principle of viral transmission and contagiousness.
And so, things such as far-right ideology, racialism, identity based on race, conservative or liberal views, economic views, etc, are all actually a means a group of human beings use in order to establish propinquity. The propinquity itself, is what creates Coherence/Coherency.
In the old days, such things as Traditional Religion, Traditional Families, Traditional Culture were the powerful means of manifesting propinquity in a people, in any given nation. After WW2, the Left worked to dismantle and destroy that Traditionalism, which is why I personally dislike the Left: Divide & Conquer. You get rid of the means of said propinquity, and the people have no more social glue to hold them together, and thus, a coherent government and corporations can then overpower them.
And so, what the Far-Right needs to try to understand is that it is Power that is desired, Power to make policies in a given nation. And therefore, in order to compete with other political groups/parties, effective means of propinquity must be used, that are inclusive enough to establish a pan-European alliance of all Far-Right groups in Europe, in order to manifest Coherence, Focus, and Concentration of effort/money/influence/etc.
In that regard, the use of terrorism, which is to say: the use of lethal violence against fellow Europeans and civilians, as well as government people, is an ineffective means of propinquity, because it ultimately causes your group or movement to become volatile. A volatile movement or group simply does not last long enough to produce any lasting change in a nation or civilization. Your Far-Right movements, if such is desired to last long enough to grow and gain Power, must not be volatile and self-destructive, which is common sense actually. This was a mistake that Hitler made. His government did not nurture National Socialism in the people, across generations: it was too martial, and thus, too volatile, and self-destructed in circa 12 years.
Martial Force, belongs to the military and militias. Once you have gained Power in a country: then it becomes perfectly legal to use Martial Force. All current governments use Martial Force legally: America dropped two atom bombs on Japan, killing over 100,000 innocent civilian lives. Stalin and Mao, once in Power, used Martial Force legally to slaughter millions and millions of people. Once you gain Power, then you can use Martial Force against your perceived enemies legally and without restraint.
Despite the West's glorification of violence in movies and video games, violence is actually not what gives you Power. Violence is simply a means to get rid of the people and groups of people who have vested interest in a given nation who are unwilling to give up their vested interests. For example, the American Revolution was when a bunch of colonialists, turned rebels, made war with their British Government. In our modern terminology, we'd classify such rebels as "terrorists." The terrorism of the American colonialists did not give birth to America and did not give them power. What gave those historical rebels power were ideas, ideals, visions of a better nation, and propinquitous elements that collected those colonialists into a coherent social order. The same goes with Stalin and Mao. What gave birth to their Power were ideas, ideals, and propinquitous elements that collected the incoherent proletarian [farmers and workers] into a coherent social order. Power is not martial force: it is Coherency. This is a simple fractal pattern and principle that can been seen anywhere in nature: army ants do not dominate the forest because of martial force [violence] it's because said army ants are incredibly coherent.
You shouldn't use Radical Islam as a model, because, what is happening to Islam is very different, than politics and the endeavour to gain Power. The case of Islam is that, it is a dying religion. Why is it dying? Simple: generational transition. The Baby-boomers and X Gen of Islamic Countries are the ones that are religious and hold onto power. They are growing old and will dies soon of old age. The new generations of Y & Z in such Islamic countries are not sectarian, do not want to live under theocratic tyranny and oppression. Thus, because of that generational transition, Islam, in that civilization is dying. And in the dying and decline and death-throws of Islam, it becomes volatile, agitated, aggressive, and violent, as a means to try and struggle to live longer, to force itself onto the next generation, and to try and force itself into new markets [new potential adherents]. You should not use the tactics of a dying theocratic religion as a way and means to give birth to something in Europe. Dying and Birthing are two entirely different things in the cycle of life. And all things, including civilization and religion, have cycles of life and death.
The internet will be King Maker. Power is Coherency. Propinquity generates coherence. The internet is a very effective medium of manifesting that propinquity. The groups, people, and movements that become savvy with the internet, will dominate and influence the future.
/Chloe
---